Ford unveils three models in Shanghai, says more are coming
By Li Fusheng | China Daily | Updated: 2019-08-19 11:19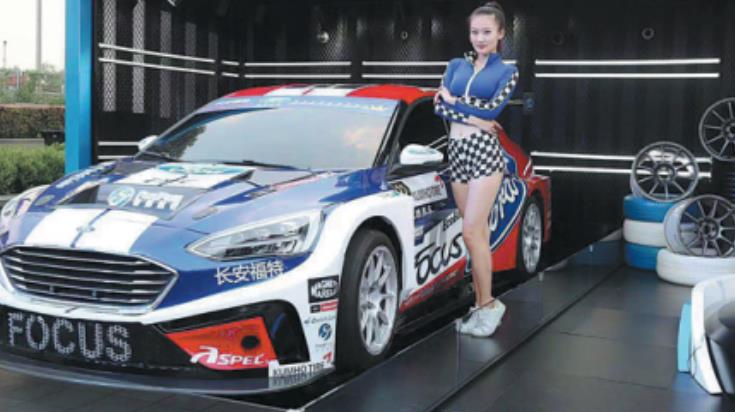 Ford held one of its largest-ever branding events and launched three models in Shanghai on Friday as part of the US carmaker's plan to recuperate lost ground in the world's largest auto market.
Called the Fun Day, the event allowed fans to experience Ford models from the Focus sedan to the F150 pickup. The event will also be organized in other cities, including Beijing and Chongqing.
Jason Yang, president of Ford's national distribution services division in China, said he hoped the event and model launches would mark the D-Day of the carmaker in the country.
Like the Allied forces before the Normandy landings, Ford went through years of lackluster performance, he said.
Ford reached its zenith in 2016 when its annual sales passed 950,000. Sales have tumbled since then primarily because of slow product introductions.
The company launched the new Focus Active SUV, the Edge ST/ST-Line SUV and the new Taurus sedan on Friday.
"You rarely see carmakers launch three models at a time," Yang said. "We do this because we have more new models to come."
Ford unveiled a massive product plan in April, saying it will launch more than 30 new Ford and Lincoln vehicles in China over the next three years, including more than 10 electrified ones.
The Edge ST, priced at 389,800 yuan ($55,369), is the first Ford SUV model to be tuned by the Ford Performance team.
Created as a China-exclusive seven-seater, the vehicle features a specially tuned 2.7-liter twin-turbocharged EcoBoost V6 engine, the most powerful engine in its class.
It has a maximum output of 237 kW and a top torque of 500 Nm. It can sprint from zero to 100 km/hour in 7.2 seconds.
Designed with a quick shifting 8-speed automatic transmission, the car delivers superior handling that highlights its power and sportiness. This design is echoed in the Edge ST-Line, which features the 2.0-liter EcoBoost turbocharged engine combined with the new 8-speed automatic transmission.
The Edge ST-Line is available in five-seat and seven-seat variants, priced at 269,800 yuan and 299,800 yuan respectively.
The Focus Active SUV sports the 1.5-liter EcoBoost turbocharged engine, which has a maximum output of 128 kW and a top torque of 243 Nm.
It also features an 8-speed automatic transmission and has a comprehensive fuel consumption of 5.7 liters per 100 km.
The model has a ground clearance of 150 mm and is the first to have driving modes in its segment. It has two variants, priced at 139,800 yuan and 153,800 yuan.
Ford's flagship sedan, the new Taurus, sports the 2.0-liter Eco-Boost turbocharged engine, which generates a maximum output of 180 kW and a top torque of 390 Nm.
It is available in three variants, priced between 228,900 yuan and 288,900 yuan.
All of the three models feature SYNC+, Ford's new in-vehicle infotainment system powered by Baidu's artificial intelligence technology.
Designed to meet the needs of Chinese consumers, the system offers advanced user functions like intelligent voice assist, Baidu cloud navigation as well as smart home connection.
SYNC+ marks a significant milestone in Ford and Baidu's collaboration in the field of connectivity.
In June 2018, Ford and Baidu signed a letter of intent to explore areas of cooperation in connectivity, artificial intelligence and digital marketing.
From 2019, the majority of new models sold in China will also be equipped with Ford's Co-Pilot 360 advanced driver-assist technologies, including adaptive cruise control, lane-keeping assist, traffic sign recognition and active park assist, to deliver a safer and less stressful driving experience.