State Council takes action on drug shortages
By Xu Wei | China Daily | Updated: 2019-08-20 09:03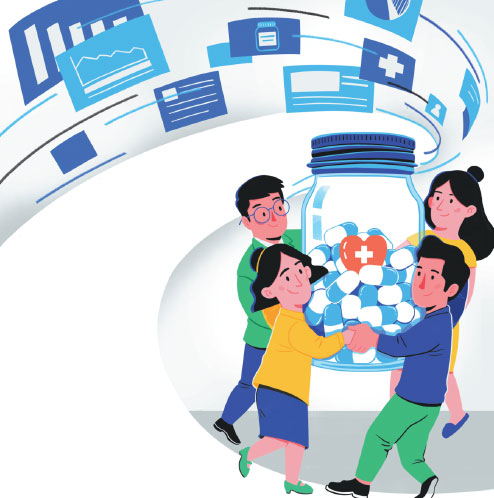 Experts urge manufacturers to make their own ingredients to fend off risks
The State Council has ramped up measures to ensure a steady supply of basic and first-aid drugs as experts call for heightened efforts to encourage the production of active pharmaceutical ingredients to address drug shortages.
The Cabinet decided at an executive meeting on Friday to establish a long-term mechanism to stabilize the supply and prices of commonly used drugs in an effort to solve shortages and unreasonable price hikes of some drugs in recent months.
The government will refine pharmaceutical procurement policies, with steps to expand the pilot program of pooled procurement of medicines.
For drugs that have been put on shortage lists by provincial or national authorities, pharmaceutical companies will be allowed to decide on the price of drugs procured in the pilot program on their own.
For drugs with few alternatives and unstable supply, the government will ensure supply through measures such as pooled procurement and encouraging the establishment of production bases for such drugs.
Shortages of drugs such as nitroglycerin, tretinoin and allopurinol have been reported in Shanghai and the provinces of Shandong, Hunan and Guizhou in recent months.
Premier Li Keqiang, who presided over the executive meeting, said the government must establish an oversight mechanism to intervene in unreasonable and unconventional price hikes of drugs.
"Drugs are directly related to the health of the general public. They are a special commodity, and should not be subject to arbitrary price hikes," he said at the meeting.
Li called for more measures in line with market principles to adjust prices so the general public can be assured drug prices are stabilizing.
Some experts attributed the shortages to price hikes for active pharmaceut i cal ingredients, saying that more must be done to boost their production.
Shi Lichen, founder of Beijing Dingchen Consultancy, which specializes in research on the pharmaceutical sector, said many active ingredient producers had been closed for various reasons in the last few years, and many remaining players in the sector had raised prices due to their market dominance.
"There must be more punitive measures from the authorities on price manipulation," he said.
"Meanwhile, it is important for the authorities to encourage pharmaceutical businesses to establish their own production lines for active pharmaceutical ingredients, so that they can better withstand market risks from the supply end."
The State Council meeting also emphasized the need to expand imports of much-needed medicines to meet public demand.
Medical institutions will face tighter drug use supervision so that basic medicines have priority in both procurement and utilization. The proportion of basic medicines to total drug stock will be raised at State-run grassroots hospitals, the statement said.
The Cabinet urged efforts to improve early warning systems for medicine shortages, implement a production suspension reporting system, prompt medical institutions to set inventory warning lines and build up reserves of medicines that might encounter severe shortages.
It also called for greater government oversight over drug pricing to prevent unreasonable price hikes. Businesses found to have raised prices unreasonably will be identified publicly or disqualified from the government procurement network.
The government will evaluate pharmaceutical companies' social credit, and those monopolizing or rigging drug prices will be fined, denied market access or subjected to criminal punishment, the statement said.
"We cannot allow patients to be cut off from drugs they are taking on a daily basis, not to mention that some of the drugs are saving lives," Li said.
China launched a pilot program in March for pooled procurement of pharmaceuticals in 11 cities to make key medicines more affordable and reduce financial burdens on patients.
As part of the program, healthcare security authorities will conduct pooled procurement of drugs based on the amount required at public medical institutions in targeted regions.