Lin-gang Special Area launched in Shanghai
By Shi Jing in Shanghai | China Daily | Updated: 2019-08-21 07:20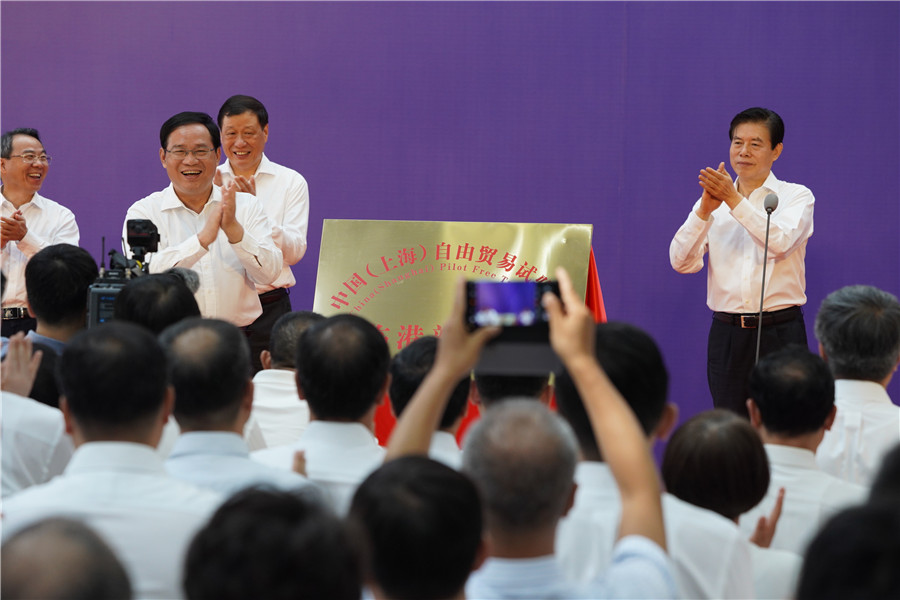 Lin-gang Special Area, a newly added part of the China (Shanghai) Pilot Free Trade Zone, was officially launched on Tuesday, with many expecting the area to become a new driver for China's deepened opening-up.
On Aug 6, the State Council, China's Cabinet, unveiled a framework plan to include Lingang into the 6-year-old Shanghai free trade zone.
Minister of Commerce Zhong Shan said at the launching ceremony that Lingang will help to advance the deepened round of opening-up and facilitate the integrated development of the Yangtze River Delta region. It has also demonstrated China's resolve to build itself into an all-around open economy, Zhong said.
Shanghai authorities released a management guideline on Tuesday for Lingang to facilitate overseas investment, commodity and capital flows, transportation, employment and information exchanges.
Zhu Zhisong, executive deputy director of Lin-gang Special Area, said detailed policies to implement the State Council's framework plan are likely to be announced next week at the earliest. Policies to facilitate employment will be among the first batch of regulations released.
With a startup area covering 119.5 square kilometers, plans are for Lingang to grow into a special economic zone with strong global market influence and competitiveness by 2035. Companies specializing in key areas including integrated circuits, artificial intelligence and biomedicine will be levied with a preferential 15 percent business income tax for five years after their registration in the area. The current business income tax rate is typically 25 percent.
Lin-gang Special Area is the second expansion of the Shanghai FTZ. The first took place in 2014 when the 28-sq-km area grew to 120 sq km by including more parts of Pudong district where the Shanghai FTZ is located.
During a keynote speech at the first China International Import Expo in November, President Xi Jinping outlined three decisions on the development of Shanghai, one of which was the expansion of the China (Shanghai) Pilot FTZ. With the guideline for the integrated development of the Yangtze River Delta region released in early July and the technology-focused STAR Market launching trade on July 22, Shanghai has already implemented all three development decisions announced by Xi.
Tesla's 50-billion-yuan ($7 billion) factory is located in Lingang. Tao Lin, global vice-president of Tesla, said that the United States company obtained the first comprehensive qualification certificate on Monday, just three days after it applied for a qualification test and seven months after the plant broke ground. This reflects the high efficiency of the Lin-gang Special Area and the service quality of Shanghai officials, Tao said.
Semiconductor maker Shanghai ZingSEMI was founded in Lingang in June 2014 with a total investment of 6.8 billion yuan. According to the company's Chief Executive Officer Chiu Tzu-Yin, Lingang's geographic proximity to Zhangjiang, which is home to the largest cluster of semiconductor companies in China, will help to complete Shanghai's semiconductor industrial chain.