Musical explores 'comfort women' plight
By LIU YINMENG in Los Angeles | China Daily Global | Updated: 2019-08-21 23:02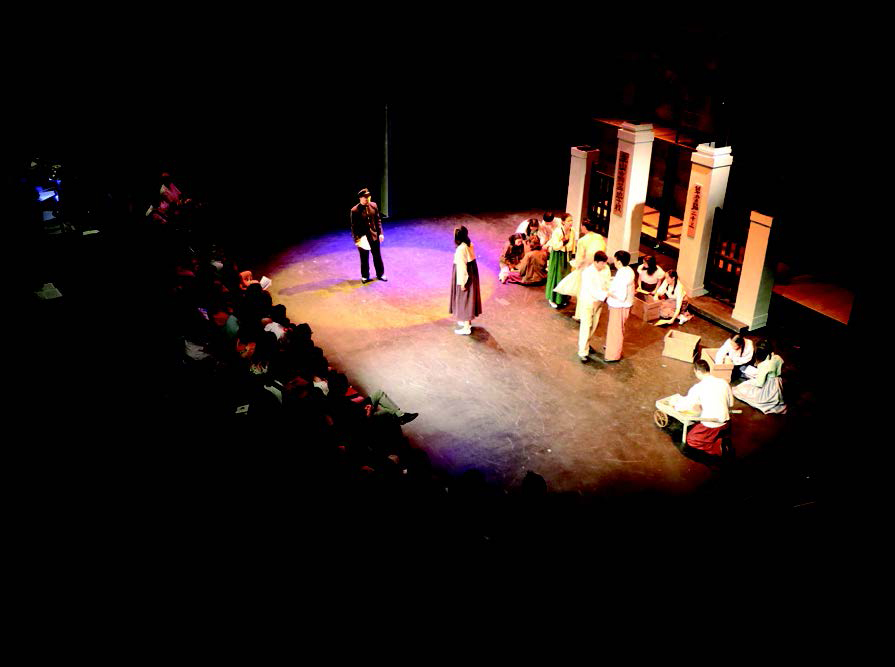 When Dimo Hyun Jun Kim proposed writing about "comfort women" in a playwright class in New York, he was surprised that no one had heard the term, which euphemistically describes young women forced into sexual slavery by the Imperial Japanese Army during World War II.
"No professor, no classmates [at the City University of New York] knew. They had never heard about the comfort women,'' he said.
That's what made it more significant for the Comfort Women: A New Musical, directed and co-written by Kim, to reach a wide audience unfamiliar with the brutal experiences of some 400,000 women in Asia.
From 1931 to 1945, the Japanese Army operated thousands of "comfort stations" that housed women from China, Korea and Southeast Asia. At least half of the victims were Chinese. Only one-fourth of the comfort women survived the war.
The musical made a successful premiere in New York in July 2015, with the first all-Asian Off-Broadway cast led by an East Asian director, and a 2018 revival. It is being shown to West Coast audiences for the first time, from Aug 15-25 at the Los Angeles Theatre Center.
Set in 1941, the story follows the plight of a young Korean woman named Goeun who is tricked into becoming a sexual slave under the false pretense of a good-paying job at a factory in Tokyo.
Phyllis Kim is the executive director of Comfort Women Action for Redress & Education, a Glendale, California-based community organization that focuses on the advocacy for and education about "comfort women". She believes the play is a good way to explore a serious topic through music and performance.


"Of course, it's a creation and fiction, but the history itself was true," Kim said. "I think it's really important that we learn the history through great movies, like Schindler's List, about the Holocaust, or Anne Frank's diary. I think this is one of the ways to reach out to many different people who don't know about the history, a great way to learn about the history."
Chinese scholars estimate that at least 200,000 Chinese women were kidnapped as sex slaves during the Japanese invasion of China in 1937.
The women were subjected to "gang rape, forced abortions, humiliation, and sexual violence resulting in mutilation, death, or eventual suicide in one of the largest cases of human trafficking in the 20th century", stated a 2007 resolution introduced by former US congressman Mike Honda and passed by the US House of Representatives, which called on Japan to apologize to former "comfort women".
Although Japan in 1993 acknowledged its role in the atrocities, some Japanese nationalists disputed that the women were forced into prostitution. A lot of surviving "comfort women", who are dwindling in number, said the apology by the Japanese government lacked sincerity.
The matter has remained a sensitive one in foreign relations and the cause of friction between Japan and several Asian countries.
Audience member Charles Smallwood, who attended a media preview of the musical on Aug 14, said he "had no idea they ("comfort women") were treated so harshly, and so disregarded as being humans".
"It's a very difficult topic to a get across, but the way they did it was quite elegant and beautiful. It was quite disturbing at times, but it was also very beautiful at times, so I liked it very much," Smallwood said.
Emma Magbanua, who plays Soonja Ma, a young woman captured with Goeun by the Japanese soldiers, said she was never exposed to the history while growing up until she heard about the musical and asked her aunt about it.
"I learned there was an entire group of people whose stories were neglected, who were left behind, who some people deemed as unworthy. … I think it's so interesting that because maybe it's censored because it has to do with sex, or maybe because of its involvement with different groups of people," said Magbanua, a Filipino-American.
"Something that really struck me was how in this situation, it's really about who do you acknowledge as important, ultimately, regardless of it being specifically about this Asian culture, even here, where we are now in, in our lives in America, currently, who are we deeming as less important, as less valuable, whose stories are we not listening to?" she added.
Phyllis Kim said the musical is a "wonderful way" to teach younger generations about atrocities and to make sure that history doesn't repeat itself.
The Japanese Consulate General in Los Angeles released the following statement, which was obtained on Aug 16 by LAist, a newsletter of events in Los Angeles:
"The Government of Japan recognizes that the issue known as comfort women is one that severely injured the honor and dignity of many women. The Government of Japan has extended its sincere apologies and remorse to all those women known as comfort women who suffered immeasurable pain and incurable physical and psychological wounds."
It went on to say that the Japanese government "will also continue its effort to ensure that Japan's views and efforts on the comfort women issue are properly recognized by the international community based on an objective understanding of relevant facts".