Trump reverses stance on tax cut, cites 'strong economy'
By AI HEPING in New York | China Daily Global | Updated: 2019-08-22 23:47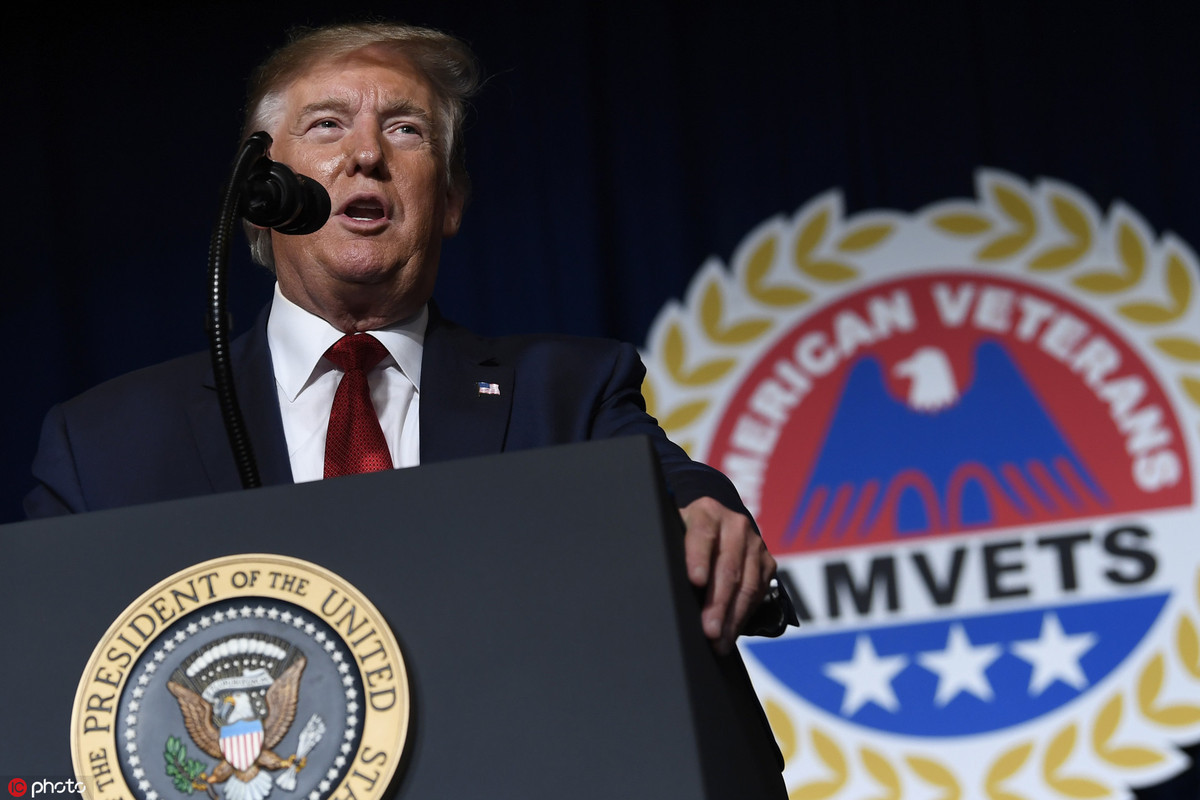 On Monday it was off. On Tuesday it was on. And now it's off again.
US President Trump on Wednesday reversed himself and said he isn't looking at a cut in the payroll tax or looking to reduce capital-gains taxes by indexing gains to inflation.
"I'm not looking at a tax cut now," he said in comments to reporters on the South Lawn of the White House. "We don't need it. We have a strong economy."
But later Wednesday, the Federal Reserve released minutes of its July 30-31 meeting and members expressed concern about future growth and the US-China trade dispute.
The consequences of tariffs that Trump has imposed against China and other countries were singled out Wednesday in a new report from the nonpartisan Congressional Budget Office. It said that tariffs are projected to shrink gross domestic product by 2020 and warned that further tariff hikes could stifle economic growth.
CBO said tariffs were boosting domestic prices, reducing consumers' purchasing power and boosting the cost of business investment. Real income for the average US household was also expected to drop by 0.4 percent, it said.
According to the Federal Reserve's minutes, while officials saw US economic growth now as generally solid, members said tariffs and generally slower economic conditions combined "could have significant negative effects on the US economy" while a softness in business investment was "pointing to the possibility of a more substantial slowing in economic growth than the staff projected''.
"Participants generally judged that the risks associated with trade uncertainty would remain a persistent headwind for the outlook, with a number of participants reporting that their business contacts were making decisions based on their view that uncertainties around trade were not likely to dissipate anytime soon," the minutes said.
The minutes also show Fed officials were divided when they voted to cut interest rates for the first time in a decade in late July, lowering borrowing costs by a quarter of a percentage point to a target range of 2 percent to 2.5 percent.
"Several" members wanted to hold rates steady, the minutes showed, noting a strong job market and low unemployment, while "a couple" of participants at the meeting would have preferred a larger half-point cut. Two Fed officials voted against the decision to cut.
Before the Fed released the minutes, Trump again criticized Chairman Jerome Powell for hiking interest rates in 2017 and 2018 and compared him to a "golfer who can't putt, has no touch''.
Trump tweeted:
"Doing great with China and other Trade Deals. The only problem we have is Jay Powell and the Fed. He's like a golfer who can't putt, has no touch. Big U.S. growth if he does the right thing, BIG CUT - but don't count on him! So far he has called it wrong, and only let us down....''
A possible payroll-tax cut first came up on Monday when a White House official denied that the administration would consider it. By Tuesday, Trump said he was "thinking about" cutting the tax — though he stressed that "whether or not we do something now, it's not being done because of a recession''. Trump also said he was "thinking about" indexing capital gains to inflation — a move that would generally reduce the tax burden on wealthy people.
On Wednesday, when Trump reversed himself on a payroll-tax cut, he also criticized a change in capital gains, saying "it's not something I love''.
"It's probably better for the high-income people, and I'm not looking to do that. I want to do for the workers," the president said.
Payroll taxes fund Medicare and Social Security, and a reduction would boost workers' take-home pay. But payroll and capital gains tax cuts would raise the federal budget deficit further.
On the federal deficit, the CBO report said it is expected to swell to higher levels over the next decade than previously expected. The deficit is projected to reach more than $1 trillion for the 2020 fiscal year, two years sooner than previously predicted. The new deficit projection for 2019 rose $63 billion from the last report, which came out in May. The CBO said this is mainly because of the massive new budget deal, which passed both houses of Congress and was signed by Trump in early August.