Samsung taps China's 5G market
By Fan Feifei | China Daily | Updated: 2019-08-23 07:37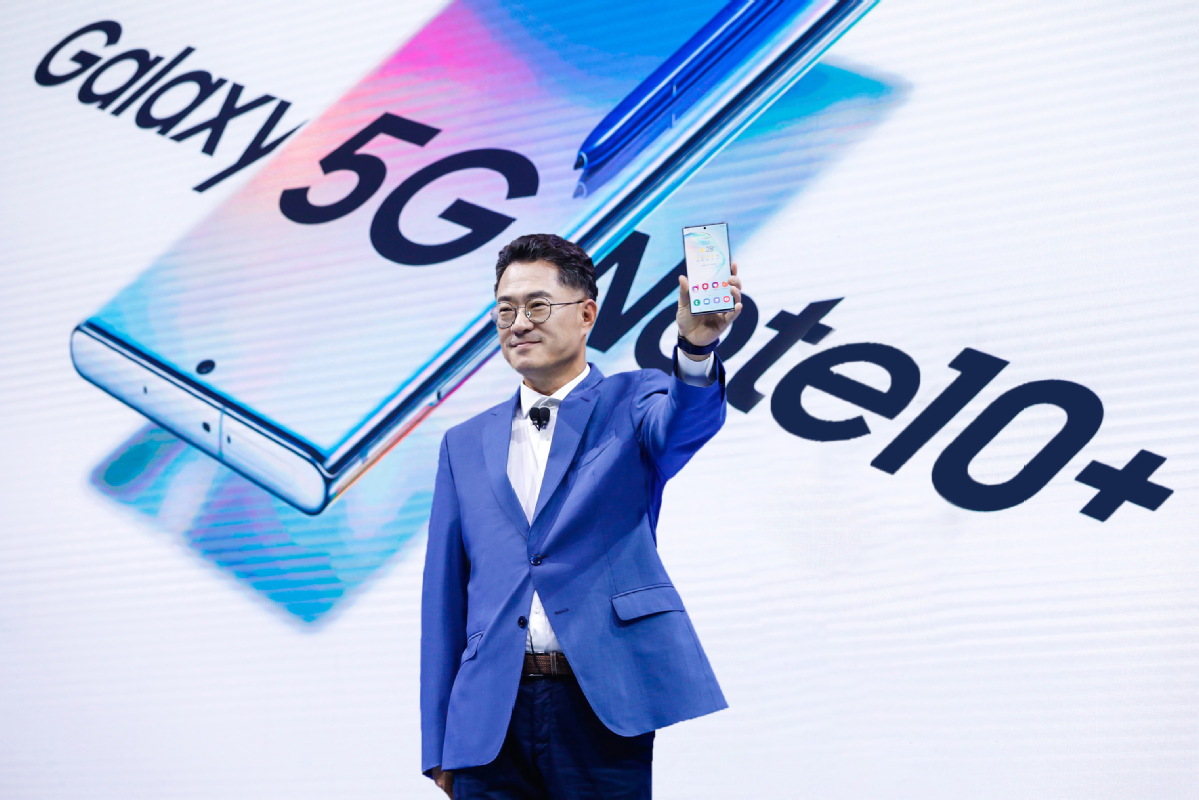 Company to improve product design, R&D, accelerate localization process
Samsung Electronics Co Ltd will speed up the commercialization of fifth-generation wireless technology in China and deepen its cooperation with Chinese telecom carriers as the South Korean technology giant tries to reclaim lost sales in the world's largest smartphone market.
Industry experts said the tech heavyweight has faced intense competition from local rivals, and is betting big on superfast 5G technology to win back customers in the Chinese market through such technologies and products.
Samsung launched the new flagship handset Galaxy Note 10+ on Wednesday, its first 5G terminal device in the Chinese market, which is a new milestone for the company, said Kwon Gyehyun, president of Samsung Electronics China.
"We will continuously improve our product design, research and development, strengthen cooperation with local enterprises, as well as accelerate the localization process," said Kwon, adding they will continue to pay attention to Chinese consumers and listen to their demands.
He explained with the arrival of 5G, smart home, smart office, self-driving cars and the smart city will be part of people's work and life. "Moreover, 5G will bring about new social interactions, new product form and even new industries," the official said.
Samsung has always promoted the development of 5G technology, and 5G related standards through a large number of patents and innovations, he said.
Priced at 7,999 yuan ($1,130) in China, the Galaxy Note 10+ features a 6.8-inch screen with a vertical triple rear camera system. Last month, Huawei unveiled its first commercial 5G smartphone in China.
"Samsung has the upper hand in the premium smartphone market, and telecom carriers are willing to promote 5G high-end products in collaboration with Samsung at the early phase of 5G," said James Yan, research director at Counterpoint Technology Market Research.
Yan said the price of Samsung's Note 10+ is relatively reasonable, as archrival Apple has not yet launched its 5G version of mobile phones, whose price is estimated to be nearly 8,000 yuan. He added that the launch of Note 10+ 5G smartphones will not boost Samsung's overall sales in the Chinese market in the long term.
Market consultancy Strategy Analytics said in the first quarter of this year, Samsung sales accounted for about 1 percent of the Chinese market.
Jia Mo, a research analyst with technology consultancy Canalys, said Samsung should make more efforts in localization in China and strengthen brand and retail channels. Samsung still enjoys great opportunities in the world's largest 5G market through its competitive products, the analyst said.
China has officially rolled out commercial 5G licenses to the nation's three major telecom carriers-China Mobile, China Telecom and China Unicom-as well as the State-owned China Broadcasting Network Corp in June.
Market research firm International Data Corporation forecast the total 5G and 5G-related network infrastructure market in China will grow to $26 billion in 2022 at a compound annual growth rate of 118 percent, from about $528 million in 2018.