US stocks plunge, Trump announces new tariffs on China
By SCOTT REEVES in New York | chinadaily.com.cn | Updated: 2019-08-24 05:04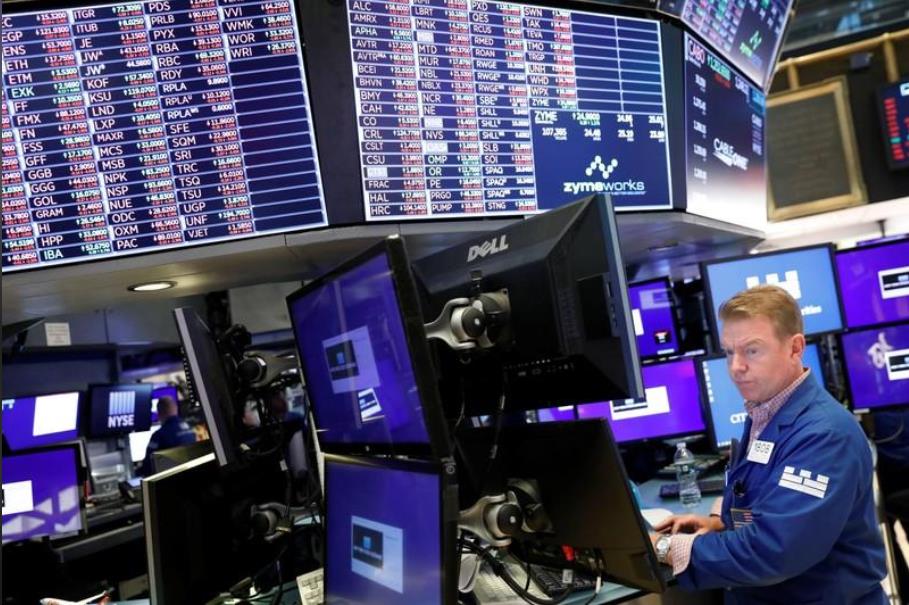 US stocks and Treasury yields plunged Friday after US President Donald Trump said the nation would be better off without Beijing as a trading partner and demanded that American companies stop doing business with China. After the market closed, Trump announced a new round of tariffs on China, set to start Oct 1.
Trump tweeted that "the 250 BILLION DOLLARS of goods and products from China, currently being taxed at 25%, will be taxed at 30%."
"Additionally, the remaining 300 BILLION DOLLARS of goods and products from China, that was being taxed from September 1st at 10%, will now be taxed at 15%," Trump wrote.
Trump's retaliation against China came after Beijing on Friday said it would retaliate against Trump's plans for the imposition of tariffs on $300 billion in Chinese goods on Sept 1 and Dec 15 by slapping levies on US imports valued at $75 billion on the same dates. In a statement, China's Commerce Ministry said the action was "forced by the US's unilateralism and protectionism."
In response, Trump tweeted: "Our country has lost stupidly, Trillions of Dollars with China over many years. They have stolen our Intellectual Property at a rate of Hundreds of Billions of Dollars a year, & they want to continue. I won't let that happen! We don't need China and, frankly, would be better off without them."
Trump demanded that American companies "immediately start looking for an alternative to China, including bringing your companies HOME and making your products in the USA." Trump has no authority to tell US companies how to operate.
Following Trump's tweet post, David French, the senior vice-president of government relations of the National Retail Federation, tweeted: "It is unrealistic for American retailers to move out of the world's second largest economy..."
"Our presence in China allows us to reach Chinese customers and develop overseas markets. This, in turn, allows us to grow and expand opportunities for American workers, businesses and consumers."
The Dow Jones Industrial Average closed Friday at 25,628.90, down 623.34 points or 2.37 percent. Nasdaq closed at 7,751.77, down 239.62 points or 3 percent. The S&P 500 was also down, closing at 2,847.11, down 75.84 points or 2.59 percent. The market closed down for the fourth week in a row.
The continuing trade dispute and fears about a worldwide economic slowdown have led central banks in the US and around the world to ease monetary policy in recent months.
"We are watching carefully as we assess their implications for the US outlook and the path of monetary policy," Federal Reserve Chairman Jerome Powell said Friday at the Fed's annual economic symposium in Jackson Hole, Wyoming.
He said the economy has become more unsettled since the Fed cut rates for the first time in a decade but gave no indication of what the US central bank might do in September. Last month, it cut interest rates by a quarter point, to 2.00-2.25 percent. The move is intended to stimulate the economy by lowering borrowing costs.
Powell said the economy has been buffeted by new tariffs in the continuing US-China trade dispute, a slowing global economy. He said there are "no recent precedents" that would guide monetary policy makers in setting interest rates in the midst of a trade dispute.
"Our challenge now is to do what monetary policy can do to sustain the expansion so that the benefits of the strong jobs market extend to more of those still left behind and so that inflation is centered firmly around 2 percent," Powell said in prepared remarks.
The US economy is now in its 121st consecutive month of growth, a record. Employment is at record levels, including among blacks and Hispanics.
Trump has urged the Fed to aggressively cut rates to spur economic growth. Critics question the wisdom of Trump's action because any rate reductions following the president's urging might be seen as undercutting the Fed's independence.
Powell's comments soothed the market and it recovered some of its early losses before Trump criticized Powell in a stream of tweets Friday and hinted that he may soon announce a new economic policy.