AI reshaping healthcare industry
By Liu Zhihua and Fan Feifei | China Daily | Updated: 2019-08-27 10:12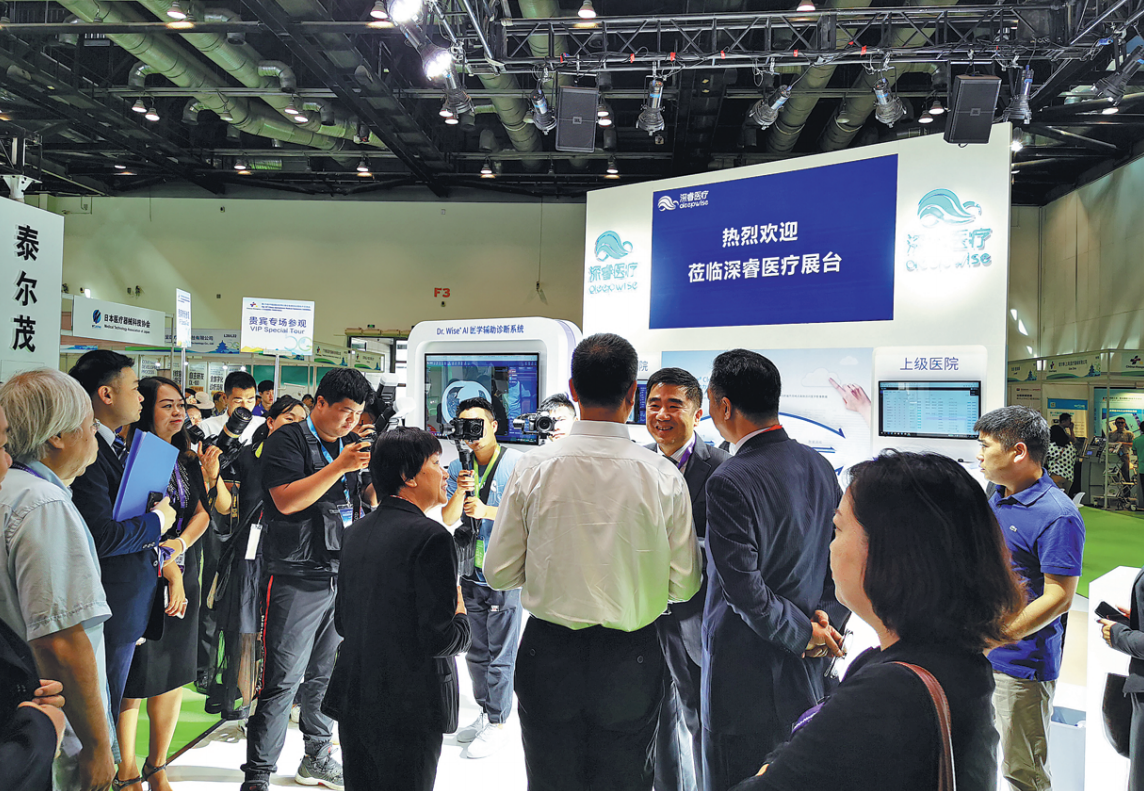 Applications are helping to deliver more efficient and accurate patient diagnosis
A doctor in a white coat sits in front of a computer screen displaying a lung CT scan, labeling the medical image - defining the normal elements and categorizing the abnormal ones.
She is not in a hospital, but a lab of Deepwise Healthcare, a leading Chinese medical AI startup that has offices in Beijing, Shanghai and Hangzhou, capital of Zhejiang province.
The annotations she makes on the scans, based on digital tools designed by the company, are essential to train the algorithms through deep-learning technology and enable AI to interpret scans and make diagnoses.
The promising prospects of medical AI applications to help deliver more accurate and comprehensive patient care through increased efficiency across clinical, financial, and operational domains have attracted a large number of investors and startups to the field.
Global revenue from the AI-related healthcare industry is expected to rise to $6.7 billion by 2021, and Chinese technology companies are aggressively moving into the field, according to consulting firm Frost and Sullivan.
China led the share of global investment and financing in the field of AI between 2013 and the first quarter of 2018, with 60 percent of the global total, followed by the United States with 29 percent and India with 5 percent, according to Future Health Index 2019, a report on digital health by health technology company Royal Philips.
"AI is widely believed to be able to greatly improve healthcare efficiency in China, and that is important because we have imbalanced medical resources among different regions and an acute shortage of doctors and nurses," said Qiao Xin, co-founder and CEO of Deepwise.
Founded in early 2017, Deepwise has obtained four rounds of funding, although details of the most recent C-round were not revealed. Previously, it raised a total of 300 million yuan ($42.77 million) during the A, A-plus and B rounds of funding.
The company's main products include AI medical aid diagnostic systems for early cancer detection, breast and lung scans, and stroke diagnosis, which are designed to improve hospital work efficiency and accuracy, alleviate the work burdens of often overworked medical professionals, and provide patients with a better overall hospital experience.
It has a team of more than 100 computer science engineers to develop AI solutions for healthcare, and controlled trials have shown that its medical imaging solutions' diagnosis accuracy for lung nodules is higher than the average for doctors, although it still lags behind that of elite physicians.
Qiao said although big hospitals in first-tier cities are more likely to use AI products compared with small hospitals in small cities and rural areas, it is obvious the latter are increasingly interested in medical AI applications as they are becoming more aware of the enhancements in patient care efficiency and accuracy that AI applications bring about.
Medical AI products are increasingly attractive to them because compared with big hospitals, smaller ones, especially those in counties and rural areas, find it difficult to recruit and retain talents, while AI solutions help to mitigate talent shortage problems, he said.
Among the more than 400 hospitals that use the company's AI products, about 70 percent are tertiary hospitals, but Qiao estimated the situation will reverse within a few years. China has a three-tier hospital grading system with the third grade being the highest.
Qiao explained that is because AI applications are often developed based on expertise from top hospitals' senior doctors, and thus can promote advanced disease treatment experiences from top hospitals to lower-level ones.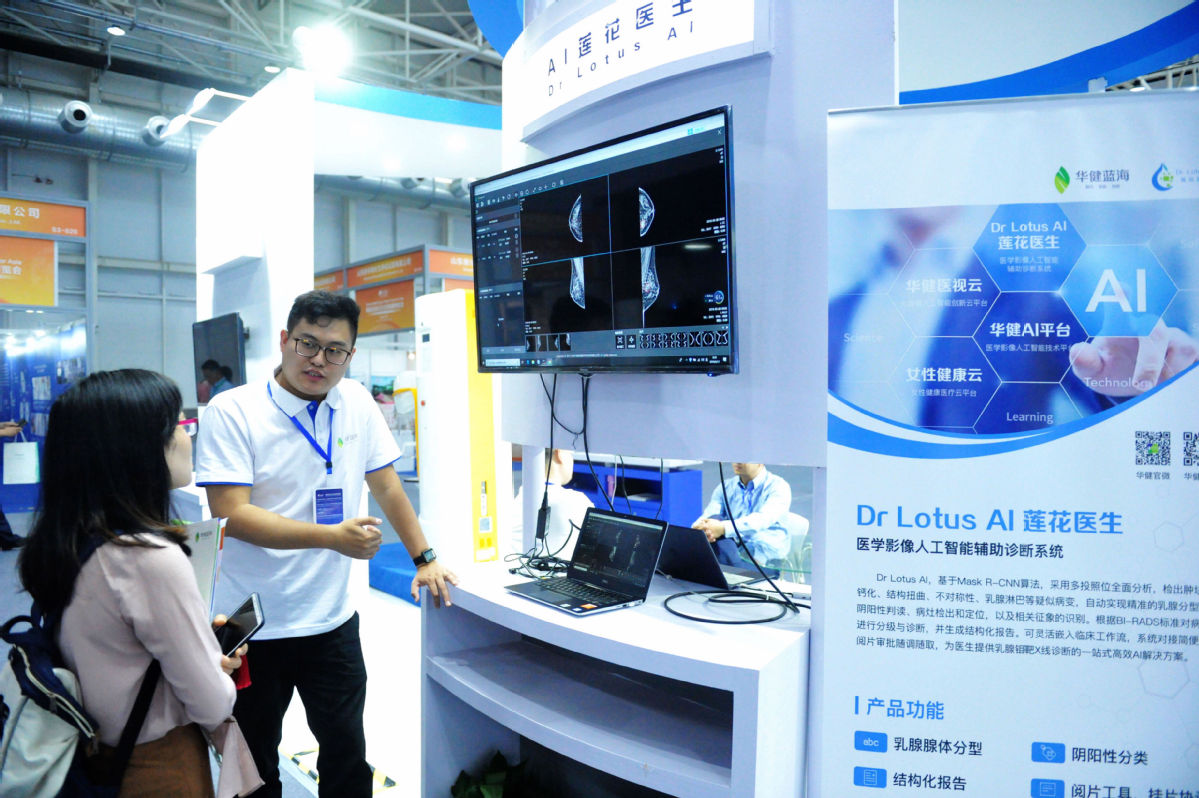 In some cases, small hospitals can communicate with and seek direct help from a higher-level hospital if they use the same medical AI applications, he added.
Qiao also said the company is now working on projects to design AI-powered medical imaging products that focus on multiple diseases of different organs, instead of on a single disease or condition as they do now.
"Disease conditions can be complicated, and an integrated product with expertise on a specific organ is better able to tell the difference between different conditions to help doctors make an accurate diagnosis," Qiao said.
Shanghai-based Yitu Technology, a startup engaged in AI and facial recognition technologies, is also accelerating the application of AI technologies in the healthcare sector.
Yitu Healthcare, the healthcare arm of Yitu Technology, recently announced plans to invest 100 million yuan within the next five years and cooperate with hundreds of top medical institutions nationwide to accelerate the use of AI, in a bid to reduce doctors' workloads, eliminate misdiagnosis and missed diagnosis, as well as provide strong technical support for large-scale early screening of diseases.
"With the wide application of AI in the healthcare sector, AI is becoming a doctor's assistant and second brain," said Ni Hao, president of Yitu Healthcare.
"We hope to cover the areas with high incidence of cancers by continuous and efficient investments, and improve capabilities in providing medical services, so that more cancer patients can benefit from early detection and treatment, and their life span and quality of life can be improved," Ni said.
Founded in 2012, Yitu has provided an AI image aided diagnosis system, an AI pediatric clinical aided diagnosis system and a medical big data intelligent platform. The AI image aided diagnosis system is being used by nearly 300 tertiary Chinese hospitals.
Collaborating with several Chinese hospitals and medical institutions, iFlytek Co Ltd, another leading Chinese AI company, is using its expertise in speech technology to assist doctors in improving accuracy levels of diagnosis by launching an intelligent robot.
The AI-enabled robot passed the written test of China's national medical licensing examination, an essential entrance exam for doctors, in 2017, making it the first robot in the world to pass such an exam.
The robot can automatically capture and analyze patient information and make an initial diagnosis. It will be used to assist doctors to improve efficiency in future treatments, according to iFlytek. Moreover, in terms of medical imaging diagnosis, the accuracy rate of the robot reached 94.1 percent.
However, a report released earlier this year by Analysys International, a Chinese big data analysis product and service provider, said competition between medical AI applications was fierce in China, especially in areas with high incidence rates, a lack of physicians and relatively easy access to open medical data.
Liu Jiehao, an analyst from iiMedia Research, a market consultancy, said he is bullish on the prospects of the AI-related healthcare sector.
"The biggest advantage of AI lies in its highly efficient calculation and precise analysis and decision-making, which could greatly improve working efficiency, unleash productivity and ease the shortage of medical resources and high costs in the healthcare industry," Liu said.
Liu said the biggest barrier for the development of intelligent healthcare is access to large amounts of medical data, which involves the privacy of patients, so cooperation with hospitals to gain trust is needed.