New system to reduce waiting time for parents, children in Shanghai hospital
By Fan Feifei | China Daily | Updated: 2019-08-27 10:47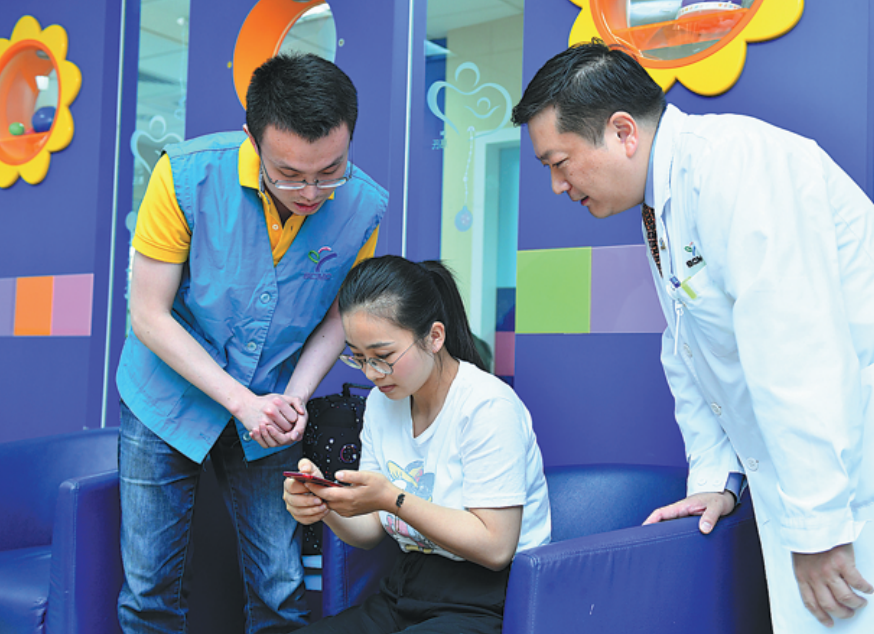 A new artificial intelligence system, developed by Yitu Healthcare, the healthcare arm of Yitu Technology, will reduce waiting times for parents and children visiting a hospital in Shanghai.
Embedded into the official WeChat account of the Shanghai Children's Medical Center, the system integrates AI application with the entire outpatient process, including making reservations and online pre-diagnosis.
Parents can input their children's symptoms and receive suggestions from the AI system about which departments and doctors they should register with for medical help.
Parents can also choose an intelligent test service. The system will recommend necessary medical tests based on a child's symptoms, give auxiliary medical advice in response to inquiries and recommend a doctor, who will examine the records and make a final diagnosis.
Patients need to see a doctor first to get a checklist of medical tests.
Zhao Liebin, vice-president of the Shanghai Children's Medical Center, said the system will reduce waiting times and enhance patients' experience at the hospital, adding the center will further deepen cooperation with Yitu Healthcare, to improve the accuracy of diagnosis and expand the application to more districts in Shanghai.
"The application of AI in the healthcare sector, which is still at an initial stage, is expected to witness rapid growth in the next three years," said Fang Cong, vice-president of Yitu Healthcare.
The nation is implementing an AI-development plan that aims to build a 1 trillion yuan ($142 billion) AI core industry by 2030, which is expected to stimulate related businesses to the tune of 10 trillion yuan.
Yitu Healthcare started developing the AI system in 2016. It has successfully used natural language processing to achieve high accuracy rates on a par with doctors when reading electronic health records and generating patient diagnoses.
The firm's research, which was conducted with the Guangzhou Women and Children's Medical Center and other research institutions, has been published in Nature Medicine, a monthly peer-reviewed medical journal.
The AI system assesses clinical data such as symptoms, medical history and test results to establish an intelligent analysis system.
"It proves AI technology is able to help doctors deal with massive amounts of data and diagnose and provide support in uncertain and complex medical cases," said Ni Hao, president of Yitu Healthcare.
Ni said pediatric diseases can be tricky for doctors.
"An AI assistant will profoundly improve the diagnosis process and increase efficiency," he said.
Most importantly, the system will provide a high-quality healthcare service and ease the tension of a severe shortage of experienced pediatricians in China, benefiting both patients and doctors, according to Yitu.