Illegal spy cameras trap unwary guests
By Zhao Ruinan | China Daily | Updated: 2019-08-28 09:03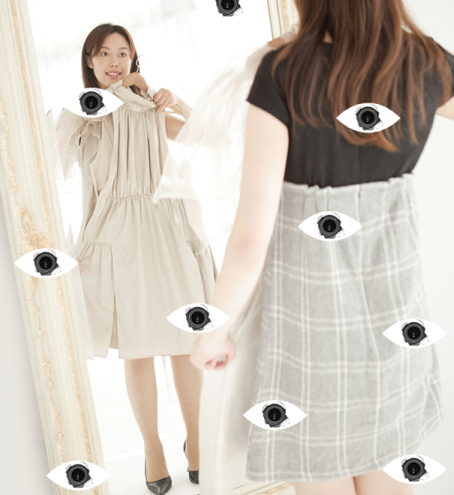 Devices in hotels, retail changing rooms collect footage sold online
Legal experts and privacy advocates are calling for a crackdown on offenses involving high-tech digital devices amid increasing reports of people being filmed secretly in places such as public restrooms and changing rooms in department stores.
In Jining, Shandong province, more than 100,000 recordings were made of guests staying in hotel rooms, where 300 minicams were installed inside lamps, television sets, air conditioners and electrical sockets.
In March, the Ministry of Public Security disclosed the case, announcing the arrest of 29 people for illegally filming and livestreaming unsuspecting hotel guests.
The recordings were posted online. Voyeurs who bought a login ID, costing 100 to 300 yuan ($14 to $42), could access an app connected to the spy cameras and surreptitiously view activity in the rooms.
Some of the perpetrators also downloaded the footage, saved it in cloud files and then sold it online.
On June 15, a woman in Shenzhen, Guangdong province, noticed a button-shaped camera in the fitting room of a Uniqlo store, describing it as "a black dot wrapped in gum".
On the same day, a couple who checked into the Yutai Hotel in Zhengzhou, Henan province, found a pinhole camera hidden in a socket under the TV. Police checked other rooms at the hotel and discovered another spy camera, but the manager denied responsibility.
No official data has been released about the number of people who have been secretly filmed or on how many video clips or images have been posted online.
According to Nanfang Metropolis Daily in Guangdong, from to 2016 to last year, there were reports of hidden cameras being found in at least 35 hotels in 24 cities.
Zhang Jie, a lawyer from the PW & Partners Law Firm in Guangdong, said: "Technological development has enabled images to be shot, distributed and reproduced very easily. The easy availability of hidden-camera technology and lenient punishment for these crimes are the two main reasons that invasion of privacy is increasing. Authorities need to pay more attention to this."
On Aug 8 in Fuzhou, capital of Fujian province, a woman suddenly heard a fizzing sound coming from the TV in the apartment she and her husband had rented for nearly six months.
"It didn't make any sense to me because we had never turned the TV on.... We never watch it," the woman said in media reports. "I checked and found a tiny hole in the side panel."
She said she felt disgusted after she took the TV apart and found a spy camera connected to a circuit board and a 32-gigabyte memory card. The couple had been living under the watchful eye of the hidden camera, which was set to record activity in the room from 9 pm until the following morning.
They immediately called the police. A week later, a statement issued by local police said they had arrested a suspect - the apartment's former tenant. He was given 10 days' detention.
The same punishment was given to an internet technology worker who had installed the button-sized camera in the Uniqlo fitting room in Shenzhen in June.
According to legal experts, legislation on the invasion of privacy does not go far enough.
In China, nonconsensual voyeurism is not a criminal offense. Under the Administrative Punishments Law, anyone who secretly photographs or records others faces a maximum punishment of just 10 days in administrative detention and a fine of up to 500 yuan.
"In cases of such voyeurism, no criminal offense has been committed," Zhang said. "Only if the footage is distributed or sold can a case be considered under the crime of disseminating obscene material (for profit).
"However, such wrongdoing invades victims' privacy and can ruin a life in a flash. The current legislation is far from being tough enough to deter voyeurism. Once these video clips are leaked online, the harm it does to victims cannot be over-exaggerated."