Opera show wows audience in Cairo
Xinhua | Updated: 2019-08-29 08:13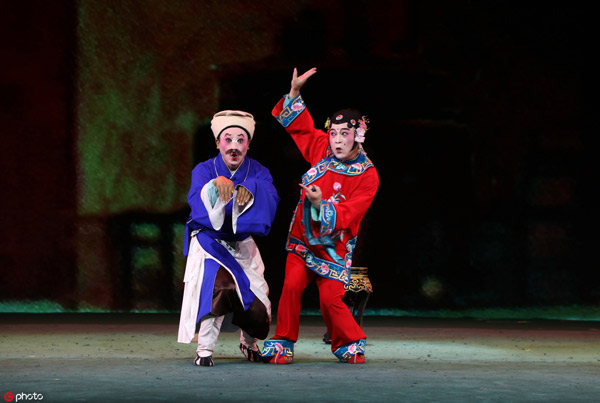 At Cairo's renowned Citadel of Salah ad-Din, the Chinese performance of the Gaojia Opera was well received by an Egyptian audience at the 28th edition of Cairo Opera House's Citadel Music Festival, which kicked off on Aug 18.
"I'm amazed by these wonderful Chinese performers. The artists are very professional and the music is awe-inspiring," says Wael Gamal, a sales manager at a computer company.
The 39-year-old says he liked the way the artists played the musical pieces, adding: "I don't have to speak about how the audience reacted to the performances. The applause for the artists proved how much everyone liked the shows."
The festival, which runs through Sept 1, featuring 41 concerts, including performances by Egyptian artists, has shows by artists from China, Algeria, Tunisia, India, Venezuela, Germany, Guinea and Namibia.
Mohammed Rezq, an employee at a local tourism agency, says: "This is one of the greatest shows I have attended. I was really moved by the performance and I will always remember this show."
The young man says the show was the first time he had watched a live Chinese performance, adding that the concert would encourage him to listen to Chinese music.
The Gaojia Opera, an art form of Quanzhou city, Fujian province, originated from a masquerade parade popular in rural areas of southern Fujian in the late Ming Dynasty (1368-1644) and the early Qing Dynasty (1644-1911) where people dressed up as Liangshan heroes (from the Chinese classic Outlaws of the Marsh) and performed martial arts.
On May 20, 2006, Gaojia Opera was approved by the State Council, China's Cabinet, to be listed as a national intangible cultural heritage.
Wu Jiasong, head of the delegation of the Quanzhou Gaojia Opera Heritage Center to Egypt, says Gaojia Opera is famous for its clown roles. "We have chosen some parts of the most famous clown play to be performed at the show."
He says art transcends national borders, adding that Egyptian audiences "really understood our performance".