On the road from past to future
By Thomas Schmidt | chinadaily.com.cn | Updated: 2019-08-29 16:54
Two decades ago I first came to China, just at the right time to experience the 50th anniversary of People's Republic of China in Guangzhou. Out of the past 20 years I've spent seven living and working in China, first for an international German sports company for two years, later after a long break in Europe I joined a Chinese supplier company for the international sports industry. Twenty years ago it was unimaginable for a Westerner to work in a local Chinese company. Today, it is a common sight. I am welcome to contribute to the growth of China, and Chinese companies are becoming global companies and brands. Our HAPTIC 3D textile coating company is a great example how Chinese companies are setting up globally leading B2B brands. What a rapid change and great development! Business environment and Chinese people are opening up to international experience and global exposure.
However, you can still find the traditional old Chinese culture and lifestyle, especially in the rural country side. Recently I managed to get the driving license for motorbikes, a difficult challenge for a foreigner as the test is conducted in Chinese language. I love motorbikes because they allow so much more contact with nature. You feel the wind, the rain, the sunshine, the temperature and the smell of the air every kilometer you drive. You are connected with your environment and still have a tool to explore the country and discover areas not everybody can easily go. Immediately after I got the license I bought a nice Chinese Zhongshen 450 cc adventure motorbike. I wanted to get a Chinese brand, something that really connects me to the Chinese development, not an established Western or Japanese motorbike brand where the quality is good but but price is high.
After buying the bike my life has changed. Suddenly I feel much more integrated into Chinese life. And much more independent. I can take it and go wherever I like, whenever I like. My bike is a kind of adventure bike, in our city of Putian it appears to be a very big bike. Most of the people drive small 125 cc "working horses" but not fun bikes. My bike is made not only for transportation but also for enjoying life and exploring the country. And I feel this is an enormous trend in China. Chinese people are getting to a point where they want more than only working hard, making money and enjoying family life. Many Chinese now start looking for new experience, not only work experience but also new life experience. Outdoor sports for example are growing fast. Sport overall is growing fast. People realize that beside work you need some activity to keep your body and mind healthy.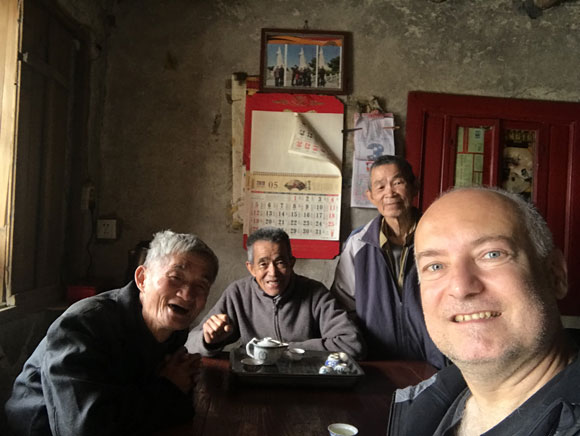 Something you really enjoy and something which teaches you a new experience and connects you better to your environment and the world you are living in. For me, driving my motorbike is one part of it – and I can meet more and more Chinese adventure motorbike drivers feeling the same. When I take my motorbike and ride out of the city into the mountain regions of Fujian province there is not only great nature to experience. Sometimes I stop in small villages, buy water in a local shop or some food in a small restaurant. And every time I do so I experience so much friendship, lovely people who are interested to connect although language is still a big barrier.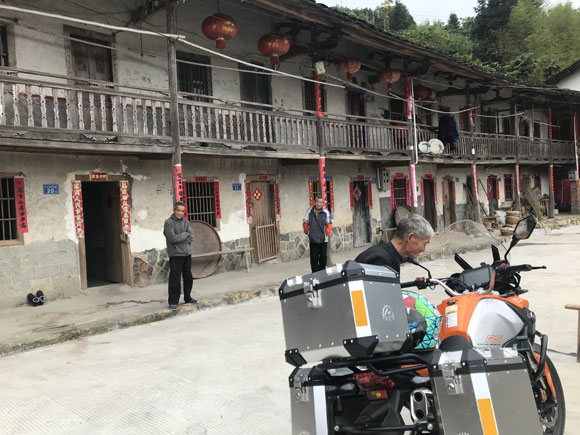 Anyway, all of us can feel that we all are nice people from different parts of the world and happy to meet. And happy to exchange a few minutes of our life. People in the countryside are often not familiar with such type of adventure motorbikes and may not fully understand the purpose but they can feel it is something special and great. They can feel that I am bringing a message from future to them. We all live together here on this planet, we all enjoy meeting each other in peace and friendship, and we are hoping the future will bring us communication tools making it easy for us to connect and exchange our experience and thinking. Friendly people on the way invite me for a cup of tea and often we spend an hour enjoying the tea and trying to exchange some information. Not always you need to talk a lot.
Sometimes you can just feel that all the talking about cultural differences is pretty much exaggerated. On the ground level of living together we are 90 percent the same, we all have the same dreams, happy family, good food, peaceful and exciting life. Why most of the time we talk about the small differences and why these small differences sometimes make daily life so complicated? International exchange and friendship helps to see the real importance of focusing on people. Connecting by opening up, by trusting you can find friends in every corner of the world. Exploring, understanding and respecting the little differences is the best way forward to future. My motorbike is a tiny small step enabling international experience on a very personal level. Arriving back at home in Putian I always feel to this day that I have connected a little bit with the world. I have planted a seed to grow friendship between our different cultures. And I am looking forward to the next weekend for the next adventure.
Thomas Schmidt is the director of innovation and RSL at Huafeng company in Putian, Fujian province.
The opinions expressed here are those of the writer and do not represent the views of China Daily and China Daily website.