Pop star to help US rekindle tourism
By AI HEPING in New York | China Daily Global | Updated: 2019-08-29 23:08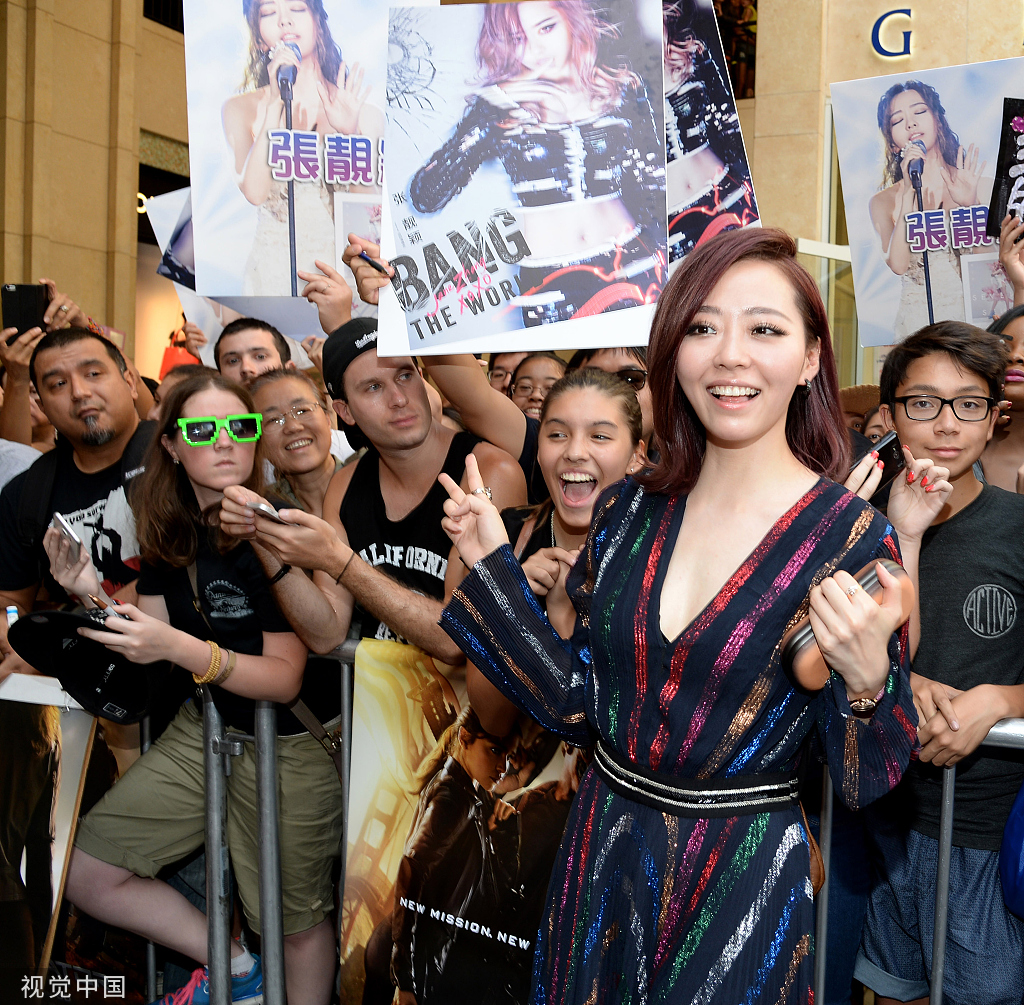 Brand USA turns to China's 'Dolphin Princess' Jane Zhang to help stem decline in Chinese visitors
The number of Chinese visiting the US has dropped during the current trade dispute between the two countries, so the destination marketing organization for the US is turning to a Chinese pop star in hopes of reversing it.
Jane Zhang, who is known as the "Dolphin Princess'' for her high vocal register, will lead Brand USA's biggest-ever campaign on the Weibo social network next month. She has been filming the campaign, which will be called "Feel the USA", in Las Vegas, New York and San Francisco, the organization said.
Brand USA hopes the move will lead some of her 42 million Weibo followers to visit after a year marked by falling Chinese tourist numbers that have affected US hotels, retailers, travel agencies and other businesses.
"(It is) the biggest consumer initiative we've had with Sina Weibo since we began working together five years ago," marketing chief Tom Garzilli said in a statement. Brand USA declined to say how much it was investing in the campaign.
Brand USA isn't alone in turning to social media in China.
US hotels, retailers, tour operators and others have been expanding marketing to Weibo and WeChat, commonly referred to as "Chinese Twitter".
For the past 15 years, the number of Chinese tourists to the US has grown steadily because of a stronger Chinese economy and better relations between the countries.
But in 2018, about 3 million tourists traveled from China to the US, according to US Commerce Department data, a decline of 5.7 percent from a year earlier, compared with a 4 percent gain in 2017, and a 15 percent increase in 2016.
The number of Chinese tourists declined another 3 percent in the first six months of 2019 as a stronger US dollar, the trade conflict and government warnings on gun violence discouraged travelers, tourist officials said.
On June 4,the Chinese government issued an alert for Chinese tourists traveling to the United States, citing "shootings, robberies and theft" that have occurred "frequently". The warning came amid the trade dispute and tougher immigration enforcement by the Trump administration.
"Chinese tourism is a big prize in global trade. ... On this front, the US has more to lose than China," Robin Winkler, foreign-exchange strategist at Deutsche Bank, said in a note in June. The trade war "would likely take a severe dent to household income growth to squash the new middle class's appetite for passports and foreign travel. A weaker exchange rate could make foreign travel somewhat less affordable", Winkler added.
Despite the drop-off in 2018, Chinese tourists remained the biggest spenders of all international travelers to the US, laying out $36.4 billion last year, according to Commerce Department data.
Many American retailers rely on high-spending tourists, and on Wednesday, Tiffany & Co, the New York-based luxury jeweler, reported that its second-quarter profit and sales fell as it dealt with continued weak spending by Chinese tourists and other international travelers.
The strong dollar has made jewelry from Tiffany more expensive for Chinese tourists visiting the US; the intensifying trade war between the US and China also has been a strain on business. Quarterly results also were affected by street protests in Hong Kong, Tiffany's fourth-largest market, the company said.
CEO Alessandro Bogliolo told Reuters that while spending outside of China was down, sales on the Chinese mainland were robust.
In 2018, Washington welcomed 1.9 million overseas visitors, down 5.3 percent from 2017, but the number of visitors to the nation's capital from China, its top overseas market, decreased 25 percent to 226,000, according to Destination DC.
"The data shows that Chinese visitation is down in the US overall, especially when it comes to vacation and first-time visitors, which DC tends to see a bigger share of," Elliott Ferguson, president and CEO of Destination DC, told China Daily.
"There are bright spots in the China market, however, with length of stay up 27 percent and room nights up 72 percent, so it's more important than ever to maintain our strong market presence,'' he said, including leveraging in-market representation in China.
The decline in Chinese tourists has been particularly felt by gateway cities and states and sites that have been popular with Chinese tourists.
In Hawaii, the number of Chinese tourists dropped by more than 23 percent in the first four months of 2019, compared with the same time period last year, according to the islands' tourism office. Hawaii's officials said Chinese travel declined in 2019, partially because Hawaiian Airlines in October discontinued its nonstop flights between Beijing and Honolulu.
In Arizona, home of the Grand Canyon, the state's Office of Tourism estimated the number of Chinese visitors declined 3.7 percent in 2018, after nearly quadrupling from 2010 to 2017.
Chinese tourism to Los Angeles — one of the most popular destinations — grew 7 percent, hitting a record 1.2 million visitors last year. This year, it's forecast to grow 6 percent.
San Francisco Travel, a tourism industry-funded organization, said it will spend about 10 percent to 15 percent more on marketing the city's attractions, such as the Golden Gate Bridge, in China this year, marketing chief Howard Pickett said.
Nancy Kong in New York, The Associated Press and Reuters contributed to this story.