HK chaos continues over violent weekend
China Daily | Updated: 2019-09-02 07:05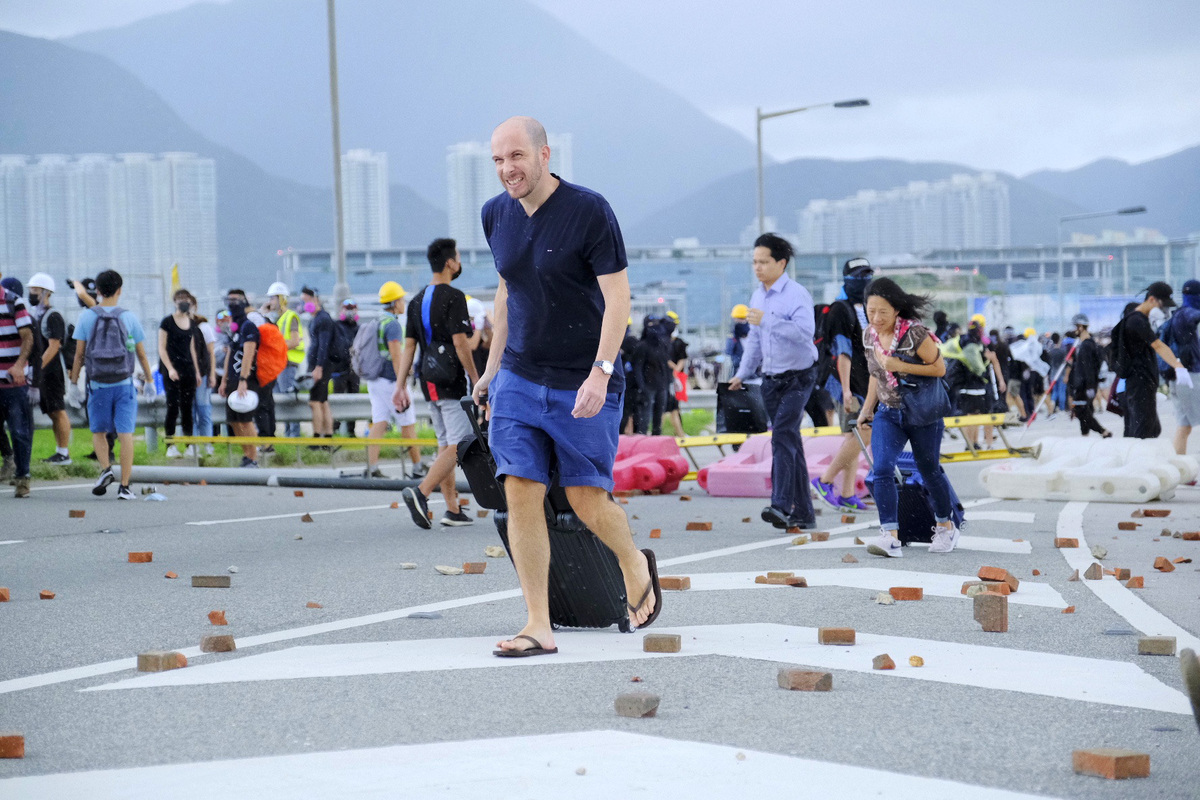 Voices ring out for return to order in city beleaguered by rioting protesters
Hong Kong saw another day of chaos as travelers struggled to catch their flights at Hong Kong International Airport on Sunday after rioting protesters moved to paralyze transportation links to the city's aviation hub despite a judicial injunction.
Trains to the airport were suspended and roads in the vicinity blocked as demonstrations against the now-stalled extradition law amendment bill flared for a 13th weekend.
Rioters set barriers ablaze on main roads.
People were stuck for hours on the roads. Visitors had to leave their cars or buses behind and walk to the airport departure hall.
About two weeks ago, violent protests wrought havoc at the airport, forcing officials to shut down operations and cancel thousands of flights.
On Aug 23, the Hong Kong Special Administrative Region High Court extended an interim injunction barring protesters from impeding airport operations. Failure to comply could lead to a contempt of court finding and imprisonment or a fine.
In Tung Chung, a town near the airport, rioters vandalized facilities, smashed windows and painted graffiti inside the MTR subway station.
Consequently, Tung Chung station was closed and the Tung Chung Line-connecting Central, the business center, to the Lantau Island residential area and also passing the high-speed rail station in West Kowloon and Hong Kong Disneyland-had to stop service. This all happened after a chaotic night of running battles between police and masked rioters on Saturday.
Sixty-three people were arrested Saturday night at Prince Edward and Mong Kok MTR stations, two of Kowloon's busiest, after heavy vandalism and assaults on passengers, police said. The two stations remained closed at press time.
They were arrested on suspicion of possessing explosives, weapons or engaging in criminal damage, acting Senior Superintendent Tsui Suk-yee of Kowloon West Regional (Crime) division said at a news briefing on Sunday.
Police found gasoline bombs, laser pointers, catapults and steel balls. A 13-year-old was arrested with two gasoline bombs and a lighter.
The arrests were made following reports of intense clashes among two groups of passengers, Tsui said.
Eleven others were arrested in Causeway Bay and Sai Wan on suspicion of possessing offensive weapons.
According to the Hospital Authority, at least 31 injured people were taken to hospitals Saturday. Five remain in serious condition by Sunday morning.
In earlier protests Saturday on Hong Kong Island, police tried to disperse rioters with water cannons and tear gas, and rioters hurled gasoline bombs and bricks at police.