Nature is key to UK's climate goal
By Angus McNeice in London | China Daily Global | Updated: 2019-09-02 09:17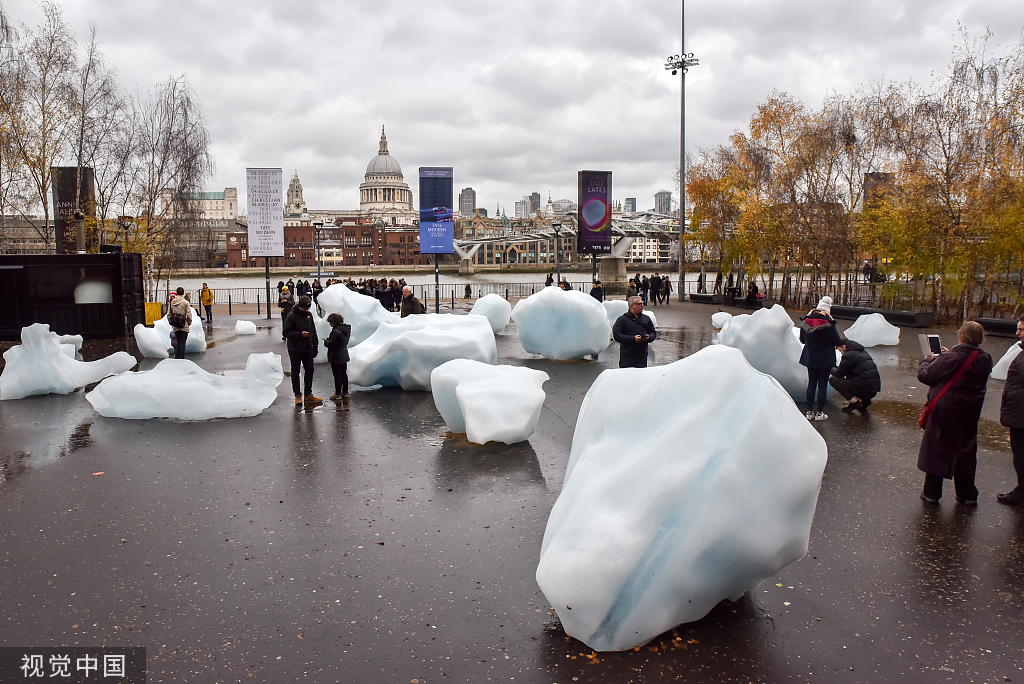 Climate experts say the United Kingdom must plant billions of trees as well as take other transformative measures to achieve its ambitious net-zero emissions target by 2050.
In two weeks, throngs of protesters are set to take to the streets in the UK to take part in the Global Climate Strike backed by student activist Greta Thunberg.
Protests such as this are now commonplace in the UK, where public concern over the issue of climate change is mounting.
In late July, on the second hottest day on record in British history, nine members of activism group Extinction Rebellion faced trespassing charges at a North London court, having glued themselves to the doors of a hotel where the UK's trade minister was speaking at a major petroleum conference.
The day before the trial, dozens of protesters from environmental group Greenpeace formed a human chain across the road in front of Buckingham Palace, briefly blocking the motorcade taking new Prime Minister Boris Johnson to meet the Queen.
These protests continue, despite the fact that British lawmakers launched an ambitious response to the so-called climate emergency back in June, when the UK became the first major economy to commit to net-zero emissions by 2050.
The move drew widespread praise, but environmentalists and climate experts are concerned that the pledge was not accompanied with an outline as to how it might be achieved.
Parliament set the new target through an amendment to the Climate Change Act of 2008 which adjusted the previous emissions reduction rate from 80 percent to 100 percent. This amendment was one of the shortest pieces of legislation ever approved.
Asher Minns, executive director of the Tyndall Centre for Climate Change Research at the University of East Anglia, said that Parliament's pledge "doesn't count for much" and points to recent examples of where the UK has in fact reversed policies designed to mitigate emissions.
"The government has unrolled the policies that were already in place speaking to the Climate Change Act - including solar and onshore wind policies," Minns said. "The government has actually dismantled those policies".
In 2015, the UK government removed tax relief measures on new solar builds and ended certain subsidies for onshore wind projects. Since then a number of financial incentives for biomass, energy efficient homes, and electric vehicles have been removed.
"The first thing they have got to do is put those things back in place, and then go beyond," said Minns.
The UK has made large strides in cutting emissions in its power sector. Electricity generated from gas and coal accounted for 15 percent of total UK emissions in 2017, down from 64 percent in 1990.
Renewable forms of energy are getting cheaper, and the UK Committee for Climate Change estimates that further decarbonization of electricity in the UK could feasibly reduce emissions in the power sector by 97 percent compared to 1990 levels.
Other sectors will prove more challenging. Buildings accounted for 17 percent of UK greenhouse gas emissions, and the decarbonization of heat for homes is viewed as one of the biggest hurdles in achieving netzero by 2050.
To get on track, the CCC says the government must come up with a plan to insulate lofts in 9 million homes, install wall insulation in 2 million homes, and provide electric heat pumps for 2.3 million homes - all in the next decade alone.
Ajay Gambhir, senior research fellow at the Grantham Institute for Climate Change and the Environment at Imperial College London, said the government needs to support the implementation of a retrofitting program and create incentives for people to change out gas boilers, which currently heat 75 percent of homes in the UK.
Gambhir said there will also need to be large social changes in the UK, in the way people travel, eat and use energy at home, to reach net-zero. Agriculture accounts for 9 percent of UK emissions - half of which come from cows and sheep - so a shift in diet away from beef, lamb and dairy would help matters.
In the transport sector, the government has introduced a policy that by 2040, all new cars sold must be "effectively zero emissions". However, no zero carbon alternatives exist in aviation, which together with shipping contributes 10 percent of UK emissions.
This means that the net-zero target will only be achievable if the UK puts in place carbon capture measures, according to former chief scientific advisor to the UK government David King.
Engineers around the globe are working on ways to take carbon dioxide out of the atmosphere, but until such technologies are affordable and scalable, King says the UK should turn to nature.
"How do we remove greenhouse gases? Frankly I think for the UK the best bet is to plant several billion trees," he told China Daily.
The government has introduced some forestation incentives, including funding for rural landowners to plant trees and a 10 million pounds ($12 million) urban greening fund. Last year, 134 square kilometers of woodland were planted in the UK, and over the last four years, 15 million new trees have been planted. But the CCC says this rate of forestation is no way near fast enough.
It estimates that the UK must plant between 300 and 500 square kilometers of new forest every year until 2050 -- equivalent to 1.5 billion trees -- if it is going to have a shot at achieving net-zero.
"The zero-emissions target is fine, and I was delighted when it was made," said King. "But we have to start working on it right away, right across government. It's not one single ministry that's involved. The situation is far worse than the climate science community thought 10 years ago."
angus@mail.chinadailyuk.com