Insurance to cover online medical services
By Zheng Yiran | China Daily | Updated: 2019-09-02 09:56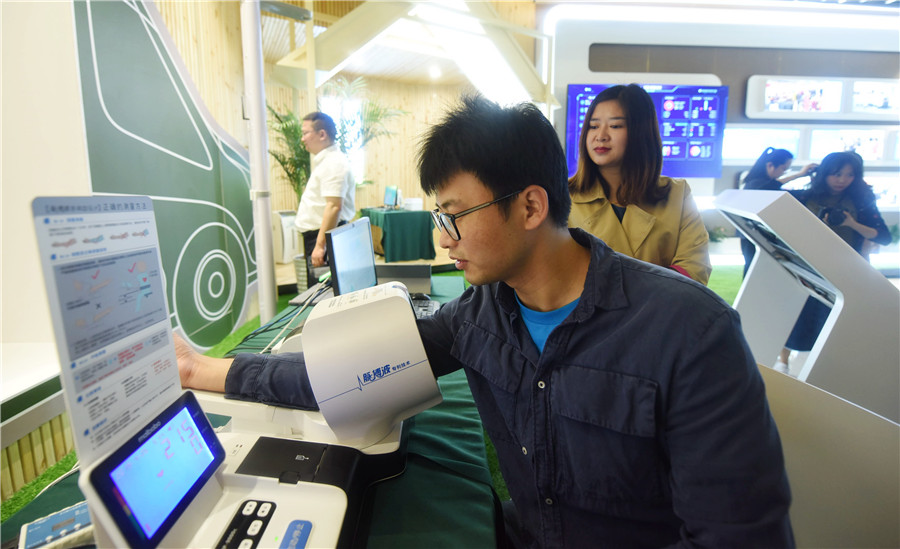 Reform and opening-up are set to add value to China's healthcare industry.
On July 31, the National Healthcare Security Administration said the first draft of the pricing details of internet-based medical services was completed, and such services will henceforth be covered by the country's medical insurance system. Related policies will be introduced by the end of this month.
The move follows the second annual session of the 13th National People's Congress earlier this year, which highlighted this issue and called for improvement in internet-based medical services.
Owing to hectic lifestyles, many people, particularly those living in cities, prefer to consult their doctor online when ill. However, such e-consultations, and any subsequent treatments, were not covered by health insurance companies so far.
Huang Ying, 34, a teacher in Beijing, testifies to this lacuna. She often turns to online doctors when she does not feel well. "A hospital visit takes time. Usually, hospitals are crowded and sometimes, getting a token to join the line is not possible. So, seeing a doctor online is much more convenient. The only problem is that the cost isn't covered by the medical insurance," Huang said.
Currently, most of China's public hospitals have a presence on online healthcare platforms, using which patients can consult with their doctors. Doctors' basic information, including their specialization, professional qualifications, experience details, hospital where they are available for consultation, can be accessed online. Online consulting fee normally ranges from 10 yuan ($1.4) to 500 yuan.
Chen Qiaoshan, a medical sector analyst at Beijing-based market research consultancy Analysys, said: "The plan for the inclusion of the internet-based medical service fee in the country's medical insurance system demonstrates the standardization of the market. In addition, it increases patients' willingness to pay. The policy promotes the development of China's internet-based medical sector."
She noted that the reimbursement of drugs sold online will probably start after 2020, when selling prescription drugs online is expected to be legalized.
The report from the Sootoo Research Institute estimated that China's internet-based medical industry will reach 90 billion yuan in sales revenue by 2020. The industry is maturing, the industrial chain is gradually improving, and some players are marching from nascence through competition to sector-wide expansion.
Thanks to growing market demand and the government's favorable policies, in 2018, the country's internet-based medical industry earned 49.1 billion yuan in sales revenue, up 51 percent year-on-year, according to the SRI report.
On April 12 last year, the State Council, China's Cabinet, issued a guideline to promote the development of the internet-based medical industry. It included related laws and regulations. Specifically, the guideline stipulated fee structure for internet-based medical services, and underlined improvements to the health insurance claim settlements through a cost-sharing mechanism.
The NHSA said provinces and autonomous regions have the right to set pricing details, based on their local situation. It further said it is supportive of local governments that wish to include certain medical services in their health insurance system, according to the scale of funds available for the purpose.
A number of companies have taken advantage of the increasingly favorable environment for the internet-based healthcare sector. They are developing innovative solutions that improve efficiency while providing better service to patients.
Jianke, a pharmaceutical e-commerce platform, has launched Jianke Doctor, a telemedicine platform focused on linking patients and doctors to enable remote consultations and electronic drug prescriptions.
"Jianke's platform connects doctors, patients, and pharmaceutical enterprises. Going to hospitals is currently a frustrating and timeconsuming process, often requiring patients to navigate lengthy queues," said Hao Jianyao, vice-president of Jianke, during the fourth Chinese Healthcare Industry Summit held by Equal Ocean in July in Beijing.
"Our mobile medicine solution brings efficiency and convenience to the process, allowing for more flexible scheduling of doctor consultations and hassle-free electronic drug prescription refills."
According to Jianke, over the past year, its telemedicine platform has grown to about 100,000 active doctors, serving over 300,000 patients daily.
Chen noted that when new policies are introduced, there will be a verification process for the healthcare insurance departments, hospitals and online platforms. "The government's supervision is necessary, to avoid false diagnosis and wrong treatment information," she said.