Germany's far-rightists gain in state elections
By JONATHAN POWELL | China Daily | Updated: 2019-09-03 08:03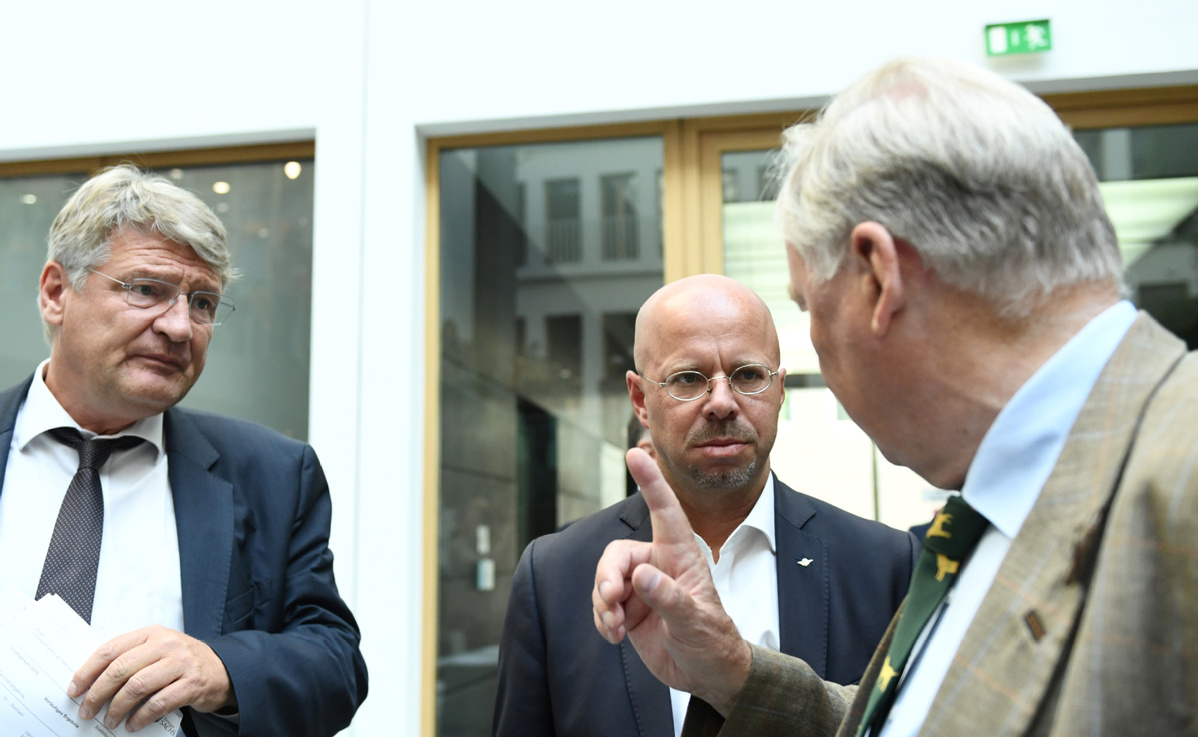 Germany's far-right Alternative for Germany party, or AfD, surged in last weekend's elections in two eastern states, preliminary results show, though the center-right and center-left winners will still outnumber the right despite their parties' decline in popularity.
The AfD made gains in both states, with 27.5 percent of the vote in Saxony and 23.5 percent in Brandenburg.
While these represent big leaps from their results in 2014, when the party was only one year old, they're very similar to the AfD's scores in the two states in the last national election in 2017.
A symbolically important AfD win in either state could have further destabilized the central government. German Chancellor Angela Merkel's Christian Democrats, or CDU, and Social Democrats, or SPD, govern Germany together in a fractious national coalition. Mainstream parties have pledged not to form coalitions with AfD.
Combined, the two states make up less than a 10th of Germany's total population, although Saxony is the most populous state from the former East Germany with more than 4 million residents. It is home to the cities of Chemnitz, Dresden and Leipzig. Brandenburg has 2.5 million inhabitants and surrounds Berlin.
The CDU will remain the strongest party in Saxony, with slightly more than 32 percent of the vote. In Brandenburg, they scored 15.6 percent.
The center-left SPD will hold on to the top spot in Brandenburg with 26.2 percent, down from 31.9 percent in the previous election in 2014. The SPD received just 7.7 percent of the vote in Saxony.
A historic low
Despite holding on in Brandenburg, the SPD fell to a historic low of only 7.7 percent of the vote in Saxony. The center-left has seen its supporters migrate to the Left and the Greens on one side and the CDU on the other.
SPD General Secretary Lars Klingbeil said the stagnating results for the AfD indicated that "the people do not want the AfD as the strongest power".
Klingbeil added, "The good signal in both states is that a few weeks ago the far-right was ahead, and today there was a clear signal against AfD."
Saxony has long been a hotbed of far-right groups. It is not only a stronghold of AfD, but also the state where the anti-migration group PEGIDA-Patriotic Europeans against the Islamization of the West-rose to prominence with weekly protests in Dresden that brought tens of thousands of supporters into the streets at the height of the 2015 migration crisis.
Following the murder of a German man by a Syrian asylumseeker a year ago, the Saxon city of Chemnitz saw days of anti-foreigner riots by thousands of neo-Nazis and members of AfD.
AfD has tapped into disillusionment, particularly in rural areas, among people who feel left behind after nearly three decades of German unity.