An appeal beyond borders
By Yang Feiyue | China Daily | Updated: 2019-09-03 08:25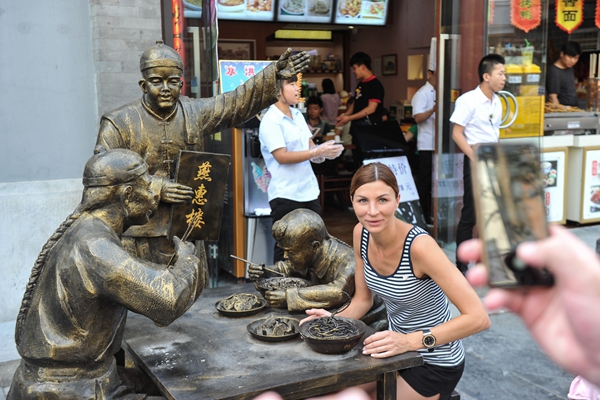 A Beijing-based travel summit is building partnerships with overseas agencies and discussing ways of enticing more tourists to visit the mainland, Yang Feiyue reports.
Nimesha Sarangi made her 40th trip to China in August. Working in outbound-tourism operations for Sri Lankan travel agency Jetwing Holidays means she has been dealing with the Chinese market since 2011.
"I've been to many places across the country, especially Beijing," Sarangi says.
"Whenever there's a new destination or hotel, I'll come and learn about it and then promote it among the people back in my country."
Business has been good at her agency.
"We've seen a 10 to 20 percent growth every year over the past few years," Sarangi says.
Just a few weeks ago, she traveled with 80 tourists from Sri Lanka to Beijing.
Sarangi expects to bring about 2,000 travelers to the capital this year.
"They love to travel here because of the Great Wall and the Forbidden City," Sarangi says.
"Shopping and local food are also on their list of favorite things to do."
Direct flights connecting Sri Lanka to Beijing and the welcoming nature of Chinese people have also helped fuel the Sri Lankans' enthusiasm to travel to the capital, she says.
Sarangi is among the 60 overseas travel-service providers, who attended the Beijing Tourism Global Distribution Partnership Summit in late August.
The summit was hosted by Beijing's municipal culture and tourism bureau with the aim of developing a global network of travel-business partners for Beijing to boost its inbound tourism.
The summit was launched in 2018 and aspires to reach 100 foreign travel partners within three years.
"We keep them updated on tourism resources (in Beijing) for free on a regular basis so they can promote them on platforms in their respective markets," says Cao Pengcheng, deputy director of the Beijing's culture and tourism bureau.
The partners will also be invited to experience unique travel experiences in Beijing every year, in addition to joining events like the summit.
"This way, they can come up with better tourism products based on the requirements of travelers from their countries," Cao says.