Hurricane Dorian lumbers along US Atlantic coast
By BELINDA ROBINSON in New York | China Daily Global | Updated: 2019-09-04 23:44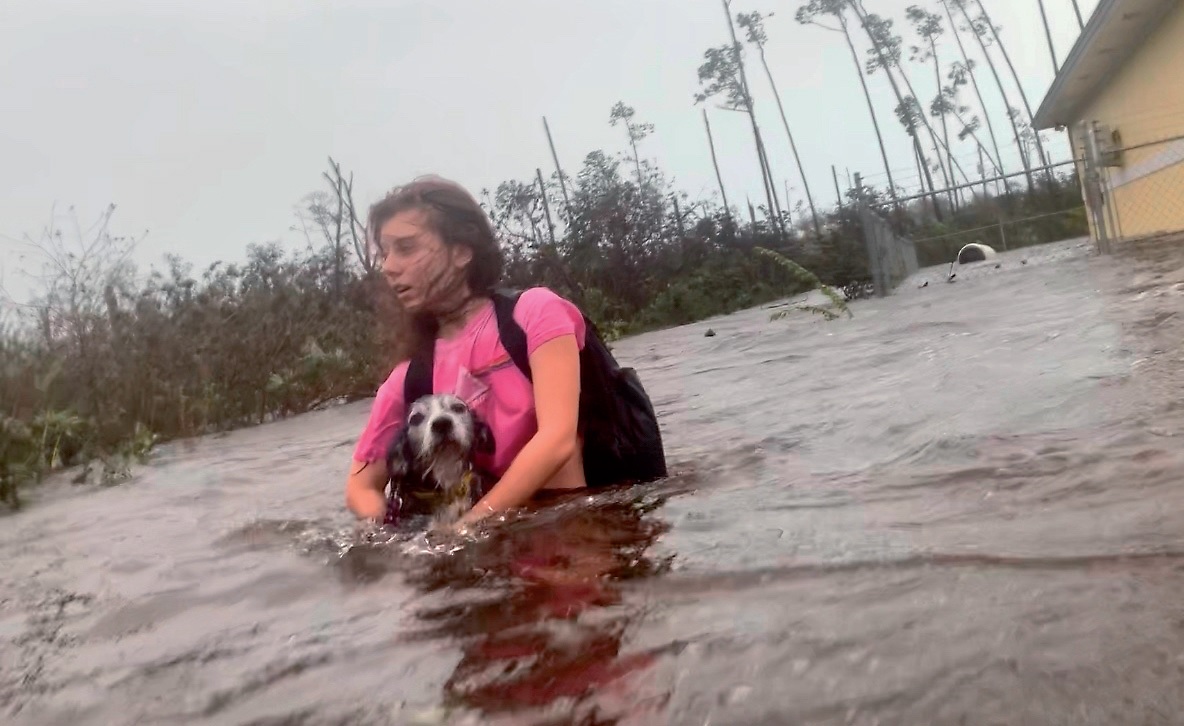 Hurricane Dorian drifted up Florida's east coast on Tuesday, weaker in strength but larger in size, according to the National Hurricane Center.
After battering the Bahamas with storm surges that killed five people and destroyed 13,000 homes, Dorian became a slow-moving Category 2 hurricane with winds of 110 mph by Tuesday afternoon.
As of 7 pm EDT, the hurricane was 125 miles east of Melbourne, Florida, moving northwest at 6 mph, according to weather.com.
More than 2 million residents in the coastal regions of Florida, Georgia and South Carolina have been urged to evacuate to avoid widespread flooding that Dorian could bring even if the storm's center stayed offshore.
Walt Disney World and SeaWorld in Orlando planned to close.
After days of warnings to flee the storm, many residents of Florida's coast remained unsure whether to wait it out or evacuate.
"I know it's a mandatory evacuation, but everyone I talked to is staying, and I don't know what to do. But I'm going to be ready and packed up in case I need to get on the road if they close those bridges," said Linda Cassano, a 53-year-old beautician who lives on Jacksonville Beach, as she stocked up on water and food.
South Carolina Governor Brian Kemp said of his state's preparations: "We're taking the 'better safe than sorry' attitude."
NHC's projections showed North Carolina also could get hit hard later in the week.
As of Tuesday evening, the eye of the hurricane had moved away from Grand Bahama but was expected to continue to pummel the island through the evening.
Hurricane Dorian's 24-hour onslaught in the Bahamas left people trapped in their attics. The storm destroyed houses, left cars stacked on top of each other and overturned boats, according to The Associated Press.
Dorian also killed one person in Puerto Rico. When the hurricane first hit the island on Sunday, it had sustained winds of 185 mph and gusts of up to 220 mph.
The storm's high winds and torrential rain turned into brown floodwater streaming down streets while winds buffeted palm trees and houses in Abaco and Grand Bahama, which have a population of about 70,000.
The US Coast Guard airlifted at least 21 people from Abaco Island after Dorian first hit on Sunday.
The US military has been authorized to provide logistics, health and engineering support to the Bahamas for up for 14 days if needed, General Terrence O'Shaughnessy, the head of US Northern Command, told reporters Tuesday.
Red Cross spokesman Matthew Cochrane said more than 13,000 houses in Grand Bahama and Abaco were believed to be severely damaged or destroyed.
The United Nations said more than 60,000 people on the islands will need food, and the Red Cross said that 62,000 will need clean drinking water.
Health Minister Duane Sands said that Dorian had left the main hospital unusable. He said he planned to send a medical team to the Abaco islands.
Theo Neilly, the Bahamian consul general in Washington, said the damage on Grand Bahama was expected to be "very devastating".
Lia Head-Rigby helps run a local hurricane relief organization and surveyed the damage while she flew over Abaco Island.
"It's total devastation. It's decimated. Apocalyptic," she told AP. "It looks like a bomb went off. It's not rebuilding something that was there; we have to start again."
She said a colleague on Abaco told her "there's a lot more dead", and that the bodies were being collected.
Crews were trying to airlift several kidney patients from Abaco who had not received dialysis treatment since Friday, AP reported.
Videos of desperate residents trapped in the storm surfaced on social media.
"Please pray for us, please pray for us everyone. … Me and my baby and everyone that stays in our apartment building our stuck right here … pray for Abaco … my baby's only 4 months old," an unnamed woman pleaded in a video posted on social media.
Reuters contributed to this story.