Search called off in deadly Calif. dive-boat fire
By LIU YINMENG in Los Angeles | China Daily Global | Updated: 2019-09-04 23:58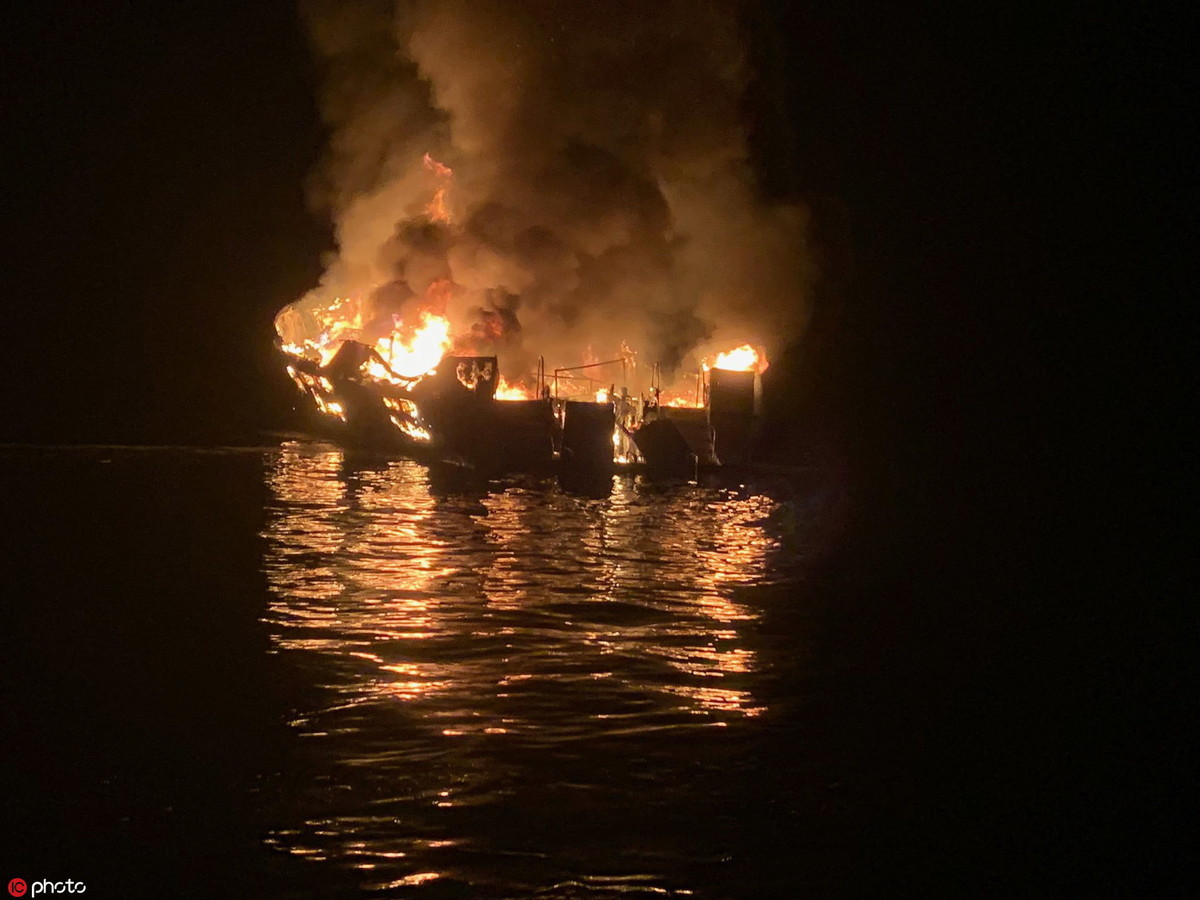 Authorities in California suspended search efforts Tuesday as it became increasingly clear that there were no additional survivors on a commercial dive boat that erupted in flames Monday.
The 75-foot commercial diving vessel, named Conception, was on a three-day scuba diving excursion to the Channel Islands when it caught fire and sank near Santa Cruz Island. It had 39 people on board — six crew members and 33 passengers.
"Sadly, no additional survivors have been found, and an additional 16 victims were located in yesterday afternoon's efforts and were brought back to our coroner's bureau," Santa Barbara County Sheriff Bill Brown said at a news conference Tuesday morning.
"This made in total 20 victims who have been recovered and transported to our coroner's bureau. Thus far, the victims have only been identified as 11 females and nine males' remains," the sheriff added.
There were four to six other victims who were still inside the sunken wreckage. The divers have spotted them, but the positioning of the boat made it difficult to recover their bodies before nightfall, Brown said.
Fourteen people remain unaccounted for.
The Chinese Consulate General in Los Angeles told the media that there was no report of Chinese citizens on the boat.
Coast Guard Sector Los Angeles-Long Beach watch standers received a mayday call around 3:30 am Monday about a commercial diving vessel engulfed in flames. The vessel sank in 64 feet of water at around 7:20 am, 20 yards offshore.
Five crew members, who were on the top deck, jumped off the boat and were rescued by a good Samaritan pleasure craft, but the 33 passengers and one crew member sleeping below deck when the fire broke out were presumed dead.
Coast Guard Captain Monica Rochester said the Coast Guard suspended search efforts at 9:40 am Tuesday, pending further developments.
"It is never an easy decision to suspend search efforts. We know that this is a very difficult time for families and friends of the victims," she said.
The search effort was halted because no additional individuals had been witnessed entering the water, and there was also no additional sign of distress or debris, Rochester said.
Rochester said the vessel is required to undergo an inspection by the US Coast Guard annually, and it has been in compliance with all federal regulations.
The investigation is still ongoing.
The call center has received more than 100 phone calls from families and friends who believe their loved ones were on board Conception, Brown said, adding that only four families of the 34 passengers have not been connected with the investigators.
Authorities have not conducted autopsies at this point, but the bodies have been visually examined, Brown said.
Most of those on board were from the Santa Cruz and San Jose areas.