PM Johnson loses control of the agenda as Tory rebels oppose him
By Jonathan Powell in London | China Daily Global | Updated: 2019-09-05 01:09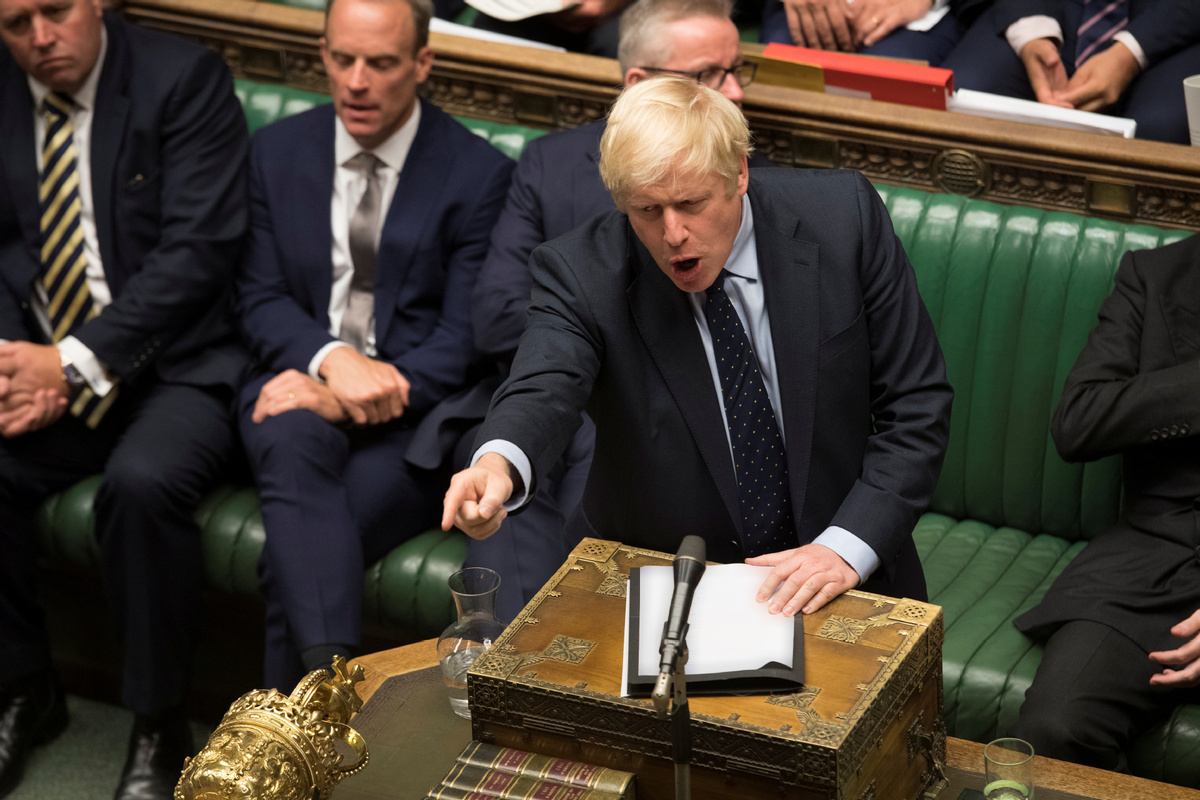 British Prime Minister Boris Johnson announced he would seek to trigger a snap general election after defeat in a key House of Commons vote meant he lost control of the Brexit process.
The defeat means members of Parliament were due on Wednesday to vote on a bill that would delay Britain's departure from the European Union if a new withdrawal deal cannot be agreed before Oct 19.
Tuesday's Commons defeat by 328 votes to 301 gave control of Wednesday's parliamentary agenda to MPs who seek to block a no-deal Brexit and force the prime minister to seek an extension from the European Union.
MPs that favor remaining in the EU drafted the bill that would force Johnson to delay Brexit until Jan 31, if he cannot agree a withdrawal deal with the EU.
Labour and the Liberal Democrats have said they will block an early election until the threat of a no-deal Brexit is removed.
It was Boris Johnson's first significant parliamentary vote as prime minister, and after three hours of debate it ended in a decisive defeat when 21 Tory rebel MPs, including two former chancellors, joined opposition parties to vote in favor of taking control of business in the Commons, with the aim of passing legislation to prevent a no-deal Brexit.
The 21 rebels, including several former cabinet ministers, were subsequently told by Johnson's government that, as a result of their actions, they will "lose the party whip" and can no longer represent the Conservative Party.
In response to the defeat, the prime minister said he would table a motion under the Fixed-term Parliaments Act to call an election.
Johnson told the House of Commons: "The consequences of this vote tonight means that Parliament is on the brink of wrecking any deal that we might be able to get in Brussels. It will hand control of the negotiations to the EU. I don't want an election but if MPs vote tomorrow (Wednesday) to stop negotiations and to compel another pointless delay of Brexit, potentially for years, then that would be the only way to resolve this."
Johnson and his government want a general election before Brexit, in the hope they can win and go back to Brussels with a mandate to leave — deal or no-deal.
The government's motion that could trigger an election was expected to be voted on later, possibly also on Wednesday, but it would need a two-thirds majority to pass and that would require the support of opposition MPs.
Labour Party leader Jeremy Corbyn made clear on Tuesday evening that Johnson would only get what he seeks when a no-deal Brexit option was removed.
Corbyn said: "He wants to table a motion for a general election — fine — get the bill through first, in order to take no-deal off the table."
While Labour's refusal to back it would limit the likelihood of Johnson's motion succeeding, other avenues remain open to the prime minister to push for a snap election — including triggering a confidence motion in his own government.