Guesthouses around Erhai Lake reopen
By Fang Aiqing | China Daily | Updated: 2019-09-05 08:41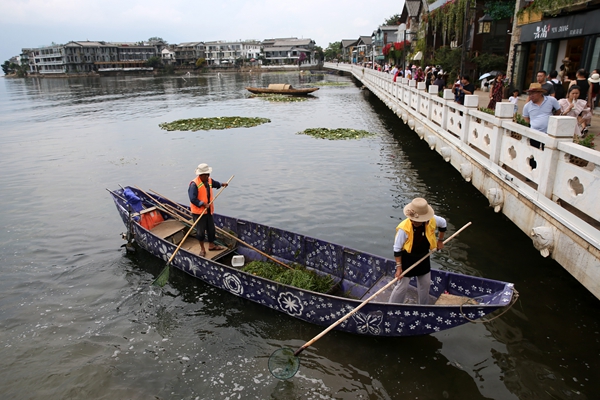 Protecting the Erhai Lake has become a priority for the Dali Bai autonomous prefecture in Southwest China's Yunnan province since President Xi Jinping's visit there in January 2015.
In recent years, efforts have been made to transform tourism, more specifically the operation of guesthouses that were loosely regulated and had contributed to the eutrophication of water.
The closing of nearly 2,500 restaurants and guesthouses around the lake for 18 months beginning in April 2017 had caused controversy in the media. However, 1,791 of the venues have since resumed business. Short-term pain is inevitable, but the sector has made progress when exploring alternative ways to develop tourism, says Gao Zhihong, Party secretary of the city of Dali.
In Shuanglang town, on the northeast shore of the lake, 485 restaurants and guesthouses reopened to capitalize on the first rush season of summer after the resumption of business late last year.
During the fallow 18 months, a sewage collection and treatment system was installed, telecommunication lines and solar water heaters were concealed, and roads and parking lots were improved-things that the local people didn't have the time to do in the past. From January to July, the town received 1.19 million visits from Chinese and overseas guests, generating an income of more than 1 billion yuan ($139.8 million).
Zhao Yihai, president of the local inn industry association, says the visitor numbers are picking up, but business has not yet returned to its previous levels, because many potential visitors are not aware of the resumption of service. Since the first guesthouse opened in 2007, tourism has gradually grown to be one of the town's main industries. A large number of residents work directly or indirectly in the field.
Zhao says the town's economy was hit hard, but guesthouse operators have eventually overcome their aversions and have realized what a clean lake means to their life and business.
Jiang Cuocuo, enamored by the sunset and clouds there, started his guesthouse in 2013 and witnessed a spurt of visitors from 2014 to 2016.
The original drainage system was not sufficient to dispose of sewage generated by tourists. Fire engines had to be used to draw sewage out and take it to other places in the city of Dali for purification. The government had to encourage the operators to install sewage treatment facilities themselves, while investing on building a new sewage treatment plant and pipeline networks which have since been put into operation.
Jiang says he devoted his time to redesigning and renovating his guesthouse, and to reflect on how to improve client experience.
"Now I really cherish the opportunity to run a guesthouse here again," he says.
"We stopped for a while, but the market and people's demands keep growing," Zhao says, adding that the local industry is cultivating cultural appeal based on the landscapes to make visitors stay longer and experience more of them.
Gao says the town has been inviting renowned artists to help cultivate a cultural tourism industry.