Hurricane leaves 20 dead in Bahamas, heads to Carolinas
By BELINDA ROBINSON in New York | China Daily Global | Updated: 2019-09-05 22:54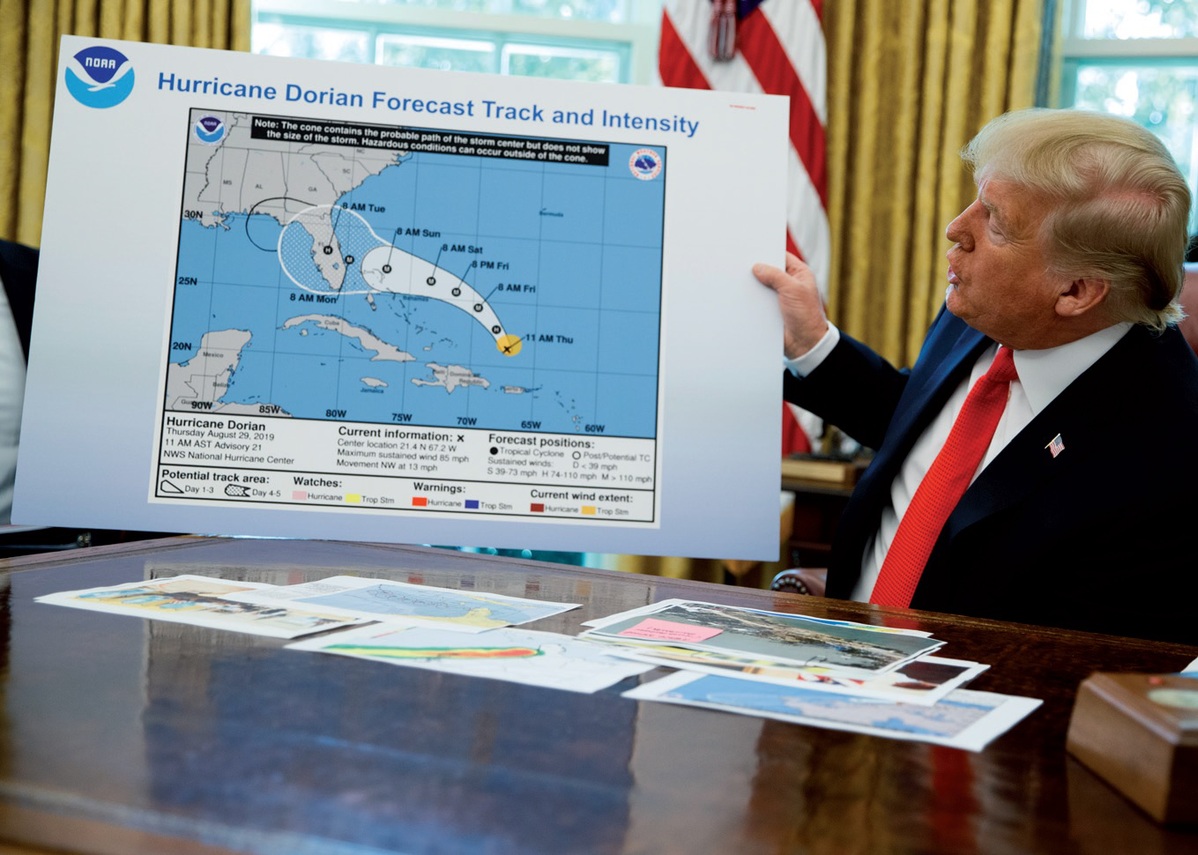 Hurricane Dorian made its way up the southeastern coast of the US on Wednesday after devastating the Bahamas, where it was blamed for 20 deaths, and where the United Nations estimated that 70,000 people were in need of immediate humanitarian relief.
Dorian was sitting about 135 miles south of Charleston, South Carolina, at 8 pm EDT Wednesday, moving north-northwest at 8 mph, according to weather.com.
Bahamas health minister Duane Sands confirmed that 17 victims are from the Abaco islands and three are from Grand Bahama, adding that three of the victims died after being transported to a hospital in nearby New Providence.
"There is concern that some whole communities' locations have been destroyed or are underwater or washed away," Mark Lowcock, UN under-secretary-general for humanitarian affairs, said in a conference call from the Bahamas. "One of the uncertainties is where the people who were living there are now and how to reach them."
Dozens of people in Bahamas, which has a population of about 400,000, went on Facebook to seek information about missing loved ones. One aid worker described an apocalyptic level of destruction on Great Abaco Island.
"There is no coordination, no communication, and things are going to get worse if that continues," said Tricia Wesolek, 46, a medic with the rescue group Acute Air Ambulance, after her helicopter was met by crowds seeking medical help on the island.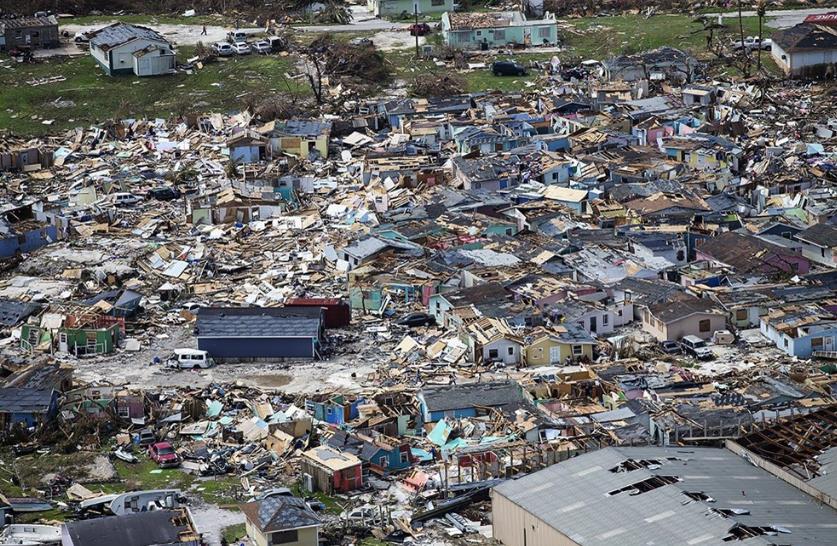 Florida lifted its mandatory evacuation order for some counties on Tuesday night as the hurricane's path shifted. Still, several thousand utility customers had no power, and beach erosion was reported in Vero Beach and Daytona Beach.
Hurricane-force winds extended up to 60 miles from the center of the storm, which was downgraded Tuesday to Category 2, with 105 mph winds.
The National Hurricane Center (NHC) warned that the storm had grown and was "expected to remain a powerful hurricane during the next few days".
Hurricane warnings have been posted from north of Port Canaveral, Florida, up to the North Carolina-Virginia border.
South Carolina Governor Henry McMaster issued a mandatory evacuation order for coastal residents. By Wednesday afternoon, he said the state was being pelted with heavy rain. South Carolina was preparing for a record storm surge and major flooding with the potential for more than a foot of rain in places, when Dorian is expected to hit the coast on Thursday or Friday.
Officials with the state's Department of Correction chose not to evacuate 950 prisoners at the Ridgeland Correctional Institution, a coastal prison.
Business owners and residents were busy boarding up shops on Wednesday in Charleston's historic district, but said they were used to doing so as hurricanes have become such a regular occurrence here.
"This has pretty much become an annual ritual for us," said Micah Elliott, co-founder of Charleston Built, who has boarded up about 15 homes and businesses for clients.
Elliot was helping Kevin Leprince, 48, a local artist, board up his art gallery in the historic district. Leprince said his gallery should be safe from the storm surge, but he was worried that flooding from the expected heavy rain could damage his artwork.
Closer to the waterfront, Mark Huske was placing sandbags along the windows of an architect's office. Huske said that if the storm surge hit as expected, it would flood the office.
"It's going to get very messy down here," he said. "I honestly don't know why anyone would buy a house down here. It's pretty much guaranteed to flood."
A crowd of tourists and local residents strolled along the Charleston waterfront, unfazed by the intermittent rain, taking photographs and cheering dolphins that surfaced in the Ashley River.
Danny Davis and his wife, Octavia, stood under a large umbrella enjoying the view on the waterfront and said that other than buying extra water and supplies, they had made few major preparations for Dorian.
"We've seen much bigger than this. Dorian is going to be nothing special," Danny Davis said.
Charleston has suffered damage from a number of storms over the years, including flooding from Hurricane Irma in 2017 and Hurricane Matthew in 2016, and a major battering from Hurricane Hugo in 1989.
The owners of Ink & Ivy, a bar in the historic district, decided to stay open throughout Dorian. The bar was busy on Wednesday afternoon and bartender Gregory Wilder, 41, said he expected a good crowd for the evening.
"We're going to stay here and party no matter what happens," he said. "Unless the power goes out."
Charleston city spokesman Jack O'Toole said the city now faced "a triple threat, from wind, the storm surge and flooding".
"It may be too late for people to evacuate," O'Toole said. "So our message to residents now is to batten down the hatches and be prepared for the worst."
The utility Georgia Power said 2,800 homes and businesses were without power in coastal areas.
A man who fell from a ladder while storm-proofing his house was the first in North Carolina to die as a result of the storm, Governor Roy Cooper said Wednesday.
Amid the rollout of emergency plans on Tuesday night, US President Donald Trump tweeted: "At the request of US Senator Thom Tillis, I am getting the North Carolina Emergency Declaration completed and signed tonight!"
Under federal law, requests by states for disaster declarations can be made only by governors.
Tillis is a Republican, and North Carolina's governor, Cooper, is a Democrat. Cooper declared a state of emergency Friday and requested a federal one Monday, but he wasn't mentioned in Trump's tweet.
At least 3 million people living in Dorian's path were urged to evacuate. However, many did not.
"Don't tough it out. Get out," said US Federal Emergency Management Agency official Carlos Castillo.
Trump also warned people not to be complacent.
"The US may be getting a little bit lucky with respect to Hurricane Dorian, but please don't let down your guard ... " he tweeted. "On the other hand, the Bahamas have been devastated."
The American Red Cross set up 170 shelters in Florida, South Carolina and Georgia that could serve 13,000 people.
Orlando's International Airport reopened along with Walt Disney World and Universal Orlando on Wednesday.
The storm spent more than two days thrashing the Bahamas as a Category 5 hurricane before moving north on Tuesday. The extent of damage by the second-most powerful hurricane on record was laid bare in the Bahamas on Wednesday with images of houses, boats and cars strewn.
"Parts of Abaco are decimated. There's severe flooding, there's severe damage to homes, businesses, other buildings and infrastructure," Bahamas Prime Minister Dr Hubert Minnis said.
LaQuez Williams, a pastor at Jubilee Cathedral in Grand Bahama, said he could see people trapped on their rooftops from his church located on higher ground. "They were calling for help, but you could not go out to reach," he told Reuters. "It was very difficult because you felt helpless."
National Security Minister Marvin Dames said more than 600 police officers and marines had been deployed to help residents in Grand Bahama and 100 in Abaco.
"The devastation is unlike anything that we've ever seen before," Dames said.
Residents were rescued by people on jet skis and boats wading through 6- to 7-feet- deep water. The US Coast Guard, Britain's Royal Navy and other disaster relief organizations ferried food and medicine.
Reuters and Heng Weili in New York contributed to this story.