Theme park adds local color to Yunnan's cultural travel offerings
By Yang Feiyue | China Daily | Updated: 2019-09-10 08:38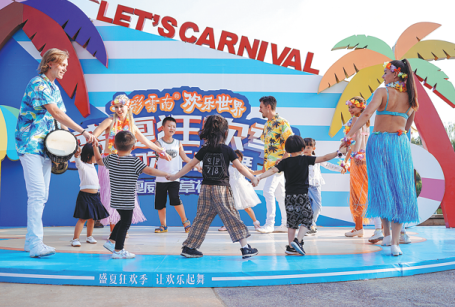 Stebelskyi Nazarii from Ukraine enjoys his job at a theme park in Jinning district in Kunming, capital of Yunnan province.
He mainly gives clarinet performances for visitors.
"I've been here for two years and I love my work," Nazarii says.
"The place is cool, and people are very friendly."
Nazarii is one of the 40 foreign employees at Colorful Yunnan Paradise, one of the biggest theme parks in Southwest China.
In addition to the international touch, the park has also integrated distinctive local customs, ethnic singing-and-dance performances, a float parade and other entertainment to diversify visitors' experiences.
The park has packed in more than 2 million travelers since it opened in July 2018.
Involving an investment of 3 billion yuan ($418.7 million), the theme park is part of the Colorful Yunnan program, which is a joint effort by the Yunnan government and local company North Star to re-create the charm of the ancient Dian Kingdom (278-109 BC).
The ancient Dian Kingdom project features the elevation of Dian culture and folk customs alongside Yunnan's history and culture coupled with a modern tourism service.
Since 2012, a series of projects, including a wetland park, a wharf and a hot spring villa have been completed.
"Yunnan's economy is in the supply-side structural reform period, and the development and operations of the ancient Dian Kingdom program will help upgrade the local tourism and culture industries," says Ren Huaican, founder of North Star.
At the international torchlight festival in early August, the fireworks show and bonfire dance attracted more than 100,000 visitors to Colorful Yunnan Paradise.
As of June this year, the project has recorded more than 7.3 million visits.
Colorful Yunnan has also been added to the China Brand Files-an intangible-culture list of highly regarded Chinese enterprises with an influential brand image-which is supported by China Archives News affiliated with the China Archives Administration and the China Council for Brand Development.
The move is of great significance to boost Chinese brand development, says Ren.
More projects, such as ancient Dian tribes, will be coming down the pike soon, and a series of festivals and celebrations featuring elements of the ancient culture will be held.
The idea is to present a more colorful image of Yunnan to people from far and wide, according to Ren.
Performing for Chinese tourists has been quite a joy for Nazarii.
"Everyone around me is very understanding, and the environment here is nice," he says.
"I will stay here and see what happens next."