Washington and Ankara begin joint patrols in Syria
China Daily | Updated: 2019-09-10 10:25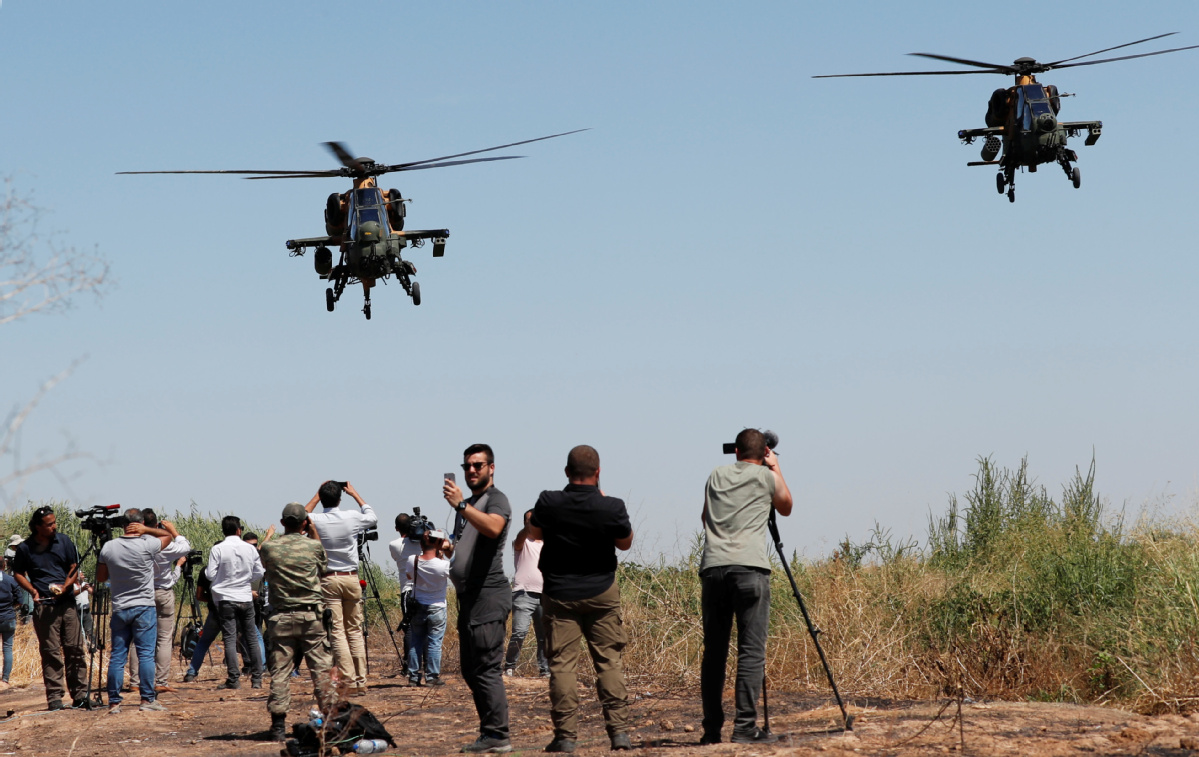 AKKALE, Turkey - The United States and Turkey on Sunday began their joint patrols in northeastern Syria, aimed at easing tensions between Ankara and US-backed Kurdish forces who battled the Islamic State extremist group.
Six Turkish armored vehicles crossed the border to join US forces in Syria for their first joint patrol under a deal reached between Washington and Ankara, Agence France-Presse reported.
Two helicopters flew over the area as the Turkish vehicles drove through an opening in the concrete wall separating the two countries.
They then headed west with the same number of US vehicles, along with an ambulance and a pickup before crossing back into Turkey.
The Turkish Defense Ministry said drones were also deployed.
The agreement reached on Aug 7 aims to establish a "safe zone" between the Turkish border and the Syrian areas east of the Euphrates River controlled by the Kurdish People's Protection Units, or YPG.
Syrian Kurdish forces began withdrawing from along the Turkish border in late August.
The patrol allowed Turkish forces to observe "firsthand progress on destroyed YPG fortifications and areas where YPG elements voluntarily departed the area", said Colonel Myles Caggins, spokesman for the US-led coalition against the IS group.
The YPG forms the backbone of the Syrian Democratic Forces, or SDF - a key partner of Washington in the fight against IS extremists in Syria.
But Ankara sees the YPG as an extension of the Kurdistan Workers' Party, or PKK, which is outlawed in Turkey.
The PKK, which has waged an insurgency against the Turkish government since 1984, is blacklisted as a terrorist group by Ankara, the US and the European Union.
Washington's support for the SDF has been a major point of friction with fellow NATO member Turkey.
Caggins said the patrol demonstrated the coalition's "continued commitment to address Turkey's legitimate security concerns, while also allowing the coalition and our SDF partners to remain focused on achieving the enduring defeat" of the IS group.
Sunday's patrol drew sharp criticism from Damascus, which labeled it a flagrant "aggression" that seeks to prolong Syria's war.
It also reiterated its "absolute rejection" of the planned safe zone, calling it a violation of Syria's sovereignty.
The Turkish Defense Ministry said on Sunday the joint patrols were "ongoing as planned without any delay to destroy terrorist shelters, to collect their heavy weapons, (and) to ensure necessary conditions for withdrawal and the future return of our Syrians brothers and sisters to the area".
Agence France-Presse