Big Tech scrutinized on business practices
By HENG WEILI in New York | China Daily Global | Updated: 2019-09-11 00:21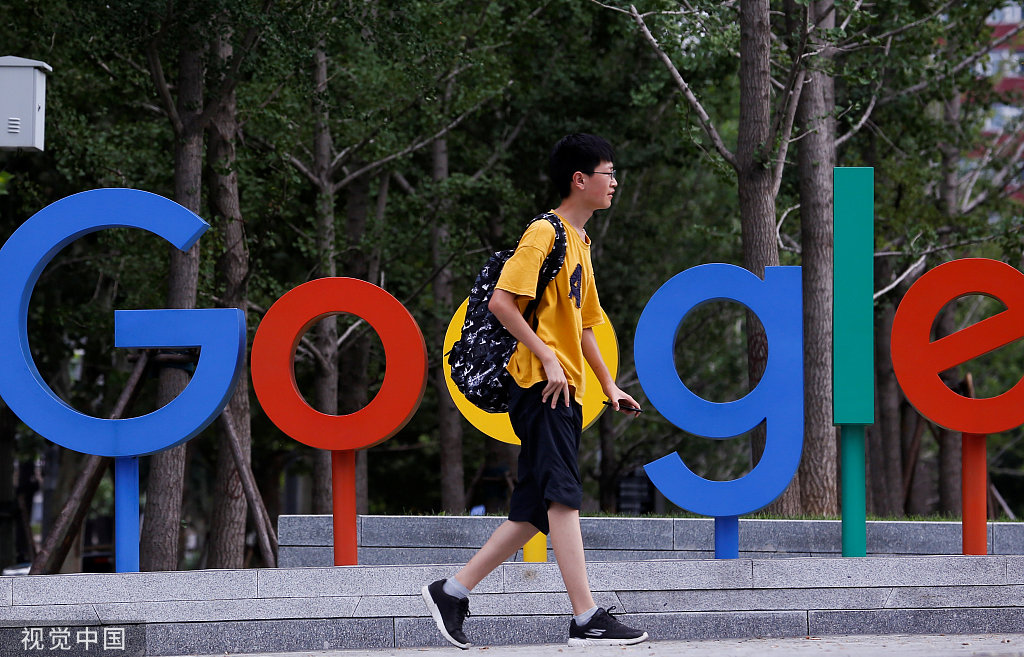 48 states investigating Google's advertising; Facebook probed on consumer data-handling
Google and Facebook have dominated internet search and social media for years, and now some states are saying they may be too big for the nation's own good.
Attorneys general from 48 states, the District of Columbia and Puerto Rico have opened a probe into major tech companies, focusing on Google, which is owned by Alphabet Inc, Texas Attorney General Ken Paxton announced Monday outside the US Supreme Court.
A second group of state attorneys general, led by New York, is focusing on Facebook Inc, it was announced on Friday.
Silicon Valley companies have faced a lot of pushback in recent years, whether it has been over data and privacy breaches or the companies' inadvertent roles in political discourse, to censorship, even to the price of housing in the San Francisco Bay Area.
Their executives have not infrequently been called to Washington to testify about their various business or privacy procedures, and it's usually a bipartisan effort in the questioning.
Paxton is leading the Google probe, which will focus on the company's advertising business.
Google, which did not comment Monday, specifically has faced accusations that its web search leads consumers to its own products at the cost of competitors.
"There is nothing wrong with a business becoming the biggest game in town if it does so through free market competition, but we have seen evidence that Google's business practices may have undermined consumer choice, stifled innovation, violated users' privacy, and put Google in control of the flow and dissemination of online information," Paxton said in a statement.
On Friday, Google, perhaps anticipating the state probes, posted a comment by Kent Walker, senior vice-president of global affairs: "We have always worked constructively with regulators and we will continue to do so," he wrote. "We look forward to showing how we are investing in innovation, providing services that people want, and engaging in robust and fair competition.
California — where Google is headquartered — and Alabama are not part of the investigation.
Several of the attorneys general in Washington on Monday called the investigation "preliminary", but said they expected it would expand to cover other issues, including data privacy.
Utah Attorney General Sean Reyes said the probe was "for the benefit of the tech ecosystem to help level the playing field".
Arkansas Attorney General Leslie Rutledge called Google's online search engine a "juggernaut", and argued that free internet search sometimes comes at the cost of the freedom to choose the best products.
US President Donald Trump has called for closer scrutiny of social media firms and Google, accusing them of suppressing conservative voices online.
US Senator Josh Hawley, who as Missouri attorney general opened a probe of Google in 2017, lauded the announcement as "a very big day for the folks who care about antitrust enforcement".
"I hope that Congress will get serious about acting. And I hope the United States Senate will lead the way there," he said.
Facebook, which also owns its onetime rivals Instagram and WhatsApp and has more than 1.5 billion daily users, has been criticized for allowing misleading posts and so-called "fake news" on its service.
Will Castleberry, Facebook's vice-president for state and local policy, said last week that the company would cooperate with state attorneys general.
Facebook recently paid a $5 billion settlement for sharing 87 million users' data with the now-defunct British political consulting firm Cambridge Analytica.
Facebook said it would do more to protect user privacy, but the deal was criticized by regulators and lawmakers for not doing enough to rein in the Menlo Park, California company's market power or make company executives accountable.
Last week, Google's YouTube agreed to pay a $170 million fine and limit advertising on children's videos in a settlement of claims that the company violated privacy laws.
Google also has felt the heat in the European Union, which has stricter privacy protections than the US. It was fined $2.7 billion in 2017, $5 billion in 2018, and $1.7 billion in March over antitrust violations.
On the US federal level, the Justice Department and Federal Trade Commission (FTC) are probing Facebook, Google, iPhone maker Apple Inc and online retail king Amazon Inc for potential violations of antitrust law.
Alphabet said Friday that the Justice Department in late August requested information and documents related to prior antitrust probes of the company. The company added in a securities filing that it expects similar demands from state attorneys general, and that it is cooperating with regulators.
The potential penalties for the investigations into whether the companies used their market power unfairly include everything from breaking them up to large fines.
US Senator Elizabeth Warren of Massachusetts, one of the top-tier candidates for the 2020 Democratic presidential nomination, has vowed to break up Amazon, Google and Facebook if elected, to promote competition in the technology sector.
Tech companies, however, also are some of the biggest political donors. Google spent $21 million to lobby in 2018; Amazon $14.2 million, and Facebook $12.62 million.
Facebook co-founder-turned-critic Chris Hughes says the social media company has too much power over speech and that it is willing to "sacrifice security and civility for clicks".
For an antitrust case to succeed, the government would have to take the company to court and win. It is rare for a company to be broken up, but Standard Oil in 1911 and AT&T in 1982 are two examples of major breakups.
While any future fines from the FTC, Justice Department or state attorneys general could capture headlines, the major tech companies are the world's most valuable by stock market valuation and can easily pay large fines. They each have more than $50 billion in revenue a year.
Democratic lawmakers in Washington have on several occasions suggested one way to address Big Tech's market power on social media would be to make it easier for consumers to move data like photographs and contacts from one application to another, potentially opening up competition.
The idea, which is already part of European law, has the support of US Representative David Cicilline of Rhode Island, a Democrat who leads the House Judiciary Committee's antitrust subcommittee, and Senator Mark Warner of Virginia.
In the New York case, the state's attorney general said Friday: "Even the largest social media platform in the world must follow the law and respect consumers. … We will use every investigative tool at our disposal to determine whether Facebook's actions may have endangered consumer data, reduced the quality of consumers' choices, or increased the price of advertising," said New York Attorney General Letitia James.
Joining New York in the probe of Facebook are the attorneys general of Colorado, Florida, Iowa, Nebraska, North Carolina, Ohio, Tennessee, and the District of Columbia.
Reuters contributed to this story.