French, Russian foreign ministers discuss post-INF Treaty era
By Ren Qi in Moscow | China Daily | Updated: 2019-09-11 09:31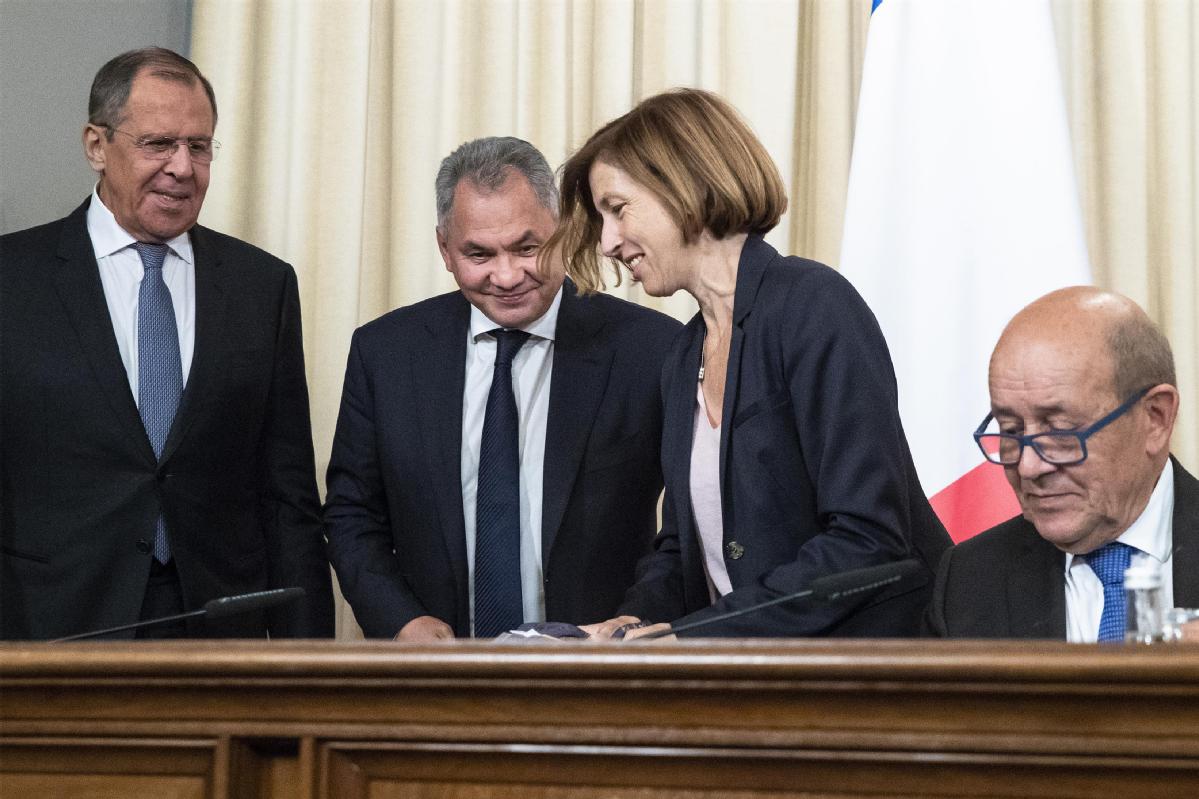 French Foreign Minister Jean-Yves Le Drian and his Russian counterpart Sergei Lavrov held a meeting in Moscow on Monday, discussing Washington's exit from the Intermediate-Range Nuclear Forces Treaty and the rebuilding of relations between Russia and the European Union.
The two foreign ministers discussed the situation in the sphere of strategic stability after the withdrawal of the United States from the treaty, while Russia expressed the serious concern over a possible arms race.
"The withdrawal of the US from the INF Treaty provided a possibility of an arms race in outer space", Lavrov said.
Lavrov pledged that Russia will not deploy any intermediate-range missile systems in those regions where such systems from the US are not deployed.
"Our position on that matter is well known. It has regularly been reiterated by Russian President Vladimir Putin," he said.
Putin earlier claimed Russia will make missiles previously outlawed under the INF Treaty, but it will not be the first to deploy them.
According to Lavrov, the Russian side has already invited the NATO countries to negotiate on the post-INF matter, but Russia's Tass News Agency said "NATO is refraining from any concrete reaction".
The two foreign ministers met during the Russian-French Security Cooperation Council. The meeting was organized in the 2+2 format, in which the defense ministers from the two countries also met.
These annual meetings were suspended after Russia incorporated Crimea in 2014 following a popular referendum, which Western countries never recognized. The EU imposed the sanctions over Moscow in the same year, according to Xinhua News Agency.
"The time has come, the time is right, to work toward reducing the distrust between Russia and Europe, who ought to be partners on a strategic and economic level," Le Drian said.
"It's not yet the time to lift sanctions," he said. But he noted that there is a "window of opportunity, an opening for calming down the situation".
Reuters reported that France is willing to help remove the sanctions to Russia even if Europe and the Kremlin have sharp differences over matters including Iran, the Syrian conflict and Ukraine.
But French diplomatic overture to Russia is likely to create tensions with some other EU countries.
"Our divisions hurt our shared interests," Le Drian added, telling Lavrov that Russia should play its part.
"This dialogue will only be productive if it is reciprocated and produces tangible, concrete results," he said.