Pioneering prosecutor sets the bar high in pursuit of tough penalties
By Zhou Wenting in Shanghai | China Daily | Updated: 2019-09-12 10:59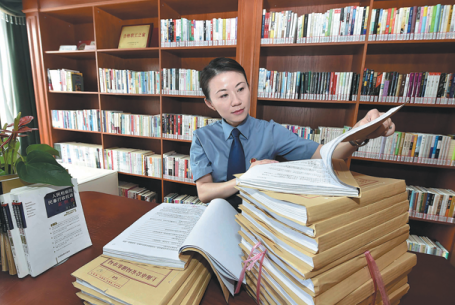 Shi Jinglan has set an uncompromising standard for herself and her team of prosecutors: If a criminal suspect who should be sentenced to death under the law receives life imprisonment, it means the prosecutors have not done their best.
Shi made her name through her dedication to judicial justice and her pioneering reforms of work procedures, which have dramatically increased the efficiency of prosecutions and been promoted countrywide.
"I'm not dealing with cases but the lives of each and every person involved in these cases," said Shi, 44, who has worked as a prosecutor in Shanghai for 25 years.
Considered as outstanding by her colleagues, Shi has handled more than 1,000 cases, many of them high-profile ones.
One of her most famous cases happened in 2013 when a medical student from the prestigious Fudan University killed his dorm mate by putting poison in a water dispenser. He was convicted and received the death sentence in 2015.
Another feather in Shi's cap involved a case where a senior manager at a company was caught defrauding investment funds from the public. Shi studied the case files for days and noticed the suspect's son, who worked for the same company, was also defrauding money and had stolen five times the amount his father had taken.
"I regard fairness and justice as the supreme pursuit in my work and make sure that every judicial case that I deal with can stand the test of law and time," Shi said at a recent conference the city hosted for her to share her experiences.
Zhu Qijia, who works on Shi's team, said that Shi absorbed and scrutinized every fact and piece of evidence relating to a case. "She often says that if we don't dig into the complicated evidence and details of facts, we're likely to miss key clues to crack a case," she said.
Chen Yulin, vice-president of online game developer Shengqu in Shanghai, said when investigating an intellectual property infringement case the company was involved in, Shi went through a staggering 400 gigabytes of data from three mobile phones, three computers and four servers to collect evidence against the suspects. He said he respected Shi's dedication to her work.
As part of the country's judicial reforms, four pilot prosecution groups were established in Shanghai Pudong New District's People's Procuratorate in March 2017.
Shi became a leader of one of the groups and was given six staff members. But Shi found that procurators were often caught in a mass of trivial administrative and procedural work, and the improper division of labor affected their handling of cases. She revised the work organization manual several times and finally came up with a new job list for members of her group - prosecutors, assistant prosecutors and clerks.
Redefining roles in the team has proved effective in improving the quality and efficiency of case handling. The number of cases handled by her group under the new system has increased by 50 percent, even though more than one-third of the cases are complex ones covering finance and intellectual property rights.
Such prosecution groups began to be replicated in other regions of the country this year after they were included in the revised Organizations of the People's Prosecutions Departments Code, which became effective at the beginning of this year.
In recognition of her contributions and achievements, Shi became the only deputy from prosecution agencies in Shanghai appointed to the 19th National Congress of the Communist Party of China in late 2017.
In sharing her experience of managing the pilot prosecution groups Shi said, "I felt proud that in Pudong, a place at the forefront of reforms, I was carrying on with the mission of reforms."
Shi added this was the embodiment of Shanghai's role in the country as "a pacesetter in reform and opening-up, and a pioneer of innovation and development".