Culture and travel among keys to boosting country's consumption
By Cheng Si | China Daily | Updated: 2019-09-16 10:15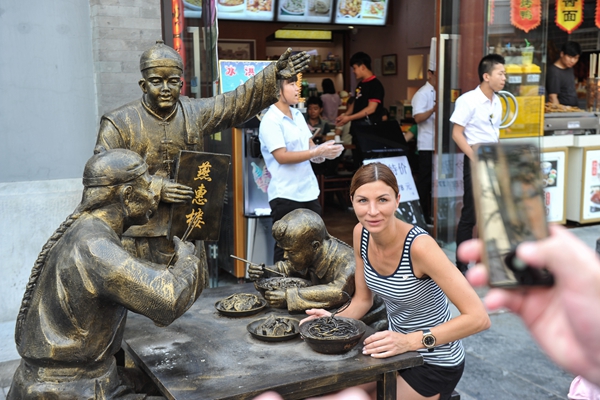 The central government is boosting consumption of culture and tourism products as the domestic market expands and people seek more options.
Figures from the Ministry of Culture and Tourism show per capita spending on education, culture and entertainment products reached 1,033 yuan ($145) in the first half of this year, up 10.9 percent year-on-year.
In the tourism sector, about 3.1 billion domestic visits were made by Chinese travelers in the first six months of this year, up 8.8 percent year-on-year, generating revenue of 2.78 trillion yuan, up 13.5 percent year-on-year.
"The culture and tourism market is growing steadily thanks to people's ever stronger desire for consumption," said Wang Xiaofeng, a senior ministry official. "Greater potential in consumption, however, is yet to be fully unleashed."
The central government has stressed the importance of boosting the vitality of the culture and tourism market by improving facilities and products, he said.
The Central Office of the State Council released a guideline late last month that included 10 incentives to encourage more residents to consume culture and tourism products.
The guideline said domestic State-run scenic spots would be encouraged to reduce ticket prices in order to attract more travelers. More convenient payment solutions, incorporating mobile payment platforms and faster mobile networks, should also be offered.
"By 2022, over 90 percent of culture and tourism consumption sites will be covered by 4G or 5G networks," Wang said. "Consumers can also buy tickets online to get quick access to these sites."
Enrichment of the supply of culture and tourism products is also being encouraged. According to the guideline, about 30 world-class art performances will be produced by 2022, and the range of tourism products in areas such as leisure activities, island sightseeing and self-guided tours will be expanded.
Liu Yunan, co-partner with Kchance, a tourism consultancy in Shanghai, said tourism resources will be better used under the guideline.
He said that in the past few years, even though tourism has been listed as a pillar industry by thousands of counties across the nation, the stereotypical view that "developing tourism is developing scenic spots" has persisted.
"With the guideline, tourism will no longer be limited to selling attraction tickets or luring travelers to so-called rural restaurants and will, instead, become the main force to help increase domestic consumption," Liu said.
Dai Bin, president of the China Tourism Academy, said China is upgrading its development pattern with an emphasis on quality, and the culture and tourism sector-with great potential to boost consumption-will help the nation's economic transformation.
"The guideline gives several pieces of advice on stimulating consumption, which I think is great," he said. "For example, lowering ticket prices to attractions.
"Appealing to the mass of potential travelers with lower-priced tickets and public services remains the priority in tourism development, because the most important mission at this time is to secure a supply of basic tour products that are affordable to most people, which will lay a sound foundation for the next step-unleashing their consumption desires."
Dai said vacations and night tourism are also emphasized in the guideline as potential contributors to boosting consumption.
"Data from the academy show that people's consumption from 6 pm to 10 pm almost equals half their consumption during daylight hours," he said. "Vacations also give people more time and opportunities to spend money."
Dai said, however, that lots of work remains to be done to boost culture and tourism consumption.
"For example, a more convenient consumption environment for foreign travelers is needed," he said. "No matter if we're talking about visa issues or language services, they still need to be improved."