US 'locked and loaded' after oil attack
China Daily | Updated: 2019-09-17 09:44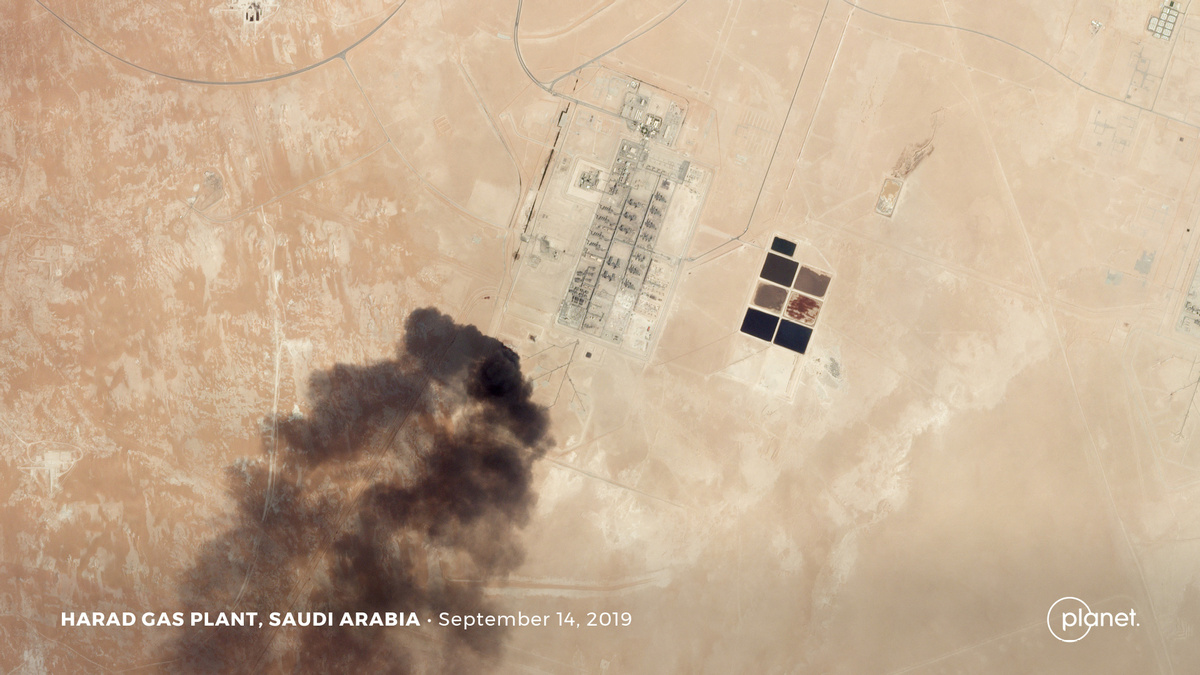 Iran rejects 'baseless' claims following Trump warning; Crude prices jump 19%
WASHINGTON - Tensions are flaring in the Persian Gulf after US President Donald Trump said the United States is "locked and loaded" in response to a weekend drone assault on Saudi Arabia's energy infrastructure that his secretary of state blamed on Iran. Teheran on Monday called the accusation "unacceptable" and "baseless".
The attack, which cut Saudi Arabia's oil production in half and sent crude prices spiking, led Trump to authorize the release of US strategic oil reserves should they be necessary to stabilize markets.
"There is reason to believe that we know the culprit, are locked and loaded depending on verification, but are waiting to hear from the kingdom as to who they believe was the cause of this attack, and under what terms we would proceed!" Trump said on Twitter.
Earlier in the day, a senior US official told reporters that evidence from the attack, which hit the world's biggest oil-processing facility, indicated Iran was behind it, instead of the Yemeni Houthi rebel group that had claimed responsibility.
US Secretary of State Mike Pompeo also said there was no evidence the attack came from Yemen, where a Saudi-led coalition has been battling the Houthis for four years in a war widely seen as a conflict between Saudi Arabia and Shiite Muslim rival Iran.
"Amid all the calls for de-escalation, Iran has now launched an unprecedented attack on the world's energy supply," Pompeo said.
Iranian Foreign Ministry spokesman Abbas Mousavi dismissed the US allegations that it was responsible as pointless.
"These allegations are condemned as unacceptable and entirely baseless," Mousavi said in remarks carried by state TV.
A senior Revolutionary Guard commander warned the Islamic Republic was ready for "full-fledged" war.
"All American bases and their aircraft carriers in a distance of up to 2,000 kilometers around Iran are within the range of our missiles," the semiofficial Tasnim News Agency quoted Commander Amirali Hajizadeh as saying.
China urges restraint
Chinese Foreign Ministry spokeswoman Hua Chunying said on Monday that it was irresponsible to blame others for the oil attack without a conclusive investigation.
"The Chinese side's position is that we oppose all actions that enlarge or intensify the conflict," Hua told a news conference in Beijing.
"We call on relevant parties to avoid taking actions that will escalate the current tensions. We hope all sides can exercise restraint and jointly maintain the peace and stability of the Middle East," she said.
Tensions between Washington and Teheran were already running high because of a long-running dispute between the two nations over Iran's nuclear program that led the US to impose sweeping sanctions more than one year ago.
Oil prices surged as much as 19 percent in early Asian trade on Monday on worries over global supply and soaring tensions in the Middle East.
Brent crude posted its biggest intraday percentage gain since the start of the Gulf War in 1991.
The US government produced satellite photos showing what officials said were at least 19 points of impact at two Saudi energy facilities, including damage at the heart of the kingdom's crucial oil processing plant at Abqaiq.
Officials said the photos show impacts consistent with the attack coming from the direction of Iran or Iraq, rather than from Yemen to the south.
Iraq denied that its territory was used for an attack on Saudi Arabia.
The US officials said additional devices, which apparently didn't reach their targets, were recovered northwest of the facilities and are being jointly analyzed by Saudi and US intelligence. The officials, who spoke on condition of anonymity to discuss intelligence matters, did not address whether the drone could have been fired from Yemen, then taken a roundabout path, but did not explicitly rule it out.
"There's no doubt that Iran is responsible for this. No matter how you slice it, there's no escaping it. There's no other candidate," a US official told reporters.
The attacks and recriminations are increasing heightened fears of an escalation in the region, after US Senator Lindsey Graham suggested striking Iranian oil refineries in response to the assault, and Iran warned of the potential of more violence.
Actions on any side could break into the open a twilight war that's been raging just below the surface of the wider Persian Gulf in recent months. Already, there have been mysterious attacks on oil tankers that Washington blames on Teheran, at least one suspected Israeli strike on Shiite forces in Iraq, and Iran's shooting down a US military surveillance drone.
Agencies - Xinhua - China Daily