U2's One named as perfect bedtime lullaby
By JULIAN SHEA in London | China Daily Global | Updated: 2019-09-17 09:49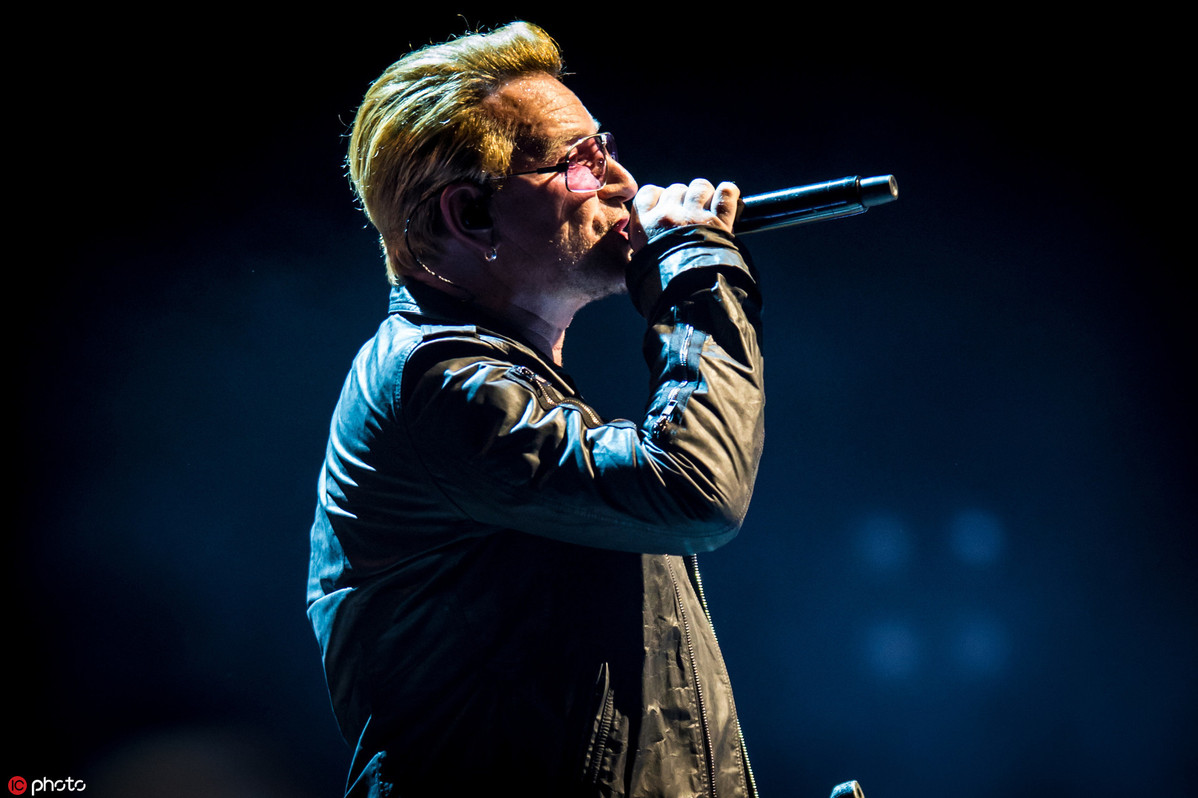 Irish rock band U2 is one of the most popular groups in the world, estimated to have sold more than 150 million albums worldwide during the course of a recording career spanning four decades and playing to sell-out crowds across the globe. But now they have earned an unlikely new honor after researchers judged one of their most popular songs to be the formulaic perfect lullaby.
Children's bedding company Cuckooland teamed up with online music streaming platform Spotify, looking at 4,500 different songs that are regularly chosen for bedtime playlists, before selecting the track One, from U2's 1991 appropriately named release Achtung Baby, as the ideal soothing bedtime music.
Analyzing popular choices on Spotify, the researchers calculated the average beats per minute, key and time signatures to close in on the ideal formula.
"The function of a lullaby is to soothe a baby and put them to sleep, so common features we would expect to see in lullabies would be, a slow (ish) tempo, relatively quiet dynamics, simple rhythm pattern-potentially one that imitates a rocking movement-a simple melody that's easier to memorize and easier to sing, predictability achieved by repetitive phrases and verses, and a high pitch due to the connotations that mothers/females usually sing lullabies," said Annaliese Grimaud from the school of music and science at Durham University in the UK.
In contrast to many of U2's more upbeat tracks, One is a slower, more somber tune, which band singer Bono has described as being "a song about coming together, but it's not the old hippie idea of 'Let's all live together'.
It is, in fact, the opposite. It's saying, We are one, but we're not the same."
The lyrics of the chorus read "One life, You got to do what you should/One life, With each other, Sisters and my brothers/One life, But we're not the same, We get to carry each other, carry each other."
It has been covered by many artists and released as a fundraising track for people affected by Aids, and the turbulent European political backdrop against which it was produced in the early 1990s have made it an anthem of hope in situations of strife and conflict.
In an interview for Rolling Stone magazine, Bono said how it was recorded in Germany at the end of the Cold War, produced in Ireland and then performed "going around Europe when stuff was going on in Bosnia, sometimes 300 miles from where we were playing", all places of upheaval and conflict, which make it an unlikely choice for a lullaby.
In the book U2 by U2, Bono told author Neil McCormick "It's a reminder that we have no choice…. Like it or not, the only way out of here is if I give you a leg up the wall and you pull me after you.
There's something very unromantic about that."