Making the vital difference in everyday life
By He Wei in Shanghai | China Daily | Updated: 2019-09-17 10:13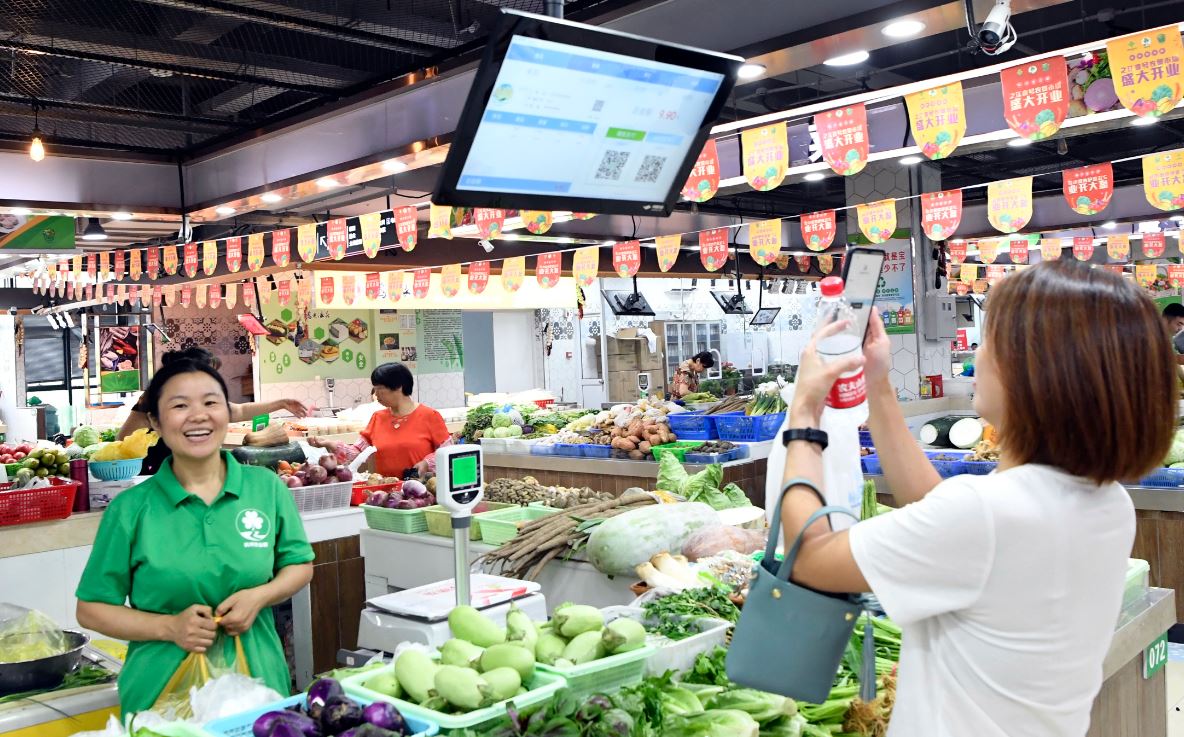 Electronic options to send and receive money are putting more Chinese businesses on the path of sustainable development
Editor's note: China has made commendable progress in various business and industry sectors in the 70 years since the founding of the PRC. China Daily is publishing a series of articles to highlight the giant strides. E-payment is considered one of the four major great inventions in modern China. The following articles trace the evolution of payment and how it has made a significant difference to people's lifestyle and the international community.
Laurent Francois, a 38-year-old Swiss traveler and Mandarin learner, was stumped when a waitress at the Starbucks shop in downtown Shanghai's West Nanjing Road asked him Weixin, or WeChat Pay.
Francois had expected the question to be "cash or credit card" even as he handed out a 100 yuan ($14.1) note to pay for an iced latte. "Every other customer is using his/her phones for payment and I feel like an outsider."
The fact that China is "light years "ahead of other countries in mobile payments has been somewhat commonplace, thanks to massive media coverage, more foreigners flocking to the country and a growing number of outbound travelers taking the mobile payment culture overseas.
A closer look at the various payment paths that China has taken in the past few decades indicates that the country is fast becoming a post-money society.
Before the 1990s, or roughly the period known as the planned economy era, when manufacturing and distribution of products were decided purely by government, there was no such thing as "spending at one's disposal". Purchases of goods were mainly based on a variety of ration coupons, limited in quantity and issued by authorities for rice, flour, oil, clothes, electronic appliances, among others.
"The ration coupons, issued starting from the 1950s when food and other commodities were scarce, helped us understand the real life of Chinese at that time," said Zhang Letian, a sociologist at Fudan University.
As China finally introduced the policy of reform and opening-up and abolished the coupon system, more Chinese had the financial leeway to buy goods as they wished on the back of an increasingly open market. Since the 1990s, cash has dominated the payment scene for a substantial span of time.
While bank cards, especially credit cards, were being introduced to the market, unlike the West, China still lacked an entrenched credit card culture. The cash-based society is largely resilient despite occasional malaises such as banknote forgery.
The recent game-changer emerged in the early 2000s, when an epidemic known as Severe Acute Respiratory Syndrome swept much of China and forced people to stay at home. Such incidents unexpectedly boosted the development of e-commerce, and with the precarious jump in online sales, calls for secure, carefree, no-face-to-face transaction became imminent.
Launched in 2004 initially as an online payment and escrow service, Alipay addressed the payment dilemma encountered by Alibaba's online marketplace, Taobao.
"At the turn of the 21st century, China had no deep-rooted credit card culture. Smaller online businesses with relatively low sales volumes were unable or unwilling to accept credit card payments due to high transaction fees, and it was too costly to build their own e-commerce checkout systems with sufficient fraud protection," said Li Chao, an analyst at consultancy iResearch.
So Alipay's early mission was to create an encrypted digital wallet that stored and safeguarded bank cards and enabled customers to make payments via their accounts. Besides, the money would not reach the sellers until customers had confirmed they had received the goods, therefore addressing the trust issue commonly faced by merchants and buyers who haven't met in real life.
One could argue that it was Taobao, the online marketplace, that gave birth to Alipay. Yet the payment service did not stand still but chose to ride the two critical commercial trends: the mobile payment boom and the online-to-offline wave.
The early adoption of the mobile wallet has given Alipay an early advantage as faster internet connection populated smartphones and made the gadget a ubiquitous avenue for everyday life. An accompanying development is the design of Quick Response code payment, which allowed offline partnering stores to accept payment in real time by scanning the code and make the transaction.
It's fair to say the market would not have exploded to its current scale were it not for rivals challenging the status quo. WeChat Pay, a once obscure arm of messaging app WeChat, arrived on the mobile payment scene as a latecomer, but quickly populated the mobile payment habit banking on traditions derived from the Chinese Lunar New Year greetings-giving and receiving "red packets" containing real money as a way to show blessings and appreciation.
The campaign to replace real red envelopes containing cash with virtual envelopes has not only helped many install WeChat, but more importantly, bound their bank accounts to WeChat's virtual wallet that they can later use to pay utilities, order taxis, book the doctor's appointment and even get marriage licenses.
"These payment services in particular helped encourage adoption by running cash prize promotions and other discounts tied to the Lunar New Year holiday," said Rahul Chadha, senior analyst at consultancy eMarketer. "Mobile payment use has also been hastened by the widespread adoption of QR codes in China, which lower the cost barrier for merchants and make processing transactions dead simple for shoppers."