UK's highest court to decide on Johnson's Parliament suspension
By JONATHAN POWELL | China Daily | Updated: 2019-09-17 19:36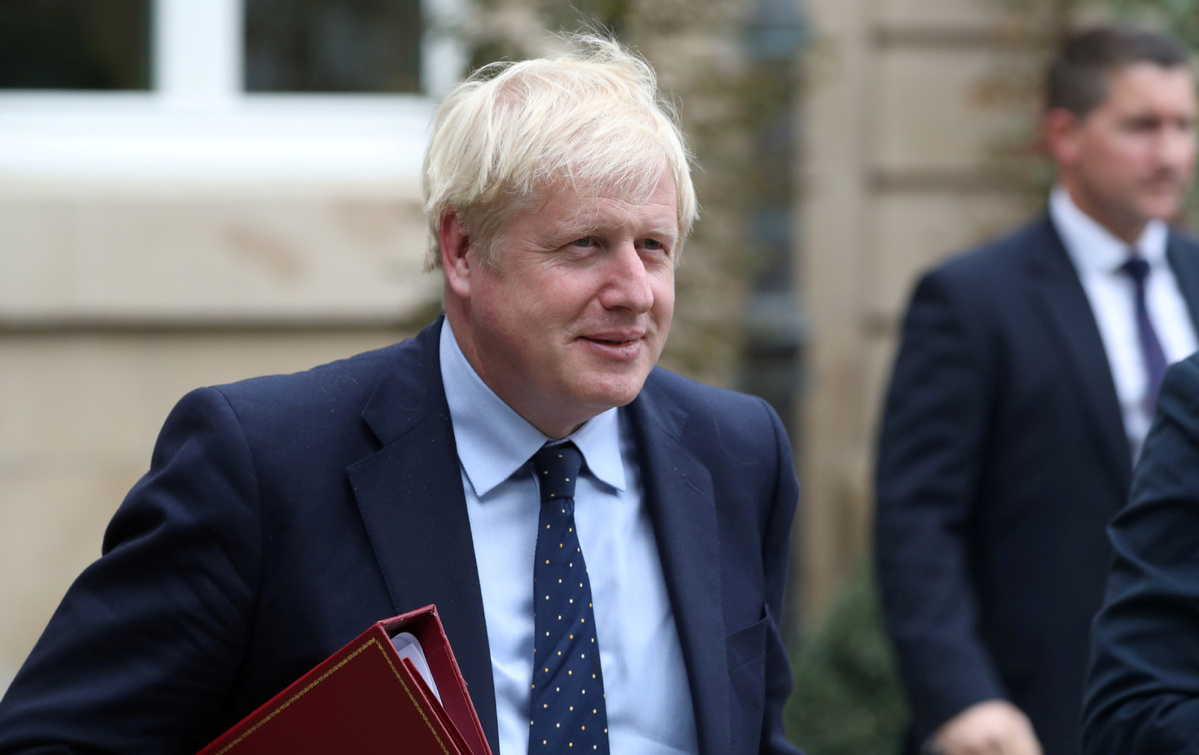 The legal battle over British Prime Minister Boris Johnson's decision to suspend Parliament for five weeks went to the United Kingdom's highest court on Tuesday.
The Supreme Court began to hear three days of appeals from two separate challenges brought from England and Scotland. Edinburgh's Court of Session, Scotland's most senior civil court, found last week that the shutdown was unlawful. However, London's High Court had earlier said it was not a court matter.
Johnson had advised the queen to suspend Parliament, known as proroguing, for five weeks from Sept 9, which she approved at the end of August.
The prime minister stands accused of misleading the monarch and undermining Parliament. The Scottish court ruled that the PM's recommendation to the queen to prorogue was motivated by the improper purpose of obstructing Parliament during critical weeks before Brexit. Johnson's government is now appealing against that ruling.
In contrast with the Scottish ruling, the High Court in London decided proroguing was a political matter, and there were no legal standards against which a court could judge it. English campaigner and businesswoman Gina Miller is appealing against that decision.
Johnson said he will "wait and see what the judges say" before deciding whether to recall Parliament.
In a statement, Miller said,"The precedent Johnson will set-if this is allowed to stand-is terrifying: Any prime minister trying to push through a policy that is unpopular in the House and in the country at large would from now on simply be able to resort to prorogation.
"No one could ever have envisaged it being used in this way: This is a classic power grab."
Justice Brenda Hale, current president of the Supreme Court of the United Kingdom, began proceedings by making a statement about the nature of the case.
"This is a serious and difficult question of law-demonstrated by the fact that three senior judges in Scotland have reached a different conclusion to three senior judges in England," she said.
"The Supreme Court exists to resolve these issues. We are not concerned about the wider political questions. The determination of this question will not determine Brexit."
Meanwhile, Johnson on Monday was forced to abandon a news conference with his counterpart in Luxembourg to avoid anti-Brexit protesters, after holding talks with European Union officials.
Johnson had been due to make an outdoor statement alongside the Luxembourg Prime Minister Xavier Bettel, but British officials asked for the venue to be moved inside to avoid being drowned out by protesters, a UK government source said. Bettel went ahead with the conference anyway, and officials did not remove Johnson's podium.
Bettel used the event to criticize Johnson. He said the Brexit process had turned into a "nightmare" and that the UK had failed to present alternative proposals to the deal it had negotiated, but now rejects. "He holds the future of all UK citizens," said an impassioned Bettel.