Chinese classical music celebrated at China-UK concert
By Bo Leung in London | chinadaily.com.cn | Updated: 2019-09-18 07:32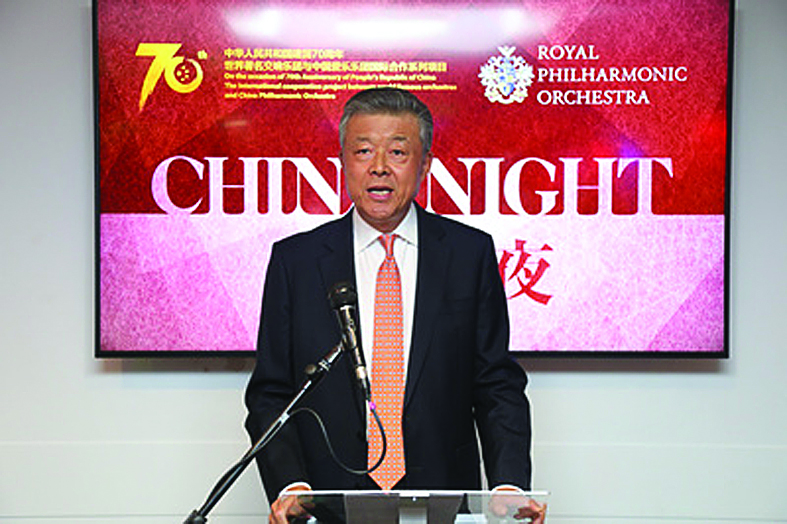 China's musical heritage was celebrated at a spectacular concert at the Barbican Centre in London on Monday evening in a collaboration involving the United Kingdom's Royal Philharmonic Orchestra and the China Philharmonic Orchestra.
The China Night concert was part of a global series that is highlighting China's rich cultural heritage and the strong artistic connections and collaborations between the East and West.
The audience was treated to some of the sounds of China's most famous composers, including Xian Xinghai's Yellow River Concerto, which was performed by Chinese piano virtuoso Wan Jieni.
The Royal Philharmonic Orchestra, joined by members of the China Philharmonic Orchestra, was conducted by Xu Zhong, general director of the Shanghai Opera.
The evening also featured music from Zhu Jianer's Symphonic Suite: Sketches in the Mountains of Guizhou, Chen Qigang's Wu Xing (The Five Elements) and China Overture, which was written by Ye Guohui and that was inspired by the Chinese national anthem, March of the Volunteers.
The classical music event was also part of celebrations to mark the 70th anniversary of the founding of the People's Republic of China, and marks the 65th anniversary of the China-UK diplomatic relationship at the level of charge d'affaires.
Speaking at a reception before the start of the concert, Liu Xiaoming, China's ambassador to the UK, described the concert as "the fruition of the cooperation between top Chinese and British orchestras, and a vivid example of the mutually beneficial cooperation between China and the UK".
"I am confident that, with the joint efforts of the cultural and art communities of our two countries, China-UK cultural and people-to-people exchanges and cooperation will produce more fruits and deliver more benefits to the peoples of our two countries," the ambassador said.
James Williams, managing director of the Royal Philharmonic Orchestra, said the ensemble has been touring China regularly for more than 25 years and has forged strong partnerships in China with promoters, orchestras, artists, audiences, and educational institutes.
"It has been equally wonderful to welcome Chinese orchestras here to the UK to perform in our most prestigious concert halls," Williams noted.
Yu Peng, a minister counselor at China's embassy in the UK, added: "The 70 years since the founding of the People's Republic of China is a history of constant learning to benefit the public. The focus has mainly been on tackling the relationship between our own culture and other cultures, between tradition and modernity."