Baijiu brand joins top labels at London Fashion Week
By Wang Mingjie in London | chinadaily.com.cn | Updated: 2019-09-18 07:48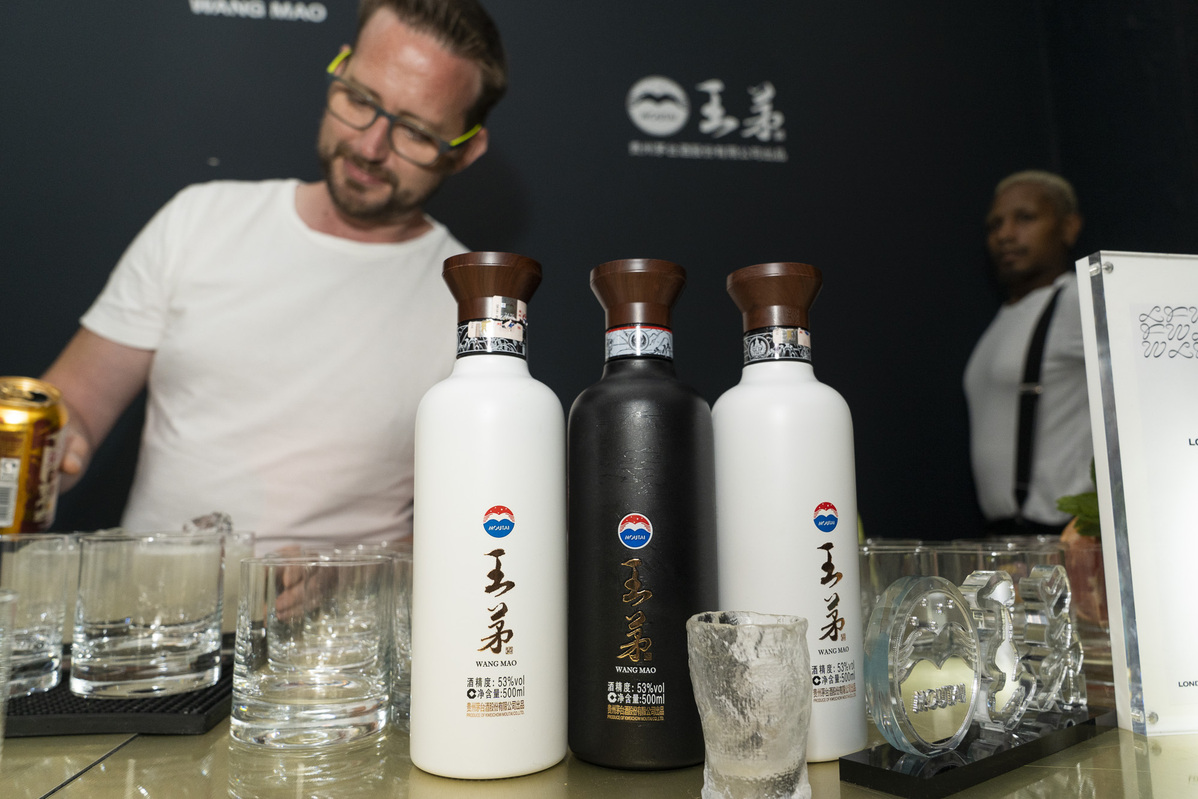 Chinese liquor brand Wang Mao has bolstered its fashionista credentials this week with the first-ever sponsorship collaboration between London Fashion Week and a Chinese spirit maker.
Wang Mao, a sub-brand of well-known baijiu maker Moutai, has become an official spirit partner of London Fashion Week September 2019.
Usually distilled from sorghum and wheat, baijiu contains between 40 and 60 percent alcohol by volume, and is a mainstay of special social occasions in China, from Spring Festival dinners to weddings and business banquets.
Founded in 1879, Wang Mao was merged to become the State-run Moutai Distillery in the early 1950s, and the brand was relaunched in 2018 by Kweichow Moutai Co Ltd to target the 30-to 50-year-old customer group.
Yuan Bin, chief executive of Wang Mao, hailed the collaboration, saying the brand takes pride in the heritage of Chinese culture while also valuing the creativity and fashion sense.
"London Fashion Week, from what we see, is a unique one amongst the four big international fashion weeks, because on one hand it highlights the history and tradition, but at the same time it absorbs innovative ideas and concepts, which fits in very well with our brand," Yuan said.
As part of the collaboration, Wang Mao was able to promote its products at the London Fashion Week September 2019, with two cocktails being created using the liquor as their base ingredient.
Gemma Juviler, commercial director at British Fashion Council, which organizes London Fashion Week, said it was a win-win partnership.
"What the British Fashion Council has done, with our international strategy, is really focus on China, because when we're helping designers to build and grow their business, one of the most important structures that they can think about is how to successfully enter the Chinese market," she said.
"Given its resonance with an international market, specifically in China, I think associating Chinese brands such as Wang Mao with the British Fashion Council and particularly London Fashion Week is a really good message for the audience back in China."
Drinks columnist Douglas Blyde welcomed the partnership, saying: "It is a vote of confidence from China to the UK to invest alongside the catwalk here. With the right guidance, Wang Mao could create some amazing, memorable drinks which will be as flamboyant and distinctive as the fashion spectacles they may be enjoyed alongside."
With more Chinese businesses keen to make inroads into the international arena, Wang Mao is not alone in tapping into the potential of the major fashion platforms.
Since 2018, Alibaba's Tmall has held special China Day events at the last four New York Fashion Weeks, showing the best in Chinese fashion.
And Chinese e-commerce giant JD has a three-year partnership with the British Fashion Council that runs until the end of 2021, to provide a channel for Chinese brands at London Fashion Week.