Digital transformation creates opportunities
By Ma Si | China Daily | Updated: 2019-09-18 10:03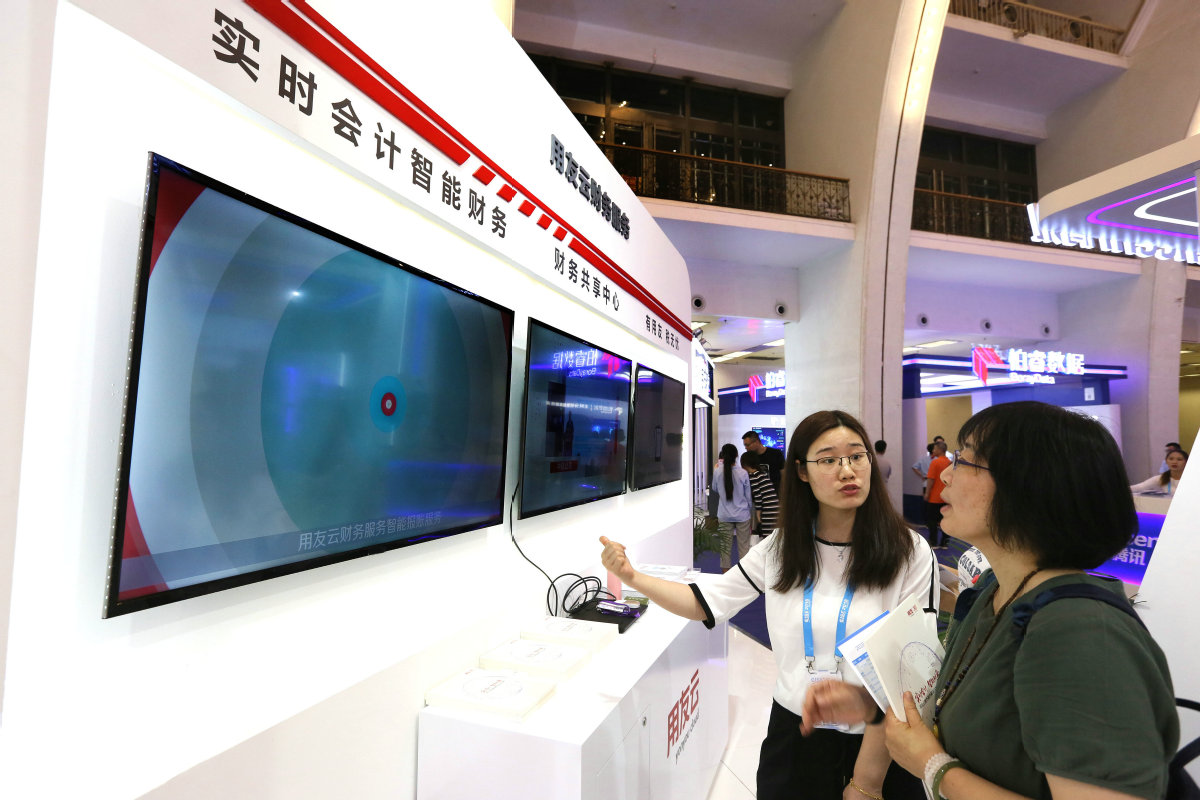 Chinese enterprises are embracing homegrown software, cloud services amid rising concerns over information security
China's domestic software industry is on the cusp of a strategic opportunity, as local enterprises increasingly embrace homegrown cloud computing and software to accelerate digital transformation, experts said.
The comments came after the country's software sector recorded revenue of 3.86 trillion yuan ($542.8 billion) in the first seven months of this year, marking a 15.1 percent jump year-on-year.
Wang Wenjing, chairman of Chinese software major Yonyou Network Technology Co Ltd, said:"The enterprise software market is facing huge historical opportunities amid the current trend of digitalization, localization and globalization."
According to him, homegrown software and cloud service providers are now at the forefront of the world in terms of innovative products and services for next-generation technologies.
"As local companies consider shifting to cloud services to accelerate digitalization and achieve industrial upgrades, they also increasingly embrace domestic platforms over foreign ones amid concerns over information security,"Wang said.
The securities company CSC Financial Co Ltd said in a research note that Chinese tech companies are increasingly joining hands to promote the application of domestic software.
In January, Yonyou initiated an alliance for using homegrown, controllable IT products in enterprises' digitalization efforts by partnering with the China Software Industry Association. More than 10 companies, including cybersecurity solutions provider 360 Security Technology Inc, are founding members of the alliance.
In comparison, US tech giant Oracle announced plans to lay off employees in its China research and development center earlier this year.
Currently, information security is of the utmost importance to enterprises. Enterprise resource management is the core system for managing the production and operation of enterprises and its safety and reliability is highly valued, CSC Financial Co Ltd said.
The speed of adopting homegrown software technologies is accelerating in China, CSC Financial Co Ltd said, especially as domestic companies are now stepping up their push to develop cloud solutions.
Wang from Yonyou said moving business to the cloud is an important way for companies to push forward digital transformation. Yonyou will build a cloud-based application platform where companies can access different software to meet their specific needs.
Founded by Wang in 1988, Yonyou is best known for its accounting software in China, where the Beijing-based company accounted for 24.6 percent of the local market last year. Later, its business expanded to more management software products, including enterprise resource planning.
In the first half of this year, Shanghai-listed Yonyou recorded about 3.3 billion yuan in revenue, up 10.2 percent year-on-year. Specifically, its cloud service revenue surged 114.6 percent year-on-year.
As a leading software company in China, Yonyou has great advantages in enterprise application services."We have a professional track record, a big customer base, sales channels, talented staff with ability and experience, and our brand,"Wang said.
Currently, more than 2.7 million enterprises and government agencies in China are using the company's software. More than 4 million enterprises have registered on its cloud service platform as clients, with 290,000 of them being paid clients, Yonyou said.
"We aim to serve more than 10 million clients with cloud services in the future," Wang added.
Yonyou is just one of a growing number of Chinese software companies that are working hard to beef up research and development capabilities, in the hope of gaining an edge amid fierce competition.
From January to July, the growth of China's software industry hit 15.1 percent, 0.3 percentage point faster than a year ago, despite the challenges it faces from current China-US trade frictions, according to data from the Ministry of Industry and Information Technology, the country's top industry regulator.
The relatively stable performance came as the ministry rolled out favorable policies to encourage enterprises to embrace cloud services. The ministry said it planned to encourage about another 1 million enterprises, especially those in manufacturing and other industrial sectors, to move their businesses to the cloud by 2020.
The strong push also sets increasing demand for domestic security software and cloud solutions.