Kung fu monks step into spotlight
By JULIAN SHEA in London | China Daily Global | Updated: 2019-09-26 09:37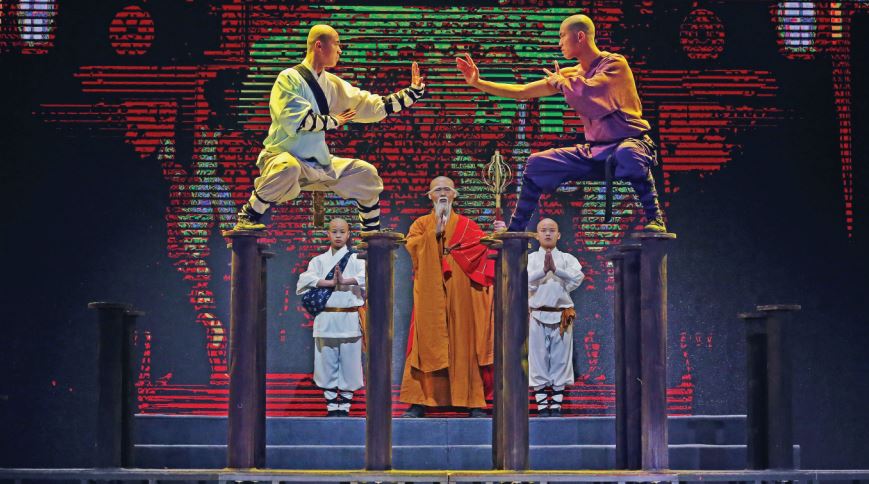 London theater audiences will be able to experience one of China's greatest cultural exports at close quarters this month as the world-renowned Soul of Shaolin martial arts stage show opens for a two-week run at the Troubadour Wembley Park Theater in North London.
The production has been a hit all over the world, and made headlines as the first from the People's Republic of China to play in New York's famous Broadway theaterland, where it proved a hugely popular success and was nominated for top awards.
Now, the performance that sprang to international prominence after its key role in the 2008 Beijing Olympics opening ceremony is making its first appearance in the UK.
Jiao Hongbo is the show's producer, and has spent a lifetime performing and teaching kung fu. He told China Daily it was no surprise that there was so much interest in the ancient art form, and the show, from all around the world.
"Shaolin kung fu has a history of more than 1,500 years, and is one of China's most treasured cultural heritage items," he said. "The reason it has lasted so long is because of its simplicity, its strength, its health benefits and its connections with the Zen culture. This is what makes it unique.
"After the reform and openingup period of the late 1970s, China began to show its traditional culture to the world, which of course included martial arts, but at that time, the way we showed them was rather crude. It was just about kicking, knocking and smashing.
"More recently, we have attempted to combine the spectacle of martial arts with the drama of stage performance, to present it in a better way. Shaolin kung fu has a real cultural anchor. We are trying to promote what is at its core, and to allow people to learn more and develop a cultural attachment through stories, which is how we came up with the format of this show."
Although Shaolin kung fu has a heritage going back for centuries, one performance on one day transformed its profile and popularity-Aug 8,2008, at Beijing's National Stadium, also known as the Bird's Nest, where the Shaolin monks took center stage in a spec-tacular display watched by a huge worldwide television audience.
"Since the Olympic Games we have taken our show to 80 countries and regions across the globe," said Jiao. "We all benefitted so much from that exposure, it helped turn what was originally a street performance into a high-end, prestigious art form, helping people from other countries to have a better understanding of Chinese culture. Although it is ours, kung fu and all its benefits belong to the whole world, and it has inspired many people."
The youngest students at the Shaolin temple are four or five, with no upper age limit, and Jiao says the younger they start, the more helpful it is in the long term. "To excel at kung fu requires lots of hard work and dedication, so a good foundation at a young age is essential," he said.
"Typically, students start with morning training at about 5am, followed by academic study, then in the afternoon there is group training and later more study or self-training, when they can choose to focus on the parts of the discipline that they prefer."
Wherever it has gone around the world, Soul of Shaolin has played to full houses and gained outstanding reviews. Jiao said he was hopeful that it would draw the same reaction from audiences in London.
"The show tells the story of monks who save a child in war time, and then take him into the temple where he is raised," he said. "As he grows up, the show demonstrates all the variations of Shaolin techniques, and shows the educational value of what he has learned in terms of kindness and selflessness."
The show offers something for everyone, he said, no matter what their age, or what their interest.
"It has the potential to appeal to the younger generation because of the passion and excitement of the performance, and adults can also gain a deeper understanding of Chinese culture," he explained.
"There are also the messages of health and fitness, which can appeal to everyone. It is a very diverse show, with many lessons for different people, and has proved very popular wherever we have taken it, so I hope UK audiences will embrace it in the same way."
Soul of Shaolin plays at the Troubadour Wembley Park Theater from Sept 26 to Oct 6.