Livestream study groups put students in a different class
By WANG KEJU | China Daily | Updated: 2019-10-04 02:33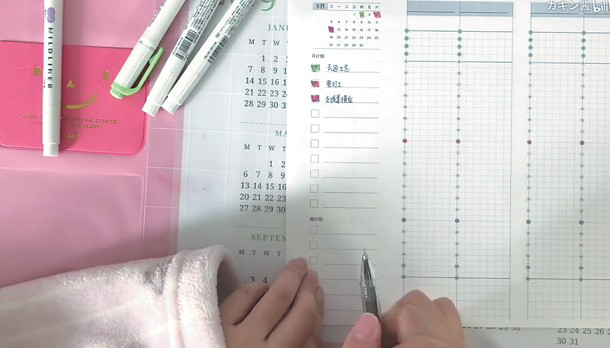 Scholars are banding together online to provide each other with inspiration and motivation
Turning on the light at 7 am in Tokyo, Chen Jingwen sat in front of her iPad and began her livestream on Bilibili, a popular online video-sharing platform based in China.
She was preparing for a Japanese-language proficiency test the next day and a postgraduate entrance examination later in the year.
Without introducing herself or saying hello to the audience, she put on her headphones and chose a Japanese audio clip from the huge collection on her phone.
The sound of pen on paper and the rustling of the turning pages sounded in the rooms of her viewers across the screen as they joined Chen's study group via the livestream. Occasionally "bullet comments", Bilibili's real-time audience feedback function, floated at the top of the screen saying, "Good luck for my exam tomorrow" or "Remember to take a break".
"The same quietness can be found in any study lounge. But the small talk and caring comments between me and my audience make me feel like I am studying with my classmates," Chen said.
Her livestreams, silent like a mime show, present quite a contrast to those found on other popular video-sharing platforms, where the hosts use a whole bag of tricks to entertain the audience — telling an occasional joke, singing and playing guitar or making hilarious dance moves.
However, in just a few months the number of followers of Chen's channel, called Watermelon's Study Room, grew from dozens to several thousand. Learning from various kinds of online videos and livestreaming platforms is becoming increasingly popular among the younger generation.
Statistics from Bilibili show that since the start of the year more than 18 million people — twice the number who took the gaokao, the national college entrance examination last year — have studied by watching videos or livestreaming on the platform.
The most popular hashtag on Bilibili for study-themed livestreaming videos is "Study with me". Last year, the platform broadcast 1.46 million hours of study scenes via livestreaming, and more than 1 million pieces of study-related livestreamed footage.
"Of all kinds of livestreams on the platform Study with Me garnered the longest number of hours last year," said Chen Rui, Bilibili's chairman and CEO, at the China Internet and Video Convention in November last year.
"The internet has become an ingrained part of the younger generation's lives. They not only entertain themselves via the internet, but it also allows them to reach out to peers with similar habits and create a new way of studying."
Companionship
Chen, a 21-year-old junior student at Tianjin University in North China started to livestream her studies after she arrived in Japan in July for a one-year exchange program. With few friends and feeling the exam pressure, she came up with the idea of establishing a virtual study room through a livestream in a bid to seek companionship.
In December, she happened to watch similar livestreams from South Korea on YouTube for the first time. She was impressed by the hosts, who had been studying for hours without any distractions, as well as the delightful design which overlay the onscreen content.
"I got into the habit of watching their livestream during my studies and found it was a great help in managing my time more productively. Since I now live alone in my apartment, I wanted to livestream myself to make more people enjoy a sense of company," she said.
On one side of her livestream page, she has set up a timer to divide her study period into 45minute focus sessions followed by 10minute breaks, as well as a checklist, which serves as a reminder to her and the viewers to produce a more efficient study experience.
Differing abilities
Xiong Bingqi, deputy director of the 21st Century Education Research Institute, said there is no one-size-fits-all approach for effective learning. Everyone has different abilities, so it is important to determine what works for each student, especially when it comes to "digital natives" — people who have never known a world without the internet.
According to a report published by the China Internet Network Information Center, by the end of last year, the number of internet users in China hit 829 million, more than a quarter of whom were students. The country was also home to 397 million users of multiple livestreaming websites.
"The livestream, serving as an online student lounge, creates an ideal study atmosphere, with people displaying positive attitudes and offering mutual supervision," he said.
"Attention from the viewer forces the hosts to make a study schedule and steer clear of distractions and vice versa, which can help them stay motivated.
Wang He, a sophomore majoring in sociology at Guangzhou University, Guangdong province, found the cure to her procrastination thanks to the livestreams. Like most of her classmates, Wang wanted to perform well in her assignments and papers. That basic requirement, however, turned out to be a huge challenge as she found it hard to begin tackling tasks.
"I experience a little bit of nagging pain and anxiety thinking about assignments I have to do, but not enough to do anything about it. I continue to put it off day after day for weeks. Suddenly, the day before the deadline, I have to write the report hours before it is due," she said.
As a die-hard fan of Bilibili, she ran into some of the Study with Me livestreams. She became fascinated with the stimulation from online strangers during study sessions, and began to participate in the "study party".
"To be honest, seeing others annoyed by all kinds of papers and tests helps me obtain some relief," Wang said. "But their diligence and self-control also push me on. The livestreams make it easy for me to forget about the finish line and help me to just concentrate on taking the first step."
Wang is planning to move out of her dormitory and rent an apartment next year. With her own space, she looks forward to starting her own livestream.
Zhong Binglin, president of the Chinese Society of Education, said: "Long periods of isolation in study can bring an enormous feeling of resentment. These feelings generate a strong sense of deprivation and resistance toward study. Having some role models as study partners, whether it's offline or online, will give you a more productive and enjoyable mindset."
Sense of responsibility
Chen has gained a lot of comfort and company from her livestreams, as she wanted. However, there's no such thing as a free lunch, and her personal time has been squeezed to the margins due to her strong sense of responsibility to take good care of her followers.
She became addicted and could not take her mind off the livestream. On the way to the campus and during school time, she couldn't help but check her viewers' comments and messages from time to time.
"If I traveled and went offline for several days, I would be worrying the whole trip that my absence would interrupt some people's study routines," she said, adding that some followers sent messages asking why she hadn't shown up, which made her feel even more pressured.
"I don't know if I will carry on livestreaming after I pass the postgraduate entrance examination, since the academic workload might take most of my time. I will be livestreaming as long as my schedule allows it. It's my audience — and they have been there for me when I was in need."
Contact the writer at wangkeju@chinadaily.com.cn