Plant-based meats gaining market momentum in US
By KONG WENZHENG in New York | China Daily | Updated: 2019-10-07 02:09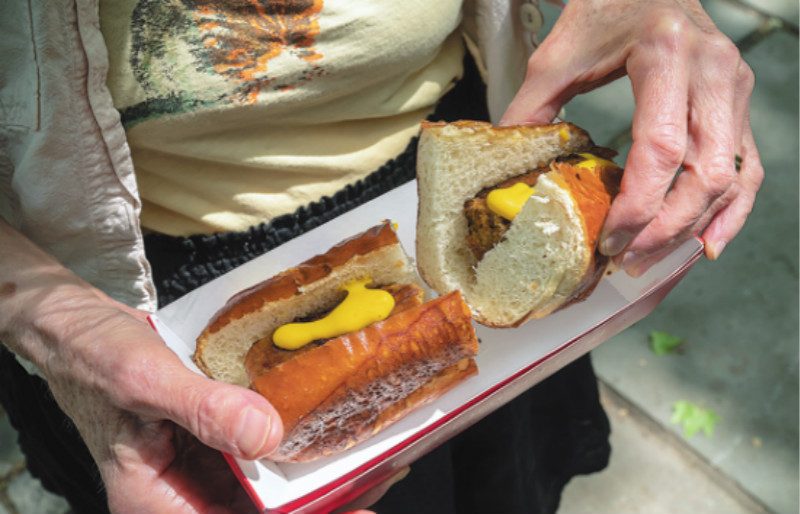 Big-name franchises add new options to menus
It took a Kentucky Fried Chicken outlet in the United States just five hours to sell all its plant-based "fried chicken" on Aug 27, when the fast-food chain tested its first vegan product.
Named Beyond Fried Chicken, the new product, sold at a store in Atlanta, Georgia, was the result of a partnership between KFC and Beyond Meat, a Los Angeles company that produces plant-based meat substitutes.
It was the first time a plant-based chicken product had been sold at a national fast-food chain in the US.
KFC said it would examine the data and customer reactions from the single-store test before deciding whether to launch the product on a nationwide scale. In the meantime, a number of other major fast-food chains have added plant-based choices to their menus.
Burger King introduced its plant-based Impossible Whopper sandwich — the vegan version of its signature hamburger — at more than 7,000 locations in the US early in August for a limited period after testing it in selected areas for four months.
White Castle, Carl's Jr Restaurants, The Cheesecake Factory and Del Taco are among those who have joined this trend in recent years, with the vegan menus introduced by the big-name restaurant chains being just the tip of the iceberg for a dietary change that is sweeping the US.
Nina Gheihman, who is studying for a doctorate in sociology at Harvard University's Graduate School of Arts and Sciences, told the Harvard Gazette: "What this is, is the mainstreaming process. Especially in the past three to five years, veganism has really transformed from being this fringe animal rights movement into a lifestyle movement."
Plant-based protein shipments from distributors to food service operators increased by 20 percent last year, according to market research company NPD. Vegan menu penetration in the US has risen by 490 percent in the past decade, with more than 11 percent of the country's menus now featuring the word "vegan", according to research company Datassential.
Grubhub, a leading delivery platform, reported that its orders for vegan-friendly foods increased by 25 percent in the first five months of this year compared with the same period last year.
Consumers' increasing exposure to vegan choices in restaurants has expanded the customer base for plant-based foods, according to industry insiders.
David Portalatin, food industry adviser for NPD, said, "It's clear by the growth in plant-based protein shipments to food service and restaurant operators that this category has mainstreamed beyond those who choose a meatless diet."
A recent NPD survey found that 14 percent of US consumers — a total of 43 million — regularly use plant-based alternatives such as almond milk, tofu and veggie burgers, and 86 percent of these customers do not consider themselves vegan or vegetarian.
The rise of the plant-based foods industry is becoming evident. Sales of such foods grew by 11 percent in the past year, according to the Good Food Institute, significantly higher than the 2 percent increase in general US food sales.
GFI, which advocates a vegan diet, estimated that the retail market for plant-based foods was worth $4.5 billion as of April, and investment group UBS has projected the sector will grow to $85 billion by 2030.
Within the industry, plant-based milk has been the most-developed market, comprising 15 percent of total milk sales, according to information provider Nielsen. Sales of vegan milk in the US rose by 9 percent last year, with those for traditional cow's milk falling by 6 percent.
On the other hand, meat alternatives account for less than 1 percent of the total US retail meat market, according to GFI. Nonetheless, the growth rate has been exceptional, reaching 37 percent in the past two years.
Industry set to grow
By 2025, the meat substitute industry worldwide is expected to grow to $7.5 billion, according to a report by Allied Market Research.
Bruce Friedrich, GFI executive director, said the surge in plant-based meat sales was fueled by technological advances that changed the texture and taste of the products.
An innovative approach, known as "biomimicry", which replicates the biochemical composition and three-dimensional structure of meat with plant-based ingredients, using novel manufacturing techniques, can create the flavor, texture and overall experience of eating meat, Friedrich wrote in a report last year.
The approach started to spread about a decade ago, with new players such as Beyond Meat and Impossible Foods entering the market.
The two companies are leading the way among US restaurant chains in exploring vegan menus. Beyond Burger and Impossible Burger — plant-based products from both companies — can be seen in more than a dozen restaurant chains, including Burger King and KFC.
Beyond Meat posted revenue of $67.3 million in the second quarter of this year, a 287 percent year-on-year rise that beat expectations by more than $15 million.
Friedrich said: "It is clear from these results that the plant-based meat industry is gaining momentum and shows no sign of slowing. This is a market sector on fire."
Beyond Meat was the first plant-based alternative meat producer to list on Wall Street. Its stock surged by more than 160 percent on its market debut in May, the best performance by an initial public offering in nearly two decades.
Privately held Impossible Foods, which according to its CEO, Patrick Brown, has no plans to go public, has raised nearly $700 million in more than 12 rounds of funding, according to business information platform Crunchbase.
As of last year, investors had poured some $17.1 billion into the plant-based foods market, according to GFI, with $13 billion of this coming in the past two years.
While newer, smaller companies are fueling this growth, traditional food processors worldwide are showing increasing interest in joining the game.
Tyson Foods, the largest meat processor in the US, which invested in Beyond Meat from 2016 to April this year, said in mid-June it would launch its own plant-based product line.
Noel White, president and CEO of Tyson Foods, said in a statement, "Today's consumers are seeking more protein options, so we're creating new products for the growing number of people open to flexible diets that include both meat and plant-based protein."
Alison Rabschnuk, director of corporate engagement at GFI, said, "Just as other meat producers have repositioned themselves as 'protein companies', Tyson recognizes that consumers are eating more plant-based foods, whether for reasons of health, environmental sustainability or animal welfare."
Nestle, based in Switzerland, and Maple Leaf Foods, headquartered in Canada, have both introduced vegetarian options, which have been welcomed by vegan advocates.
"We want to be clear that a rising tide will lift all boats here," said Friedrich, who argued that mainstream adoption of plant-based meat is a critical step in this food system transformation.
"Far from stealing market share or creating competition for a limited pool of consumers, the introduction to the market of the legacy meat and food companies shows that the plant-based meat sector is here to stay," he said.
By entering the sector, these companies are creating a bigger market and exposing plant-based choices to a broader consumer base, Friedrich added.
In US fast-food restaurants, the number of hamburgers sold in the year ending May was almost 30 times that for veggie burgers, whose sales rose by 10 percent, according to an NPD report.
Noelle O'Mara, Tyson Foods' chief marketing officer, said, "While most Americans still choose meat as their primary source of protein, interest in plant and blended proteins is growing significantly."
NPD said vegans and vegetarians are not major buyers of veggie burgers — only representing less than 10 percent of the market. However, 18 percent of the overall US adult population is trying to get more plant-based foods into their diets.
A survey last year by public relations company Mattson found that nearly one-third of the US population are "flexitarians" — normally keeping to a meatless diet but consuming animal products occasionally.
GFI's report said the increasing adoption of plant-based products by flexitarians has been one of the primary driving factors in the increased demand for such foods. For example, more than 70 percent of Beyond Burger's consumers are flexitarians.
NPD said the rising popularity of plant-based foods among customers of all kinds is fueled by a variety of needs, such as people wanting more protein in their diets, concerns for animal welfare and how meat products are brought to market, sustainability, and what consumers perceive to be healthier nutrition.
According to the World Resource Institute, animal-based foods are typically more resource-intensive and "environmentally impactful" to produce than plant-based foods, which use less soil and water, and produce fewer greenhouse gases.
Since 1990, greenhouse gas emissions from agriculture in the US have increased by 8.8 percent, according to 2017 data from the Environmental Protection Agency, which concluded that the system for managing livestock manure is a significant contributor to this. The agricultural sector has seen 57 percent growth in combined methane and nitrous oxide emissions, while such emissions in other sectors have remained relatively unchanged.
Walter Willett, a nutrition expert from the Harvard T. H. Chan School of Public Health, said on National Public Radio in the US: "I think if we really care about the world our children and grandchildren will inherit, we do need to shift toward a vegan diet. And the good news is that it's not just our planet that will be more healthy. We will be more healthy as well."
Health problems
Frank Hu, chair of the Department of Nutrition at the Harvard T. H. Chan School of Public Health, wrote in a report that researchers have associated red meat, especially that which is processed, with a range of health problems.
These include obesity, Type 1 diabetes, cardiovascular disease and some cancers, while long-term research shows that replacing red meat with nuts, legumes and other plant-based protein alternatives is associated with a decrease in such risks, according to Hu.
But the innovative plant-based foods now available, which are generally highly processed and rely on purified plant protein, have raised doubts over whether they are healthier options.
While products from Beyond Meat and Impossible Food contain no cholesterol, a high level of which could increase the risk of heart attacks, and are also lower in total and saturated fat than a beef burger patty, Hu said they have similar levels of protein and calories to a hamburger patty, and a higher sodium content.
Connie Diekman, director of nutrition at Washington University in St. Louis, said in a statement when Burger King tested its Impossible Burger patty in April, "If you want a plant-based alternative that has the taste of a burger, the Impossible Burger is your choice — but it comes with similar amounts of fat and calories.
"If you try to increase the amount of plant protein in your diet, this should only be part of a larger portfolio of alternatives."
The booming plant-based foods market has triggered action from traditional industries and even local legislation.
More than two dozen states in the US have introduced legislation to make it illegal for plant-based foods to be labeled "meat," "burger," or "hot dog," describing this as "misrepresenting and misleading".
The legislation is supported by traditional animal product producers. Mike Deering, spokesman for the Missouri Cattlemen's Association, said in an interview with National Public Radio in May, "Why try to mimic the traditional meat industry?"
Vegan food advocates spoke out against the bills and said they would limit sales of such products in some places and increase production costs.
Plant-based foods producers Tofurky and Upton's Naturals, along with advocacy organizations, have filed three lawsuits against the labeling laws in Arkansas, Missouri and Mississippi, claiming they violate the First and Fourteenth amendments to the US constitution.
Jaime Athos, CEO of Tofurky, said, "When consumers choose plant-based foods, it is not because they are confused or have been misled; it is because they are savvy and educated about the health and environmental consequences of eating animal products."