Children realize movie dreams in this summer
By WEI WANGYU | China Daily | Updated: 2019-10-07 09:44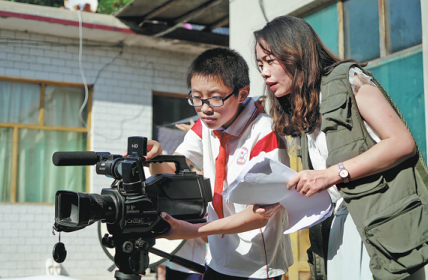 The story of local students' campus life in 'Birth to the Sun' takes center stage in Neiqiu
During the recent summer vacation, the normally quiet campus of Beiling Central Primary School in Neiqiu County, Hebei province was bustling. A micro-movie, created by the school's teachers and students, was being filmed there.
The film, which told the story of a resilient low-income child from the rural area who becomes a doctor in his adulthood, featured a cast of students themselves.
Beiling Central Primary School in Neiqiu County is located in the hilly area of the northwest China. Many farmers in the area must travel long distances from home to work to support their families. There are more than 330 students at the school, and nearly 55 percent of them are low-income children. To enrich their leisure time after school, in 2014 the school established the "Starlight" micromovie studio and began experimenting on shooting micromovies.
The script details the students' personal stories, and the director is their teacher. "I gained self-confidence and optimism from watching the protagonist, and learned to be strong and grateful, said "Birth to the Sun" actress Ji Zihan. In braving the hot weather, the children in the crew are turning their movie dreams into reality by polishing lines, rehearing conversations and shooting.