Beijing gallery celebrates role in bringing art from around world to nation's capital
By BO LEUNG | China Daily Global | Updated: 2019-10-09 10:07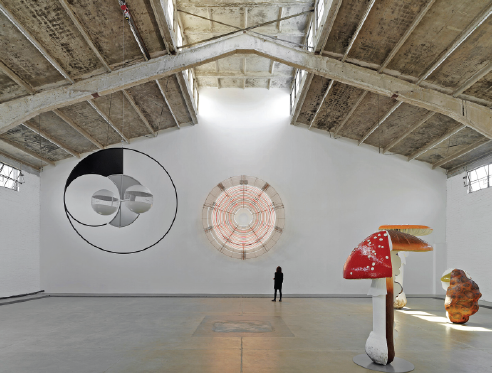 Fifteen years ago, three Italian contemporary art gallery owners decided to set up a space in the Chinese capital with a desire to connect artists from around the world.
Galleria Continua's original gallery was founded in 1990 in Italy's San Gimignano by Lorenzo Fiaschi and his co-directors, Mario Cristiani and Maurizio Rigillo. The trio went on to set up spaces in not only Beijing but also in Les Moulins, on the outskirts of Paris, and Havana, Cuba.
Fiaschi said Galleria Continua opened in Beijing at a time when Western artists were rarely seen in the city. He said the gallery owners became interested in China when they worked with Chinese artist Chen Zhen in Italy.
Chen, a Chinese-French conceptual artist who was born in Shanghai and educated in both Shanghai and Paris, died aged 45 in 2000.
"He was such an incredible person, so that is why we decided to go to China and understand the country he came from," Fiaschi said.
After visiting the 798 art district in Beijing, a community dedicated to art and culture, Fiaschi said they wanted to support the scene there and become involved in it. Their aim was to promote contemporary art and encourage cultural exchanges along with presenting a program of international artists.
"When we started, we saw that people in China have started to purchase many items from Europe, such as designs and fashion and cars, so why not good and important art," Fiaschi said. "We really want to build this bridge between China and Europe and this is one thing that I love."
Since the opening of the Beijing space 15 years ago, they have exhibited work by Anish Kapoor, Daniel Buren, Michelangelo Pistoletto, and Antony Gormley. They have also ensured Chinese artists have been well represented at the gallery.
As the Beijing gallery celebrates its 15th anniversary, Galleria Continua is organizing a new exhibition by British sculptor Anish Kapoor in the Forbidden City, one of the world's largest palace complexes, which is in central Beijing.
"We started this adventure to create history and that's why we are still in Beijing," said Fiaschi. "It's not for business reasons but for cultural reasons. We would love to continue and discover new artists and support them."