Stocks edge up on mainland exchanges
By Shi Jing in Shanghai | China Daily | Updated: 2019-10-09 09:00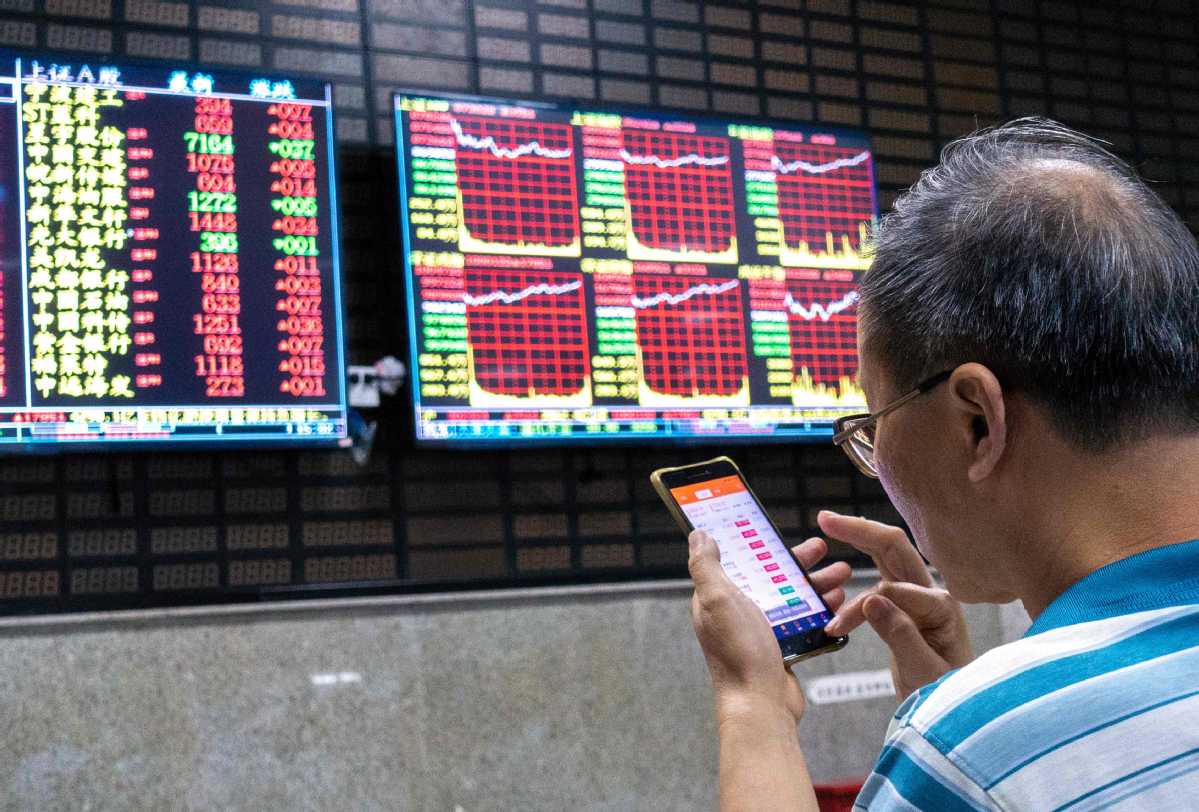 Pharmaceutical, cement and building material firms among top gainers
Equities closed higher on the mainland bourses on Tuesday, the first trading day after the National Day holiday, even as sentiment remained at a low ebb on most of the bourses in Europe and the United States.
The benchmark Shanghai Composite Index rose by 0.29 percent to 2913.57 points, while the Shenzhen Component Index gained 0.3 percent to 9474.75 points.
Cement and building material makers were the major gainers and rose by 2.26 percent on average on Tuesday, followed by agriculture, public utility and pharmaceutical companies, and commercial banks, according to Shanghai-based market tracker Wind Info.
Yang Delong, chief economist at Shenzhen-based First Seafront Fund, said that the overseas markets fluctuated quite significantly during the seven-day National Holiday starting Oct 1. The Dow Jones industrial average dropped below 26,000 points on Oct 2, hitting its lowest point in a month. When the market closed on Oct 5, the Dow Jones industrial average dropped 0.92 percent in a week, while the Standard & Poor's shed 0.33 percent during the same period. The FTSE 100 index in the United Kingdom slumped by 3.65 percent during the first trading week in October, while the Hang Seng Index dropped by 0.52 percent in Hong Kong.
Yang said that the adjustment in the overseas markets might theoretically lead to a slight decline in the first few trading days after the National Day holiday. But given the fact that the A-share market has gained enough tenacity, there is little possibility of prices falling sharply in the A-share market.
More importantly, the offshore renminbi maintained its upward trend against the US dollar during the National Day holiday, and this will help boost the confidence of investors in A shares, said Yang.
Based on the experiences over the past two decades, the possibility of the A-share market to report positive results will come at around 65 percent from the first trading day after the National Day holiday to Oct 15, according to a note from Guotai Junan Securities. As the A-share market has already adjusted before the holiday and shown upward tendency at the end of September, the impact from the overseas market during the holiday will be limited and the rebound of A shares can be expected, the note said.
Zhang Yulong, chief strategist of China Securities, said that machinery, mechanical and electronic devices will be the sectors most likely to register increases after the holiday.
Liu Fangxu, director of the mutual fund investment team at CIB Fund Management, said that there might be slight fluctuations in the A-share market in the fourth quarter of this year. But in the long term, the Chinese capital market is likely to witness a bullish trend, with consumption and technology assets becoming the theme of future investment.