Soprano's tour surprises
By Chen Nan | China Daily | Updated: 2019-10-10 09:00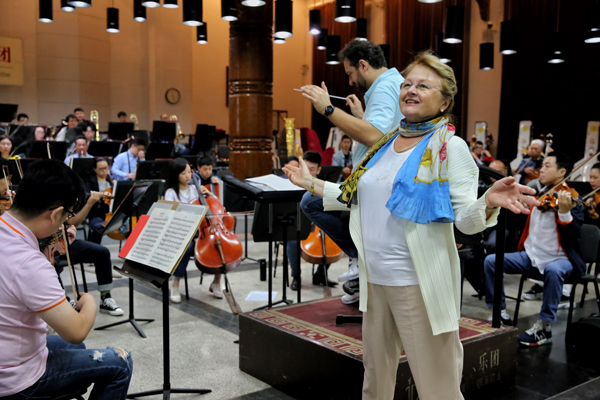 Famed Slovak opera singer skips retirement to perform in China for the first time, offering up renditions from some of her most enduring roles, Chen Nan reports.
When she was invited to perform in China this March, Edita Gruberova asked her agent: "Why now?"
The legendary Slovak coloratura soprano prepared to retire altogether from singing after performing the lead role of Elisabetta in her final staged opera performance, Roberto Devereux by Italian composer Gaetano Donizetti, early this year.
"I have never been to China, but I was curious about Chinese symphony orchestras and Chinese audiences," said the 73-year-old Gruberova in Beijing on Monday.
Along with fellow Slovak, conductor Peter Valentovic, she kicked off her debut China tour with a concert in Xiamen, Fujian province, with the Xiamen Philharmonic Orchestra on Oct 1, which was followed by a concert in Shanghai with the Shanghai Symphony Orchestra on Saturday.
During the opening concert of the 22nd Beijing Music Festival, which was held at the National Center for the Performing Arts, Gruberova performed with the China Philharmonic Orchestra.
"Coming to China is not just about singing. It's about coming to a new world, a new audience. I really enjoyed the raw and open energy of the Chinese audiences, as well as the emotion delivered by Chinese musicians," says Gruberova.
Her last stop in China will be the Xinghai Concert Hall in Guangzhou, Guangdong province, performing with the Guangzhou Symphony Orchestra.
"When she confirmed her concerts in China, we were very honored and surprised. We want to bring leading global artists to Chinese audiences through the Beijing Music Festival, and Gruberova coming here is like a dream come true," says Zou Shuang, artistic director of the Beijing Music Festival.
Considered one of the greatest sopranos in the history of opera, the legendary singer studied at the Bratislava State Conservatory, as well as in Prague and Vienna. She made her professional debut as Rosina in Gioachino Rossini's comic opera, The Barber of Seville, at the Slovak National Theater in 1968. She sang as Queen of the Night, the primary role in Mozart's opera, The Magic Flute, with the Vienna State Opera in 1970, which brought her to the attention of leading opera companies like the Metropolitan Opera, and led to her performing at Glyndebourne.
The repertoire that Gruberova is performing on her China tour includes some of the songs she performed in her signature roles, including "Regnava nel silenzio", an aria from Gaetano Donizetti's tragic opera, Lucia di Lamermoor, the cavatina "Una voce poco fa" from The Barber of Seville, and "Deh, se un'urna e a me concessa", an aria from Vincenzo Bellini's tragic opera, Beatrice di Tenda.
"Singing is a gift from God. I sing to create characters onstage. There are many great singers in the world and the problem is how to work with this gift," Gruberova says. "So far, my first tour of China has been going very well. I don't know if this tour is a farewell to my stage career or represents a new beginning."