Group for people with disabilities marks decade
By WANG RU | China Daily | Updated: 2019-10-10 09:26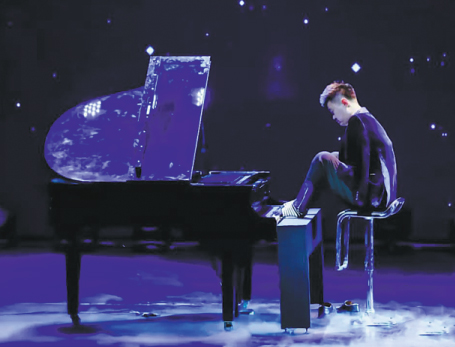 Melodious music from the stage pleased the audience at a recent event. But it was hard to tell which was more remarkable – the music or the performer.
The pianist, Liu Wei, who lost his arms in childhood, played the instrument with his feet at a show to mark the 10th anniversary of the establishment of the Beijing Foundation for Disabled Persons.
Established in 2009, the foundation has raised money and goods worth some 189 million yuan ($26.46 million), benefiting over 300,000 people with disabilities. And it has organized 865 public-service activities.
Liu, now age 32, lost his arms in an accident at 10. He won a championship on the China's Got Talent TV program. He founded the Embracement Foundation under the BFDP in 2012 to give back to society. Over the years, he has led volunteers to many areas where people live in poverty, raising funds for poor families and teaching their children.
He recalls his experience in Beige village in Southwest China's Yunnan province.
"When we visited the poor villages there, we met a girl who had an interest in playing Go. Although we wanted to help her financially so she could learn more about the game, her family refused to accept money and instead asked her to do farmwork without attending school," Liu says.
Liu says he realized that helping the poor ideologically is more important than materially.
He and his team have since taken students living in cities to spend time with their peers in rural areas.
Another performance was staged by the boy band Mujishaonian and some hearing-impaired children, who sang songs and danced together at the same Beijing event. The band now works as a "promotional ambassador" for a BFDP project. The six members sang and danced at a rehabilitation center for children with a health condition in August.
"We want to call on more people to pay attention to children with special needs and help them live as normally as possible," says Yang Boyi, a member of Mujishaonian.
They will soon promote a song for the 10th anniversary of the BFDP.
"Music is one of the most beautiful forms of expression, and we want to express our empathy for people with disabilities through this song," says Zhang Dayuan, another band member.
The ceremony also highlighted the business-startup experiences of three people with disabilities. Among them is Gao Fangxia, who won the gold medal at the 2008 Beijing Paralympics. Gao lost a leg in an accident when she was 4 years old. She took up archery in 2005 and was admitted to the national team in 2006. Although she is still training, she has a post-retirement plan for later.
She has opened a fitness club with two friends. They hired people with disabilities, who work as coaches there. They also cooperate with some housing communities in Beijing to disseminate information about exercise and the 2022 Winter Olympics to be held in northern China.
Their business startup received more support after it won an award at the Beijing Disabled Youth Integration and Entrepreneurship Competition.
"I have made many friends by taking part in this competition, and I hope my efforts will lead more disabled people to pursue their careers."
The BFDP has witnessed many stories like these over the past 10 years.
Wu Wenyan, director general of the federation, says: "Ten years is not a destination but marks a new starting point. We will write a new chapter with all our friends."