Building a shared future is the only way
By Huang Juzheng | chinadaily.com.cn | Updated: 2019-10-10 15:55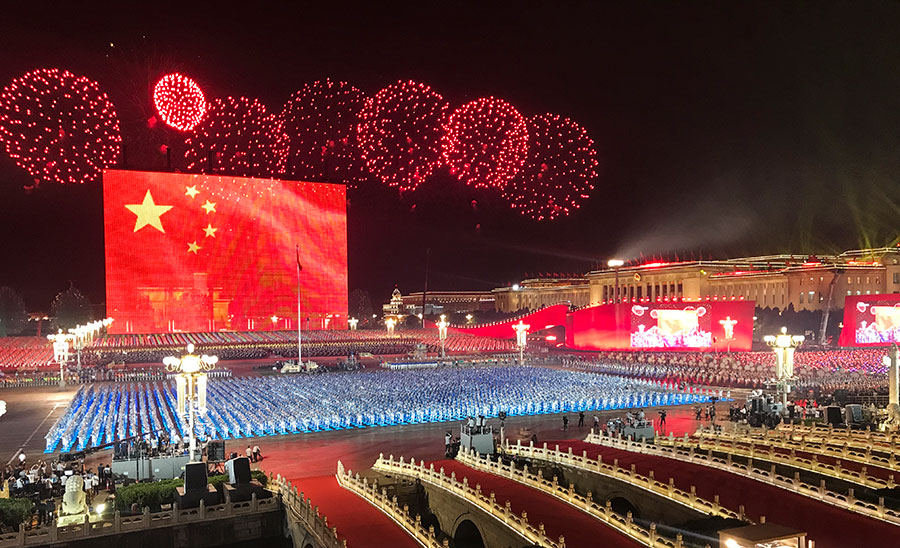 Two events of global impact recently occurred: in the West, the 74th session of the UN General Assembly opened Sept 17; in the East, China welcomed its 70th anniversary with celebrations in Beijing that highlighted the country's prosperity and achievements since 1949.
At the UN, poverty eradication, quality education, and climate action were raised as priorities. These are global issues concerning all human beings from the Arctic to Antarctic. It's been this way for centuries.
History shows that these are significant factors affecting the sustainable development of our race. In ancient times, geography and ineffective modes of communication isolated different civilizations. The opportunity to share the prosperity of different civilizations has never been as pronounced as it is today.
The world today, however, is in turbulence and we face more complicated challenges than our predecessors. The shadow of the Cold War has not completely subsided; an echo of an outdated and one-sided international order still sounds; armed conflicts and terrorist threats persist; a refugee crisis grows; cannons of war have ceased firing, but the dangers have not abated.
Economic growth is sluggish while the effects of the financial crisis are still felt. The development gap is increasing and major epidemic diseases continue to spread. Human intelligence and the influence of the international science community have increased exponentially, but dangers remain.
In today's world, every country is linked and with the ability to influence each other. Smaller nations are just as important as their larger counterparts. Everyone, every country has the right to develop – developing toward prosperity is the common goal of the human race.
People from different countries may speak different languages, dress differently and eat different food, but they all dream of peace, development and prosperity. No one would reject a better life, education or environment. But we will not be able to provide for these if we only consider ourselves and leave others behind. We must look to the future.
Humankind cannot afford to hold onto the hatred and need for revenge over past injuries. If the world could be united in a common desire for development, there would be no limit to the happiness, prosperity and glory we could all enjoy. But how can we achieve this?
President Xi Jinping proposed the Chinese philosophy of human development – "building a human community with a shared future" – in his Jan 18, 2017 speech at the United Nations in Geneva. Two years later, Xi's thoughts have been endorsed by an increasing number of countries around the world.
China's State Council Information Office on Sept 27 issued the whitepaper China and the World in the New Era to develop Xi's thoughts. It offers alternative, constructive, practical, and effective ways to achieve mutual development for all human beings. It states that we must respect the sovereignty of all countries and guarantee that all have equal rights, opportunities and rules to develop according to their needs.
The whitepaper further says that exchange between different civilizations can serve as a source of inspiration for advancing human society and that we will build a clean and beautiful world by pursuing green and low-carbon development. It also says we should build a world of common prosperity through mutually beneficial collaboration, dialogue and consultation and that China will actively participate in and support the UN's 2030 Agenda for Sustainable Development.
This year is the People's Republic of China's 70th anniversary. It has been an epic 70-year journey of hard work and perseverance. China has transformed from a poor country to the world's second-largest economy, seeing the basic living needs of its 1.3 billion-plus people met and lifting over 700 million people out of poverty.
China has fulfilled its promise to the Paris Agreement and will continue to take steps to tackle climate change and honor its obligations. The country has launched the Belt and Road Initiative to share its achievements and prosperity with countries around the world.
China has the sincere willingness to share its experiences with friends. Hundreds of millions of men and women on this planet can do right instead of wrong and gain as their reward blessings if we all work together in a cooperative and respectful way.
Building a human community with a shared future is the only way.
The author is currently working at the Trade Development and Cooperation Center of China Council for the Promotion of International Trade (CCPIT).