InterContinental concierge offers guests personalized local tours
By Li You | China Daily | Updated: 2019-10-12 11:35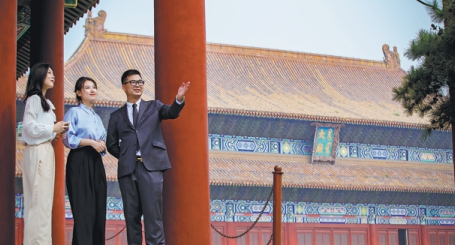 The recent celebration of the 70th anniversary of the People's Republic of China and the national holiday surrounding it attracted a great number of tourists to China's capital city of Beijing. For those wishing for expert advice on how to best explore the city, InterContinental Hotels provides a unique concierge service.
InterContinental Beijing Sanlitun, a luxury hotel located 20-minute's drive from Tian'anmen Square, is providing its guests with bespoke travel guides and routes around the ancient city this autumn.
As a part of the exclusive service provided by its concierge team, the hotel is arranging trips for guests that would like to taste the specialties at local restaurants, or are curious about the long-standing cultural heritage in the capital.
Classic routes include the Palace Museum, Summer Palace, Temple of Heaven and Dashilar.
Those wanting to taste Beijing's famed roast duck can relax as the concierge service provides reservations at the capital's most popular restaurants as well as its own.
Those of a cultural bent, perhaps seeking to perfect their calligraphy skills, can receive a personalized tour of Liulichang Culture Street, with a concierge as their guide.
Guests can customize their own trips to ensure they experience the things they truly love, said Cheng Lin, director of marketing communications at the hotel.