Robot competitions to raise the bar in manufacturing hub
By Zhang Dandan | China Daily | Updated: 2019-10-14 13:51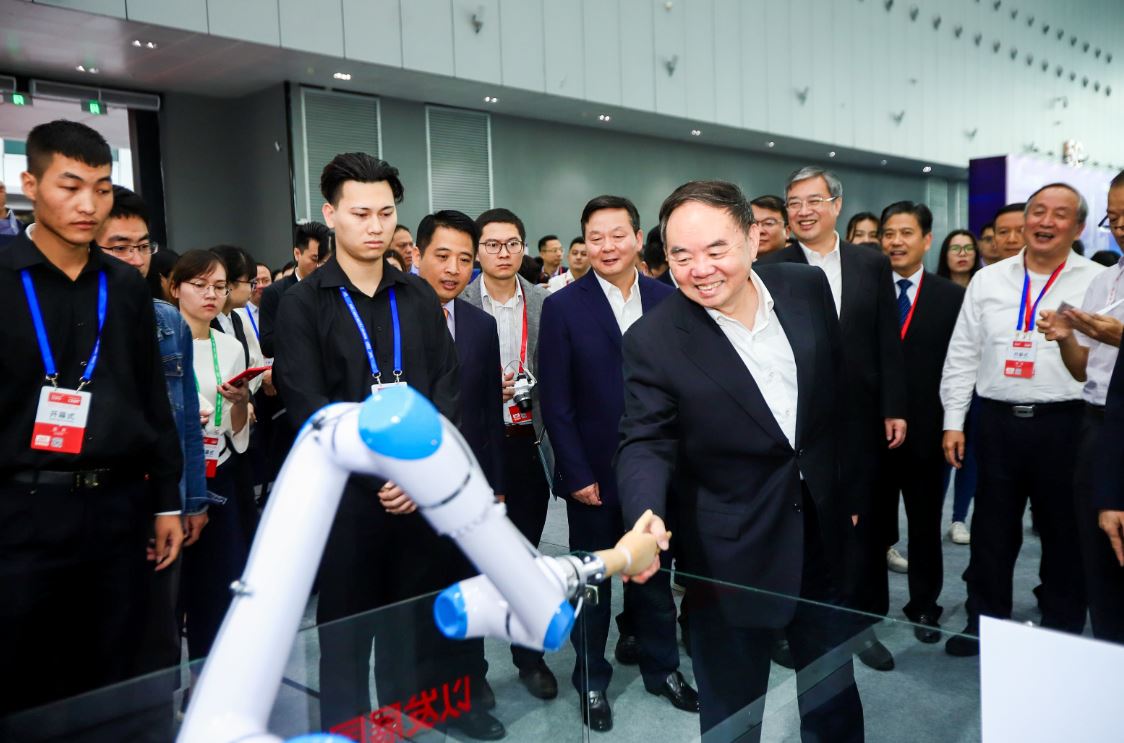 Foshan, a manufacturing hub in Guangdong, is poised to further foster its development of intelligent manufacturing and industrial upgrading by hosting professional competitions on robot programming and operation, local officials said.
The industrial robot vocational skills competition in Guangdong province is to be held from Oct 16 to 18, in Foshan.
The competition is a part of the fifth China (Guangdong) International Internet Plus Exposition.
Running from Oct 16 to 19 in Foshan, the Internet Plus expo will demonstrate products and solutions about industrial interconnectivity and digital intelligence based on internet technologies, with major exhibition areas including intelligent manufacturing, internet frontier technologies and robotics.
The industrial robot vocational skills competition has attracted 120 competitors from 54 companies and public institutions from seven cities in the province - Guangzhou, Shenzhen, Dongguan, Foshan, Zhongshan, Zhuhai and Zhaoqing.
Focusing on industrial robot operations and solving practical production problems, the competition will require the 120 competitors to perform specific operations under set application scenarios.
Through actual operations, the contestants' programming skills and proficiency in robot operation will be tested.
A number of professional forums on intelligent manufacturing and industrial upgrading will be held during the three-day competition, so as to forge an exchange and interaction channel for local companies, universities and relevant professionals, according to Wang Yamei, deputy director of the organizing committee of the competition.
A forum on industrial upgrading and the application of artificial intelligence technologies will be held on Oct 17. By reporting progress made in AI technology application and the technology upgrading of intelligent manufacturing, the forum aims to help visitors to understand the latest technologies and applications.
The industrial robot vocational skills competition and the industrial forums will play their roles in leading local enterprises to develop industrial robot technologies and applications, in a bid to enhance the enterprises' automated production and technology upgrading, Wang noted.
Statistics show that by the end of 2018, about 350 enterprizes in Foshan had adopted industrial robots.
With a total of 8,000 units of robots installed and used in the city, an array of local traditional industries, such as appliance manufacturing, ceramics manufacturing and metal materials manufacturing, are on the track for transformation and upgrading.
In the context of industrial upgrading, enterprises have an increasing demand for robot professionals.
Holding the industrial robot vocational skills competition will be an effective measure to build up a highly qualified team in the development, design and application of industrial robots, Wang said.
In addition, the achievements made by the top robot and related professionals across the province during the competition are bound to accelerate the intelligent transformation and upgrading of Foshan's traditional industries, Wang said.