Plant-based fish: No bones or smell
By SCOTT REEVES in New York | China Daily Global | Updated: 2019-10-15 01:15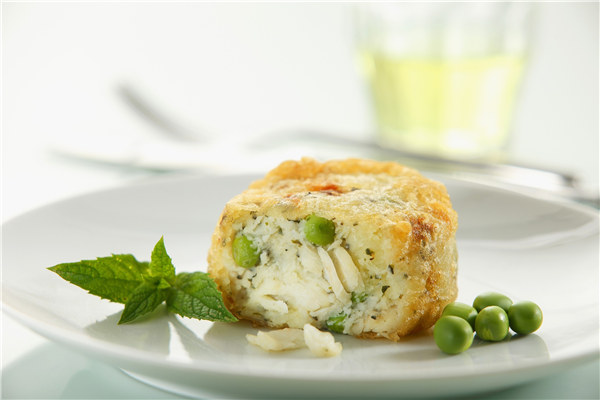 The problem: The smell of fish drives many people away from a nutritious food.
A possible fix: Entrepreneurs and scientists are developing plant- and cell-based substitutes that offer similar health benefits but without bones and offal.
Plant-based fish products seek to offer the taste and texture of fish with none of what some see as the environmental risks.
Good Catch, a privately held company based in Newtown, Pennsylvania, recently secured about $18.7 million in venture capital to develop a plant-based substitute for tuna.
Analysts at Barclays believe the market for plant-based meat substitutes could grow by 1,000 percent in the next 10 years to $140 billion in annual sales. The nascent plant-based fish sector could be a follow-on to Beyond Meat's successful IPO that in May rose 163 percent from the offering price of $25 a share on the first day of trading and recently fetched $131.39, down from an early high of $239.71.
"Plant-based diets offer all the necessary protein, fats, carbohydrates, vitamins and minerals for optimal health and are often higher in fiber," Harvard University Medical School said in a research report. "Vegetarian diets have also been shown to support health, including a lower risk of developing coronary heart disease, high blood pressure and diabetes."
Ingredients in Good Catch's tuna substitute include peas, soy protein, chickpea flower, lentil protein, fava protein, navy bean flour, sea salt, sunflower oil, seaweed powder and citric acid. The product is available at Whole Foods and at Thrive Market, a subscription food service. In the UK, it's available at supermarket chain Tesco.
The National Fisheries Institute, a trade group in McLean, Virginia, punched back by noting, "Vegan fish is not fish."
"No matter how artfully prepared, mashed up beans are still mashed up beans," the trade group said. "Comparing them to fish and calling them plant-based seafood or vegan fish is nutritional malpractice."
In the US, shrimp, salmon, canned tuna, tilapia and Alaska pollock make up nearly 75 percent of seafood consumption, the US Department of Agriculture reported. Catches worldwide are up, and one-third of the world's supply is "overfished", a trend the United Nations' 2018 report on World Fisheries and Aquaculture called "unsustainable".
The European Commission's Joint Research Center said seafood consumption has more than doubled in the last 50 years, further straining sustainability of current fishing.
The National Oceanic and Atmospheric Administration reported that in 2017, the most recent year complete data is available, Americans ate 16 pounds (7.25 kilograms) of seafood per capita, a 1.1-pound (0.49 kg) increase from the 14.9 pounds (6.75 kg) consumed in 2016.
While China is the world's largest market for seafood, in 2018 it ranked seventh in seafood consumption per capita at 48.3 kg, trailing the Republic of Korea, where consumption totals 78.5 kg per capita, the world's highest level.
For some, vegetable substitutes can't match real fish. Molecular biologists seek to solve the problem of overfishing with what critics call "Franken" fish — a reference to Frankenstein, Mary Shelly's novel published in 1818 about a scientist who created a horrible creature through experimentation.
Finless Foods, located east of San Francisco in Emeryville, California, uses cellular biology to grow fish products in a lab, creating what it calls "sustainable seafood without the catch". The process is not dependent on conventional techniques that raise live fish in tanks or ponds.
"We do this by growing healthy marine-animal cells on their own, instead of live fish," the company says on its website. "This means no commercial fishing from our precious oceans. No fish farming. No contaminants. Just healthy, high-quality fish at prices we can all afford."
Finless Foods said it acquires high-quality fish cells, feeds them nutrient-rich ingredients and then "structures" the cell matter into fillets for sale to restaurants and supermarkets. The startup recently raised $3.5 million in venture funding to develop cultured blue fin tuna.
The process could easily be expanded to freshwater fish. That could hurt China, the world's largest producer of tilapia, the name for several species of freshwater fish. China produces about 1.6 million metric tons a year, and the majority is exported to the United States.
Advocates of seafood without the sea aren't sure what to call it. Possible names include lab-grown seafood, cultured seafood and slaughter-free seafood.
The pitch for consumers is likely to be that it's free of potential contaminants sometimes found in ocean-caught fish, including mercury, parasites and particles of plastic.
It's clear that fish substitutes are a new field because unlike soybeans, lumber or cars, there don't appear to be trade organizations set up to market the product and lobby Congress to pass favorable laws on its behalf.
The mixture of entrepreneurs and science regularly creates new and often stunning products, but it comes down to a basic question: Will the customer buy it?