VP attends ceremony for Japan's emperor
By Wang Xu in Tokyo | China Daily | Updated: 2019-10-23 11:01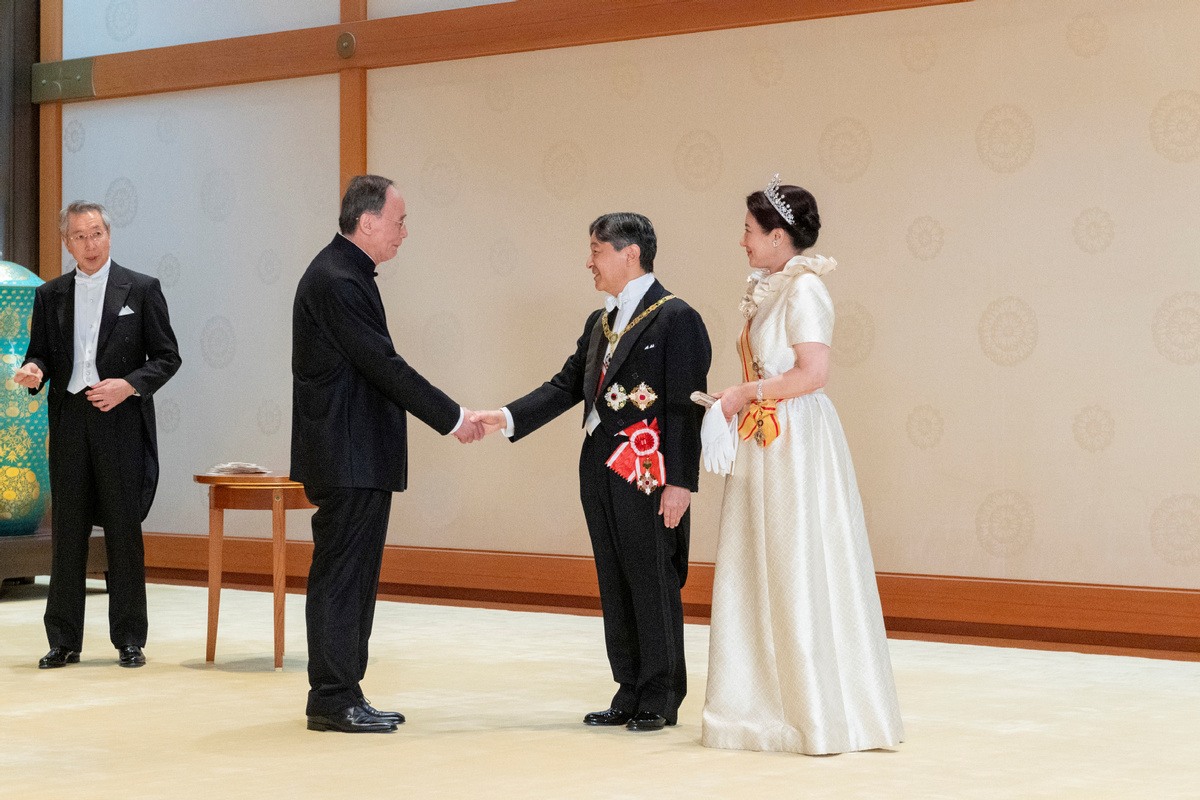 Event represents proclamation to the world of Naruhito's change in status
Vice-President Wang Qishan joined other guests from more than 180 countries and regions at the enthronement ceremony of Japanese Emperor Naruhito on Tuesday.
After performing a series of ancient rituals known as Sokui no Rei - or the Rite of Accession - at the Imperial Palace in Tokyo, the 59-year-old emperor formally proclaimed his enthronement alongside his wife, Empress Masako, pledging to fulfill his duty as a symbol of the state.
Tuesday's ceremony announced Naruhito's change in status to the world. At a smaller ceremony in May, he received a sword, a jewel and official seals that heralded his succession to the throne following the abdication of his father, Akihito.
At the larger event on Tuesday, the emperor vowed to fulfill his duties, wearing a dark orange robe whose design may date from 1,000 years ago, just as his father did in 1990.
"I hereby declare my enthronement at home and abroad," said Naruhito, after purple curtains were pulled back to reveal him and his wife sitting on two ornate thrones.
"I hereby pledge that I shall act according to the Constitution and fulfill my responsibility as the symbol of the state and of the unity of the people of Japan, while always wishing for the happiness of the people and the peace of the world, turning my thoughts to the people and standing by them," Naruhito said.
"I sincerely hope that our country, through our people's wisdom and unceasing efforts, achieves further development and contributes to the friendship and peace of the international community and the welfare and prosperity of humankind," he added.
Following the emperor's proclamation, Shinzo Abe, the Japanese prime minister, who faced Naruhito from a position below the imperial throne, addressed the new emperor: "The people of Japan come together in extending their heartiest congratulations. We will do our utmost to create a peaceful, bright future full of hope for Japan."
After that, Abe led the attendees in three rounds of banzai cheers to wish a long life to the emperor, followed by a 21-gun salute.
Emperor Naruhito's reign began on May 1, marking the beginning of the new Reiwa Era in Japan. He is Japan's 126th emperor, according to the traditional order of succession.