'Panda dogs' give pause for thought
By Huang Zhiling in Chengdu | China Daily | Updated: 2019-10-28 09:35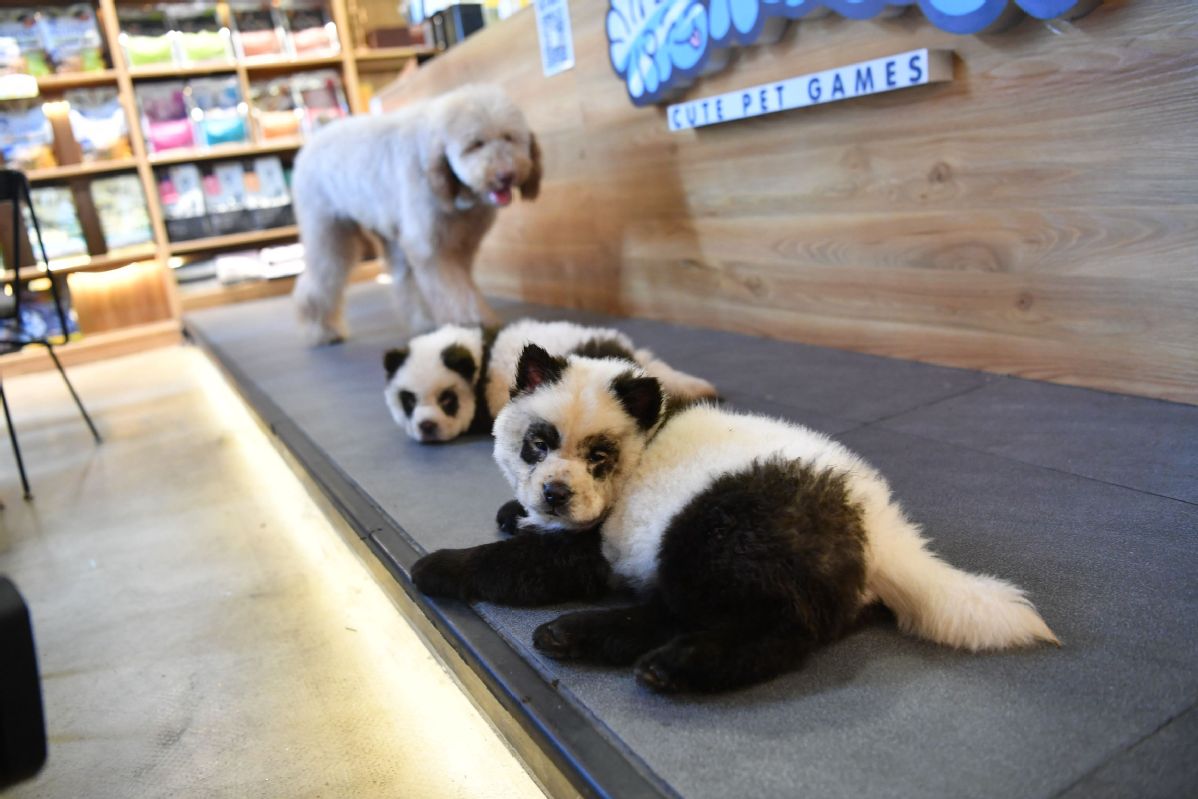 To many people, pandas are the most adorable animal in the world. But unfortunately it's impossible to cuddle and play with the cute bears.
That is why panda fans are flocking to a cafe in Chengdu, Sichuan province, to mingle with dogs that look like the lovable bears.
"A relative showed me photos of dogs that look like pandas the other day. I came specially to have a look on my way home after school," said Wang Shuhan, a middle-school student.
The Cute Pet Games cafe, located on Xiangshulin Road East, opened in September. Covering some 300 square meters and accommodating 80 people at most, it does a thriving business mainly due to its six pandalike Chow Chow dogs.
But the "panda dogs" are also stirring debate about animal abuse. While the canines are naturally thickset and cute, their fur has been dyed black and white to make them more closely resemble China's national symbol.
One of the managers of the cafe, Lyu Yunning, claimed the six dogs were imported from Japan and were dyed black and white before they arrived in China to attract customers.
The cafe chose Chow Chow dogs because they are docile, light and good-tempered. The dogs passed customs' animal quarantine inspections when they reached China, Lyu said.
But the cafe triggered a heated online debate over the treatment of animals when a local newspaper claimed the owner, surnamed Huang, said it had started offering pet dyeing services after the panda dogs became a hit.
The cost of the pooch makeover is 1,500 yuan ($211) as the dye is from Japan and very expensive, the newspaper reported. It takes trained staff about a day to transform a Chow Chow into a "panda," the owner was quoted as saying.
The story led to angry online comments from pet owners stressing the possible side effects of dyeing the animals' fur.
However, the manager Lyu said the cafe had never dyed any animal and accused the newspaper of fabricating a sensationalist story.